In case you were wondering what in the world is that suppose to mean I'll tell you. A lot of us have Pinterest with all these great boards of things we want to do. Crafts, decorating ideas, recipes, you name it! But how many of us actually do anything with those pins? I have been on Pinterest for a couple of months and really haven't done much of anything. The only exception being the ideas pinned to my Tangled Birthday Board since those were actually my creations!
When my darling husband asked me what I wanted for Mother's Day I of course said Tiffanys, a spa getaway, or a new Shelby Mustang. He did not seem thrilled about any of those suggestions so I had to come up with some else. I was struck with the idea to rearrange my Pinterest boards and came across one of my first pins. It was a picture of a shadowbox with a little girl's ballet shoes and picture. I remember pinning this thinking it would be a great keepsake for my own daughter's first year of ballet. Perfect gift idea, a shadowbox, so I could finally complete a project I intended to start!
Mother's Day came and like a good husband he got me exactly what I asked for and then some. I was excited to finally be able to begin this craft and find a home for her pre-ballet memories. So excited in fact that I put the shadowbox back in the bag and set it in a corner! Don't judge like you've never put something off before…
Today was the day, I got the itch to finish what I hadn't started. This is the pin that inspired me.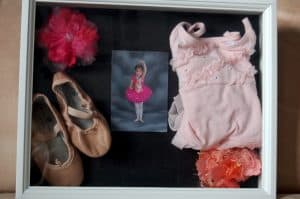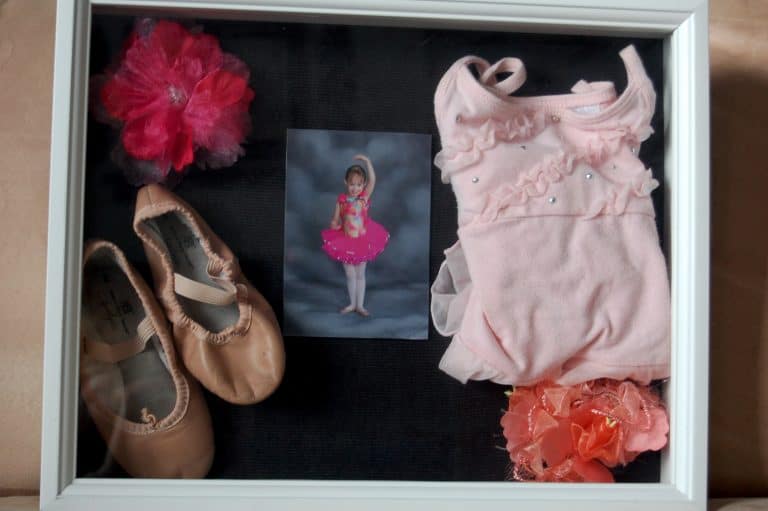 I decided to not only do her shoes but also her leotard. After all, what is cuter than a tiny pink ballerina outfit?! Also, I added both bun accessories from her recitals that year. She loved it and can't wait for me to hang it in her room. Now that I have completed one pin I feel ready to take on another. Most likely though, it will be awhile before that happens!