Before my son started playing soccer, I never really got into it. I had a lot of friends who played in school and who's love of the game was pretty powerful. Still, I was raised on football and that's where my attention was kept. Now though, I have a new found appreciation and love for the sport. The World Cup stage is exciting, drawing in people from all over the world -like the Olympics- but I feel like this brings out the more competitive spirit that lies inside us all. Although a lot of Americans hail from other nations, or feel strong ties to them from our ancestry we all come together when the red, white, and blue waves from the flag pole.
Team USA takes the field tonight in Brazil for their opening group match against Ghana in the 2014 FIFA World Cup. My little ones and I are excited to watch and stand proudly untied with the rest of the USA Men's Soccer team fans! This game is crucial for Team USA and we will be cheering our hearts out! Then we can look forward to the rest of their games during World Cup, because they will win tonight! The kid's can stay up a bit for the game but I'll have to promise to DVR the rest – darn those bedtimes 😉
This summer Degree, the official deodorant of U.S. Soccer, wants to help you DO MORE!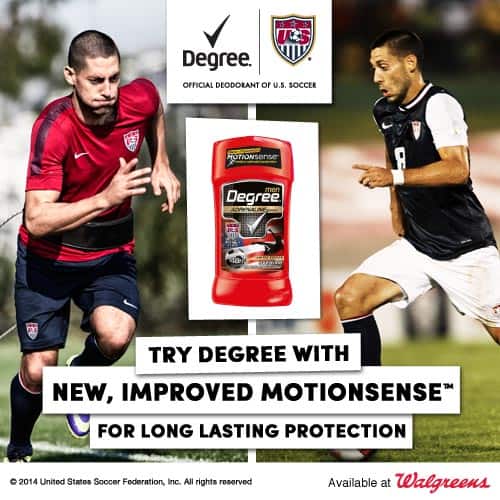 Degree MOTIONSENSETM, new and improved, is an antiperspirant that won't let you down. It releases extra protection when you move, developed to keep up with your demanding life as a woman or a man. Degree MOTIONSENSETM responds to what your body needs, keeping you feeling cool and confident for up to 48 hours! That's perfect for any athlete or adult on the go!
Degree and Walgreens are cheering on the U.S. Soccer team and you with this great offer. From June 29th through July 5th, head in to Walgreens and get 1,000 Balance Rewards points when you buy 2 Degree Men Deodorant Products!
So move more, cheer more and do more this summer with Degree!
This post is sponsored by Global Influence. I was compensated for my time. Opinions are always my own.