The first time I saw my daughter on the sonogram screen I cried. Laying there on that chair, I felt a love I had never known before. She was alive, healthy, and absolutely perfect.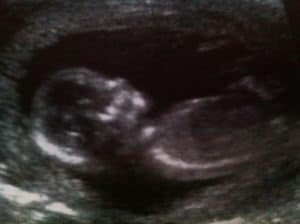 Let me rewind and start from the beginning. When I thought I was pregnant I took a test at my best friend's house. One said yes, one said no, so I had to get blood work done. A few days later I received a call at work "Hello Ashley, this is Dr. A, I wanted to let you know you are pregnant. Let's schedule an appointment soon. Bye Bye." I hung up the phone and started sobbing uncontrollably. I was teaching summer camp at the time and luckily my assistant knew what was going on. She kept the kids away from me, while I pulled it together enough to call my boyfriend on the phone. The thoughts racing through my head, I can't even begin to write them all down. My number one fear was he would be mad and want nothing to do with me. To my relief, he didn't freak out. He was in shock just like me.
I called my doctor and made an appointment. We were nervous and still getting over the bombshell the day we went to the doctor. As the cold goo hit my belly I thought, this is it, we are going to hear our baby's heartbeat and this will all be real. It seemed like an eternity that my doctor searched and I strained my ears to hear. The silence was deafening. Dr. A looked at us and said, "I want to send you for a sonogram, I can't find a heartbeat. The baby may have died." I felt dizzy,  like the whole world had gone black. If it had been a movie, the camera would have zoomed into my eye and you would've seen an explosion inside my brain. We walked out of there in more shock then when we walked in.
The day of the sonogram I felt sick to my stomach, not with morning sickness but with anxiety. I still wasn't sure about how I felt about being pregnant. But with the lingering thought that she might be gone, I began to pray Please God, let the baby be there. I'm sorry, for anything I've done. Please God please… Time seemed to stand still as we waited to be called back. Finally it was my turn, I laid back in the chair still praying in my head. The goo hit my belly and I held my breath. I closed my eyes as I felt the tears starting to spill over onto my cheeks. The technician said "here's your baby!" My eyes opened and I just couldn't stop smiling. At that moment I knew exactly how I felt about being pregnant. I loved this baby more then anything I had ever loved before. Her father knew then how he felt too, and we went from being shell shocked to excited.
I thanked God for that baby. Some people might scoff at me, oh you got pregnant out of wedlock and then prayed about it. Yes I did. Everyone makes mistakes, it's important to learn and move on. I do know this, I might not have planned her but God knew what He was doing. She is one of the greatest gifts I've ever been given and I'm proud to be her mommy. Love you my babylove!