This is the second post about my daughter's Tangled 6th birthday party: Tangled Birthday Party: Games & Activities! You can read all about the food and decor here. I wanted to give my daughter an awesome party without spending a huge amount of money. I found great ideas not only for the food and decorations but also for party activities.
What would a princess party be without princesses? We asked all the girls to come dressed as their favorite princesses. They loved showing off their dresses and pretending to be royalty. And since princesses attend royal balls, I made a custom playlist of princess approved music to dance to. I had the music jamming throughout the party, and the girls were happy to dance around!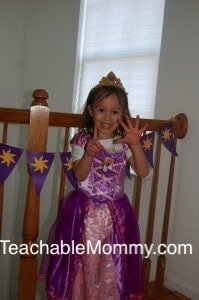 Here is my own little Rapunzel. This dress is super cute and I bought her the crown and necklace set to compliment it!

This is "Pascal's Painting" station where all the girls could embrace their inner artist. The original plan was for it to be on our deck but unfortunately it poured down rain the night before. The packing tape wouldn't stick to the wet wood so we set up in my kitchen. I would just like to stop here and say, thank you to whoever invented washable paint!I asked a teacher friend for some bulletin board paper. She brought me a long piece, perfect for each of the 10 girls to have their own space. I set up a supply table with a variety of paints, brushes, and sponges.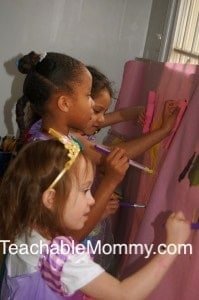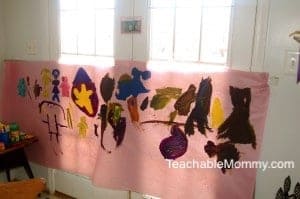 The finished mural
After the girls finished painting and we helped them get cleaned up, they all sat down to make necklaces. I found these Tangled Shrink Charms on Disney's Family Fun website. I was unable to find the specific shrink paper (must be ink jet kind) at my local craft store so I ordered it on Amazon. This may have been a user error but I had to leave my charms in the oven a little longer then directed. My advice, just keep an eye on them, after they start to shrink and flatten out it is time for them to come out.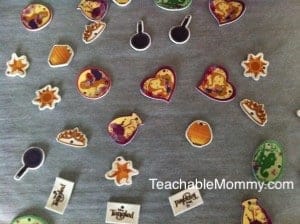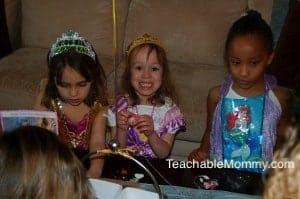 After lunch, we played "Pin the Frying Pan on Flynn Rider." To make the wanted poster I searched for the image online. My husband thought it would be easier just ask the Fedex store to blow it up poster size but I disagreed. I enjoy drawing, so I was happy to sit down and sketch it out. Added bonus, it's cheaper since the poster board is only about $0.50. When I was finally satisfied (and I do mean finally, I am a slight perfectionist!) I outlined Flynn with black crayon, then colored him in.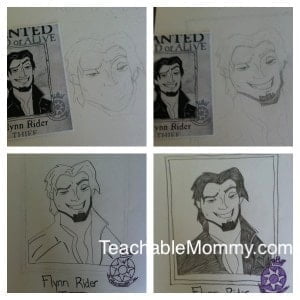 For the frying pans, I used the Frying Pan template from SuperMom Moments. I printed out the template on "canvas texture" white cardstock. I labeled each frying pan using address labels with the girls' names and added a little Rapunzel flower embellishment leftover from decorating the cups.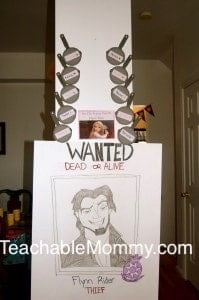 The girls really liked the game and it was very simple to put together. I also like that it's not quite as crazy or dangerous like a pinata! For a prize I found Disney Princess hair accessories in the dollar area of Michael's.
Tip #4: Use what you have. I bought stickers originally to decorate the cups and was able to use them for the frying pans and the paint sets. Be creative, chances are you might already have something that could work with your party.
After the presents and cupcakes we all settled in to watch Tangled while we waited for the mommies and daddies to come back.
No party is complete without Goodie bags! These bags are super cute and easy enough to put together. I bought the bags at Party City and the sun was traced from the Sun Banner Template. I then traced the sun onto "True Yellow" cardstock. Cutting out the suns takes a little time, but after that just glue them onto the bags and you are done!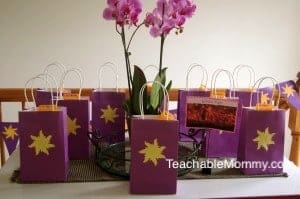 When it came to what went inside the goodie bags I decided to go with something practical. I dislike wasting money, and I really don't like buying random junk just to fill a bag. As a parent, random trinkets get thrown away or donated to a teacher treasure box. So I took an idea from SuperMom Moments to find simple watercolor sets. After all, Rapunzel loves to paint! I found these at Target for $0.97 each. After removing all the advertising, I added my own thank you label. You can print out a template for this on the SuperMom site or make your own. I just used the leftover address labels from the frying pans to make them. Then I used the rest of the leftover stickers to give them a little flair. I also included heart shaped bracelets (found in the dollar spot at Target during February), and playdoh.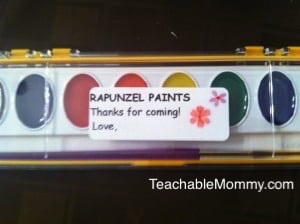 Tip #5: Ask for help. With an amazing group of friends you can get a lot accomplished.
This party was a lot of fun and I would say maybe the best one she has had yet. Of course that puts the pressure on for next year but with my awesome friends I know we can do it!
Check out my Pinterest board for all these Tangled Birthday ideas!