I wanted to share some of my favorite crafts I have done with my children. With Mother's Day coming up you might be looking for a special gift. In my experience nothing beats something handmade! These crafts are not only adorable but they are easy and inexpensive.
Handprint frame kit. This one is super easy. You can find these at any craft store and with a 40%/50% off  coupon you will pay less then $15 for it. Unfortunately, my dog knocked mine off the table it was sitting on and it cracked. So my advice, keep it out of reach of animals and children, especially if you have a 100lb rottweiler like me.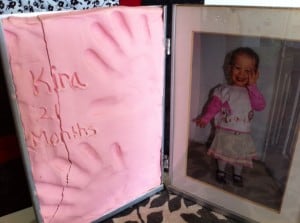 Tissue Paper Flower. My daughter made this for me when she was 3 and I still have it proudly displayed for all to see. Since I have a black thumb, this flower is my favorite kind! All you need is a styrofoam cup, 1 green pipe cleaner, and tissue paper in whatever colors you choose. To make the flower: Pick up 6 to 8 squares of tissue paper and stack them on top of each other. Create an accordion fold by folding about 1/2 inch over then under until you have folded the entire stack of tissue paper. Get the sides as even as possible when you fold. Wrap one end of a pipe cleaner around the middle of the folded tissue paper, and twist it shut. Start separating the layers of tissue paper and opening up the paper flower. Continue to open up the flower until you have a pretty, ball-shaped flower.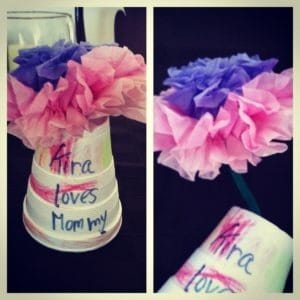 Picture Flower Pot with Fingerprints. I helped my kids make this for my grandmother. She is an avid gardener and she told me these are the prettiest flowers she has ever seen. You will need a clay pot, styrofoam disc, green bendy straws, cupcake wrappers, paint, basket straw,and glue gun/tape. The caterpillars are their fingerprints and the lady bugs and bees are their thumb prints. After the paint dried I used a sharpie to add eyes, stripes, legs, etc. Poke holes in the styrofoam to the desired depth and arrange your straws (I staggered mine). If your straws are loose use the glue to secure them. Flatten the cupcake wrappers and glue the photos into the center. Then tape them to the top of the straws. I used brown paper basket straw to fill the inside of the pot. Using scrapbook paper, the kids made her a card to tape onto the bouquet.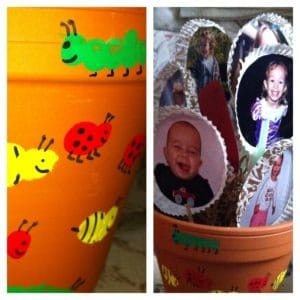 Canvas Picasso. I think my kids favorite art projects are the ones where I don't hover around telling them what to do. I bought a pack of canvas at my local craft store (again use a 40%/50% off coupon), and let them have at it. The end results are one of a kind, true to the artist paintings. If your child is old enough have them sign their work and when they are famous you will have their very first creations. I use my children's paintings not only for gifts but to decorate my walls. In our upstairs hallway, we have original artwork hung up, it is almost like a mini gallery.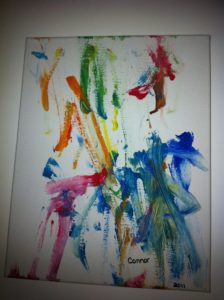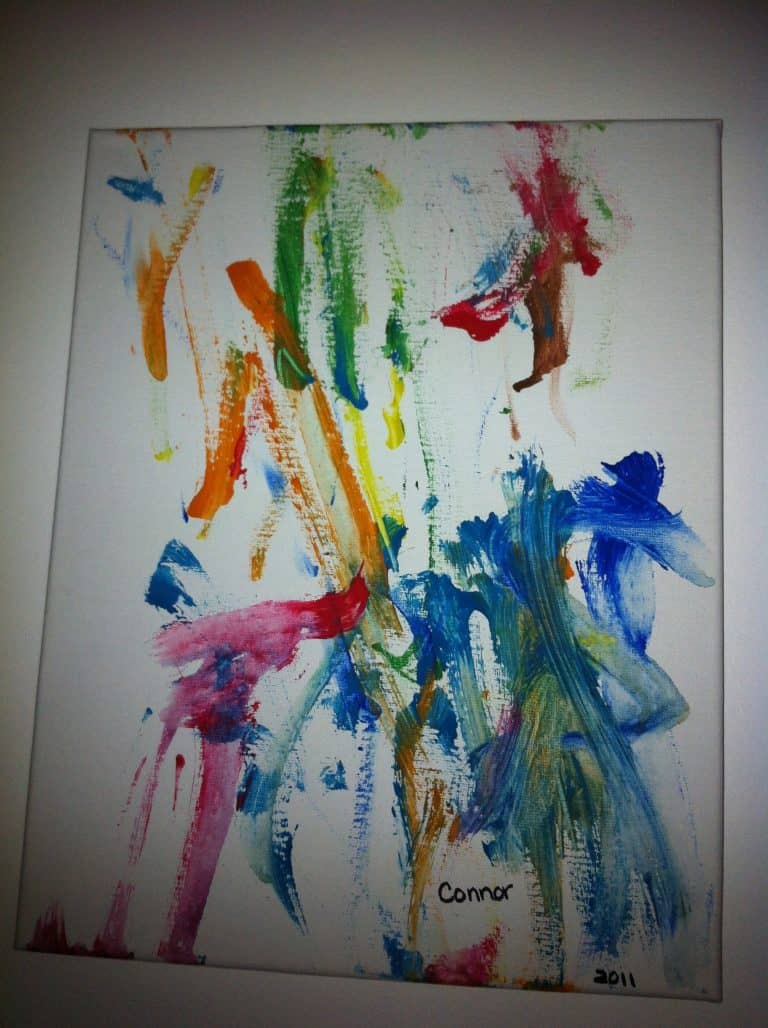 Remember, getting covered in paint, glitter, and marker is part of the fun!