Last Spring I wrote about Loudoun's Just Between Friends Consignment Sale. I was a newbie to the whole consignment process, I knew roughly what it meant but I had never been to a sale. Thanks to Susan at JBF Loudoun, my best friend and I had the opportunity to check out their 2012 spring sale. My first impression was Wow! Anything and everything I could have thought to look for was there. I was excited to find some great toys and puzzles (all in like new shape) for my son's upcoming birthday. Although I didn't need any clothes when I went, there were rows and rows of clothing that looked like it hardly had been worn. One mom told me,"I like that they don't allow any stains or tears on the clothes. They set the standard high" She is absolutely right: zippers should work, buttons button, and batteries should be installed. I love that the team at JBF Loudoun really goes that extra mile to make sure they aren't just some other consignment sale. All my local readers need to check them out this Spring, coming to the Dulles Sportsplex April 20-21st.
JBF Loudoun was voted the best Consignment Sale in DC and Northern Virginia! Congratulations to everyone who makes the sale happen!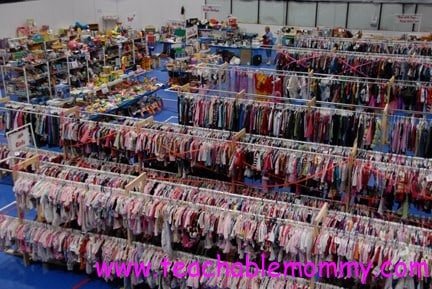 They are also holding Consigning 101 classes again this season. They were a huge success in the Fall, helping many people to learn about the hows and whats of consigning.
Class Information:
Sunday, March 24th at 6:00pm, at the Dulles Sportsplex
You can register here: https://www.facebook.com/jbfloudoun/events
---
Two (2) Lucky Winners will receive a Pre-Sale Pass into the Spring 2013 Sale. Giveaway Ends January 30th 2013.
*Leave a comment for each entry. Winners will be chosen using Random.org*
Leave a blog post comment telling me what item you are looking this Spring
Like Just Between Friends Loudoun on Facebook and tell them Teachable Mommy sent you!
Like Teachable Mommy on Facebook
---
*This post is sponsored by Just Between Friends Loudoun. I received a pre-sale pass for writing this post. No monetary compensation was received and opinions expressed are my own.