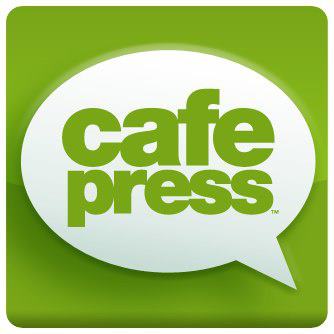 One of my closest friends turned me onto the Cafe Press website a few years ago and I have been hooked ever since. Whenever I want to find fan gear for my favorite shows it is the first place I look. There is something for everything you could think of on that site (I love the Sheldon Cooper collection). Cafe Press has the world's largest selection of artist-designed t-shirts, clothing, accessories, housewares, and gifts. Awesome!

Honestly, for the longest time I didn't even realize Cafe Press offered the "design your own" feature. I guess I was too busy searching pages and pages of coffee mugs with my favorite quotes! But I did notice it eventually and I thought how cool is this? I love giving personalized gifts and Cafe Press has everyone on my list covered. From iPhone cases for my brother to an apron for my grandmother the possibilities seems limitless.
If you run a small business you know the importance of marketing yourself. I highly recommend checking into their products that will help show off your company. Cafe Press allows you to add graphics, shapes, texts, and change colors. I am designing my own custom tote bag to showcase my blog. This little beauty only took about 10 minutes to make. It probably would have been faster but I couldn't decide on a font! Can't wait to have this for my next conference.
Who said you could only have customized mugs and t-shirts? Cafe Press also offers custom area rugs, unique bedding, and more! You can choose from already made products or design your own. Don't fancy yourself as a designer? Cafe Press offers FREE live help from professional design assistants. What are you waiting for? Check them out today and get started on your own masterpiece!
To get you started, Cafe Press and Teachable Mommy want to give you $25 to spend on anything you want on the site!
*This post is sponsored by Cafe Press. I received a free gift in exchange for this post. No monetary compensation was received and opinions expressed are my own. Winner will be chosen using Rafflecopter and contacted via email. They have 24 hours to respond before another winner is chosen.