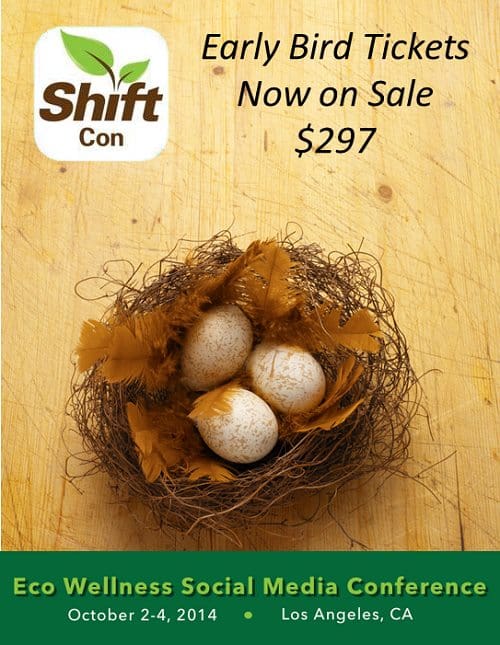 ShiftCon is the first of it's kind Eco Wellness Social Media Conference! ShiftCon is about shifting our perspectives on what we eat, how we raise our families, and our impact on the environment. Unlike other conferences which gloss over organic, nongmo, and eco-friendly living, ShiftCon is focusing on those topics. They are also only working with brands who also support Eco Wellness. Awesome right? 
I cannot wait to go to ShiftCon! I have been to a few conferences now and I always feel like the underdog when it comes to my stance on food quality and wanting to be conscious of the effect the event has on the environment. My inner green self wants to be somewhere that all of that is taken into account. ShiftCon is not only focusing on brands that are organic, nongmo and/or eco friendly, but they are also trying to reduce their footprint on the environment. The food is going to be organic, farm fresh, the hotel is an eco-friendly award winning place, and the overall feel is "green." I am excited to be apart of a conference where us wellness bloggers and brands can come together and make a long lasting positive impact on our world!
Just the details:
Who: 150 bloggers, social media professionals, brands, and others who value wellness, health, and the environment
When: October 2-4th 2014
Where: Los Angeles California. Fly into LAX and the hotel is about a mile from the airport. 
Some of the awesome sponsors and partners of ShiftCon are Sip Certified (a sustainable wine company), Farmbox LA providing farm fresh, organic food for the conference, Healthy Child Healthy World, and Food Democracy Now (fighting for our right to know what is in our food). More brands will be announced soon and I can't wait to see who else I will get to hangout with at ShiftCon.
Early Bird ticket prices are available now! You can get access to this amazing event for only $297!!
Each ticket includes admission to the conference, 2 breakfasts, 2 cocktail receptions, and a blogger hop. Not to mention a swag bag full of organic, eco-friendly products! Lunches aren't provided but ShiftCon is bringing organic and farm fresh food trucks to the hotel for you to grab food from. Yum! Just writing that is making me hungry!
Like ShiftCon on Facebook. Follow ShiftCon on Twitter for all the latest updates, conference updates, and get to know some of the bloggers and brands you will be meeting in LA!
ShiftCon is also accepting application for speakers, workshop leaders, and panel discussions. Apply to be a speaker here. 
I can't wait to see you at ShiftCon!