I love cute workout clothes don't you? I mean we can pretend we don't care about what we look like but we do. We want something that works with us but is also cute and trendy. C'mon I know I'm not the only one! Now that you have admitted it, let me introduce you to Soybu. 
Soybu is a unique yoga clothing line for women. They offer a wide variety of products including tops, bottoms, dresses, accessories, and the new Gracie line perfect for your active 7-14 year old girl. Their clothes are designed to look better, wear better, and fit better than other brands. Soybu clothing is not only ideal for your yoga session but it is stylish enough to wear out. The dresses especially are perfect for work, play, and working out!
Since yoga pants are also the uniform of the stay at home home, I want them to look good and make me look good. I have a lot of Soybu clothes on my Christmas list this year, especially the killer caboose!
What sets Soybu apart?
They believe in offering quality, versatile, trendy clothing without breaking the bank (30% less than comparative brands) or hurting the environment. Soybu uses eco-friendly fabrics like recycled polyester, soy, and bamboo whenever possible in their fabrics without passing off the cost to their customers. They also make their clothing to fit well, look great, and be durable – wash after wash, which means less clothes in the landfill. I also commend them for not wasting any fabrics. Everything is used from season to season (more companies should follow their lead!).
I was given the Oasis dress for this review. It features Stretch Re-Flex fabric. That means it can handle whatever my workout, day, or night has to offer. The dress is breathable, moisture wicking, and quick drying. Thank goodness for that because who doesn't get a little sweaty in meetings or chasing your kids? For the prone to burn fair-skinned people out there, the fabric is UPF 50+ offering us superior protection from the sun. The Oasis Dress fits me well and I have gotten a lot of compliments on it. I love that this dress is form flattering. So if you are curvy like me, straight, pear, or apple shaped I know this dress will look awesome on you! I put the dress to the test, who better to test flexibility than a mom? The material definitely works with you no matter what you are doing; playing hide and seek, conferencing with a client, or doing some yoga on your lunch break. 
The Oasis Dress in Storm Heather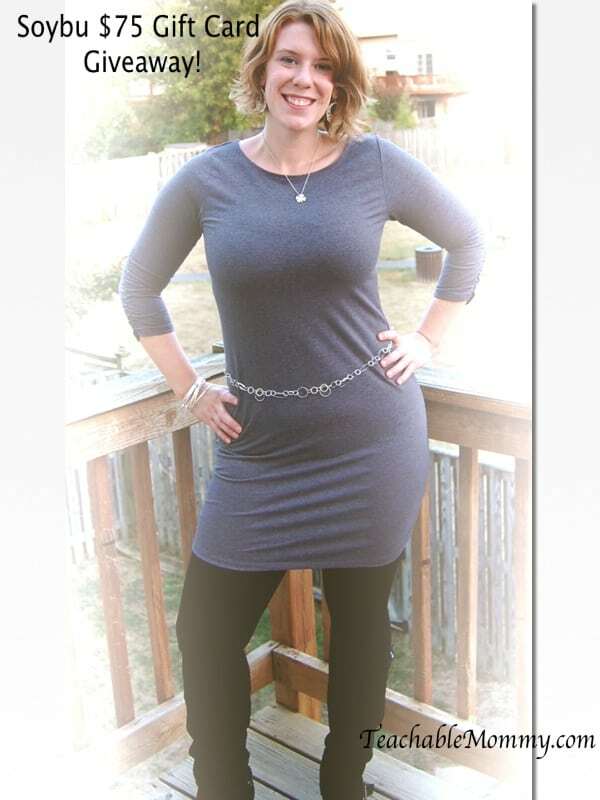 Unfortunately here in the DC Metro Area, Fall took a leave of absence and we have been dealing with 80+ degree weather. So thankful for that moisture wicking fabric! The day I took this picture it was 90 degrees and notice no pit stains!
 I really love that I could throw this dress on for anything: working out, coffee date, or even a night out with the hubs.
About Us:
Our vision is simple – to empower women in their busy, active everyday lives so they will look and feel feminine, stylish and comfortable. All day. Everyday. Our performance apparel is creatively designed to move seamlessly between the activities of everyday without sacrificing quality or style. We blend eco-friendly fibers into our long-lasting apparel with minimal impact on the environment, always keeping our planet in mind.
Soybu can be purchased at www.soybu.com, The Sports Authority stores, Academy Sports, www.amazon.com, and at www.zappos.com. The Gracie line is available at Soybu, EI stores, Von Maur, and The Sports Authority.
A great company with amazing products and a mindset for helping the environment. I love Soybu!
To get you started Soybu is giving one reader a $75 giftcard to their online store! I wish I could win 🙂 
*I am a part of the Bookieboo Blogging Network and I received the Oasis dress for free for the purpose of this review. No monetary compensation was received and the opinions expressed are my own.