*I received a free copy of the book and coupons for the purpose of this review. No monetary compensation was given and the opinions as always are my own.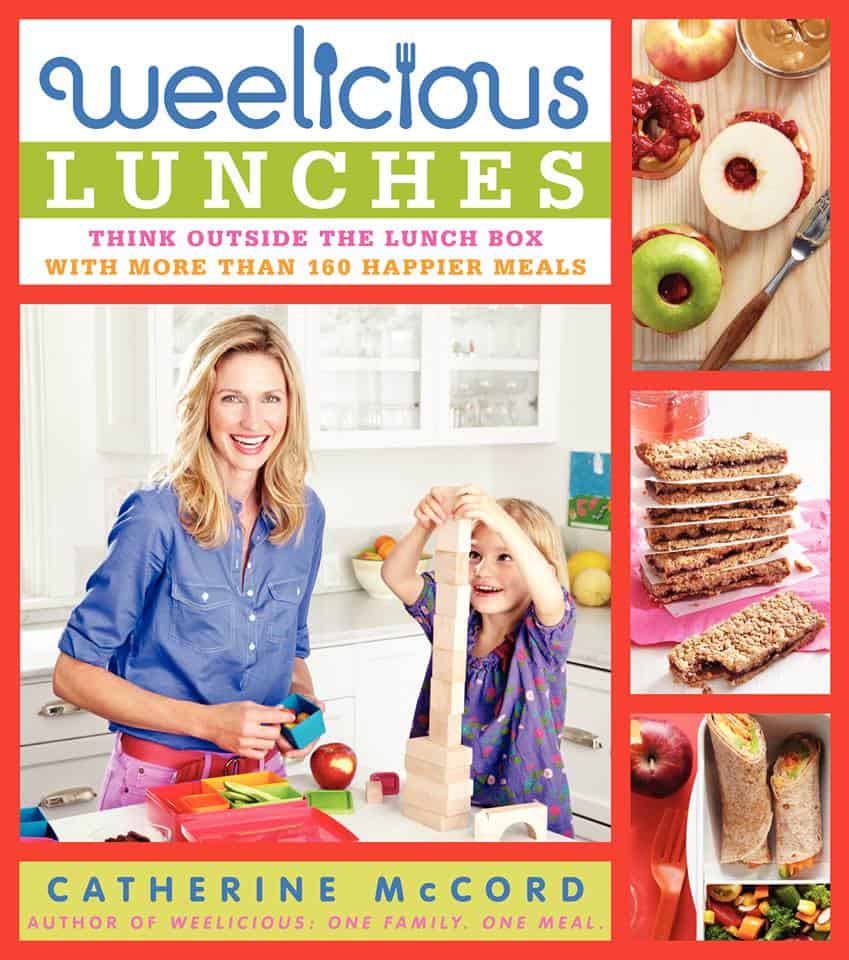 I know I've said this before, but it is as true now as it was in August. Packing healthy, fun, and tasty lunches can be a big challenge. And I'm willing to go out on a limb and say that although you started the year off with a bang that now in October you are running out of ideas. Or maybe you are just tired of trying to be creative! It's okay, we all feel that way. If not in October definitely after December when Christmas break is over. 
No matter what I think I know, I am always up for learning more. My kid's school lunches are no exception. I want them to be healthy, tasty, fun, and if I'm honest the envy of other kids with those prepackaged junk filled lunches. One of my favorite mom authors, Catherine McCord, has just written a new Weelicious book all about quick, easy to make, delicious, and kid approved lunch box ideas. Weelicious Lunches:  Think Outside the Lunch Box with More than 160 Happier meals.
I love the Weelicious books because not only are the ideas healthy and kid friendly, Catherine encourages you to get your kids involved in the preparation and making of the meals. In Weelicious Lunches, parents will find colorful pictures, food allergy information, sensory guidelines, and more alongside the great recipes. Three of my favorite sections are the pantry staples, picky eater ideas, and reinventing leftovers.
Pantry staples is a great list to keep on hand. A well stocked pantry is key to making lunch packing easier and mornings a little smoother. Some of her suggestions and ones that I always keep on hand: plain Greek yogurt (like Stonyfield), bread (tortillas, bagels, muffins, etc), freeze dried fruit, and nut butters. Do you have a picky eater in your house? Catherine lends her advice to getting your picky eater to try new things. One of my favorite tips: get them involved with the shopping and preparing of the food. Kids are more likely to eat something they help make. Last but not least, reinventing leftovers. Cook a little extra pasta, rice, chicken, and what not then turn those leftovers into an amazing lunch. This trick saves you time, money, and sanity!
This wouldn't be a review about a recipe book without getting into the kitchen and enjoying making goodies. with the kids. I let them go through the book and pick out which ones they really wanted to try. Then we made our shopping lists, went shopping with little bickering, and finally back home to whip up something yummy. Can I just stop here and say, reading through the recipes made me wish someone would make my lunches for me! My son picked his recipe right away, but true to form, my daughter went through the book a million several times to find the one that spoke to her inner chef.
Pick #1: Fruity Delight (pg 282)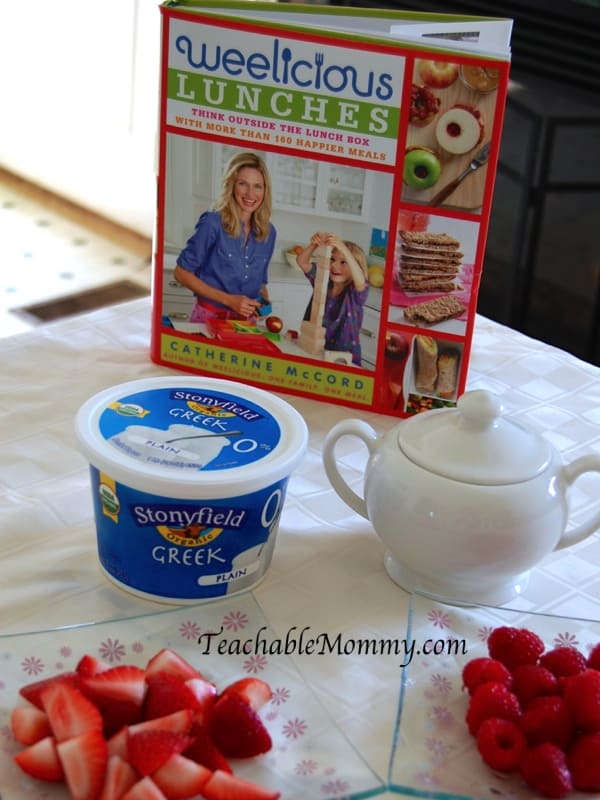 1 nectarine, pitted and diced
2 strawberries, hulled and diced
2 tbsp sour cream or plain Greek yogurt (I only use Stonyfield organic plain Greek yogurt)
2 teaspoons brown sugar
Divide the nectarine and strawberries between two small serving bowls.
Top each with a dollop of sour cream or Greek yogurt and sprinkle with brown sugar.
Note: This recipe can be made with any type of fruit…choose fruit that's in season for the best-tasting results.
Pick #2: Banana Dog Bites (pg 86)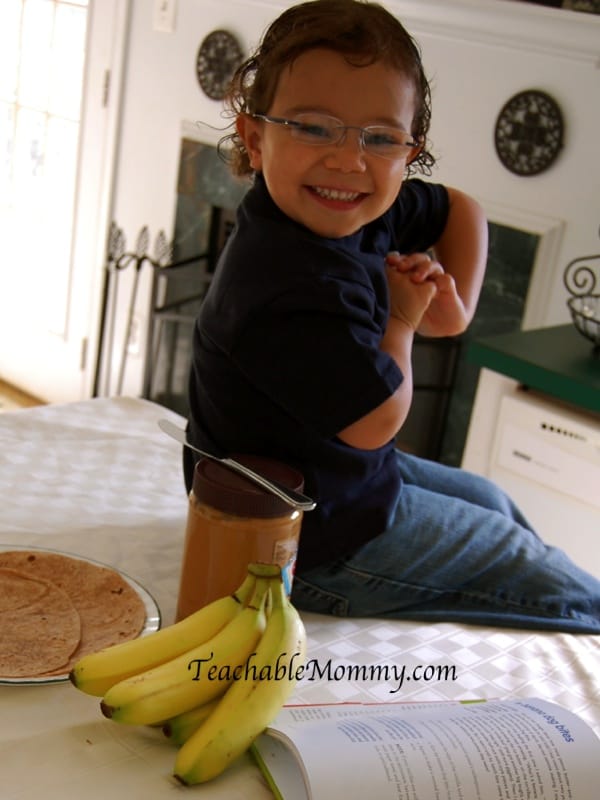 2 Tortillas (I use 100% whole wheat organic tortillas)
1/4 cup of peanut butter, almond , or sunflower butter (when it comes to sending these to school we use sunflower butter, but for this I used peanut butter)
2 bananas
The names are fun right? There is one called Better than Ice Cream which is next on my list. Because that is something I have to taste to believe 😉
One Lucky Teachable Mommy reader will win a copy of Weelicious Lunches and Stonyfield Coupons (valued at $30)!