Laundry. You know, the synonym for endless. An ever present enemy to any household. You get the idea. But did you also know that there are toxins lurking in your laundry room? Your typical detergent, softener, and dryer sheets contain harsh chemicals, carcinogens, GMOs, and other nasties. If one of your resolutions is to green your life and live better, making the switch to natural laundry care products is one way to do it.
Molly's Suds offers a variety of laundry care products to detoxify your life. They have laundry powders, whiteners, sport wash, dog shampoo, cloth diaper powder, and wool dryer balls.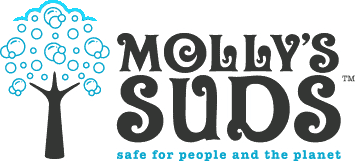 Molly's Suds products are free of perfumes, dyes, parabens, SLS/SLES, formaldehyde, 1,4-dioxane, phosphates, Certified Cruelty Free and Vegan. They are safe for pets, humans, and the Earth.
With two kids, a husband, and pets we have no shortage of laundry. I tried out Molly's Suds laundry powder on our normal washes and the yucky gym clothes. For large loads you only need 2 scoops. Yes I wasn't sure 2 scoops could clean a super-sized load but it did! Not only does the Molly's Suds powder work well but it also clears out the detergent build-up that occurs in your washing machine. A 2-for-1 deal, love it!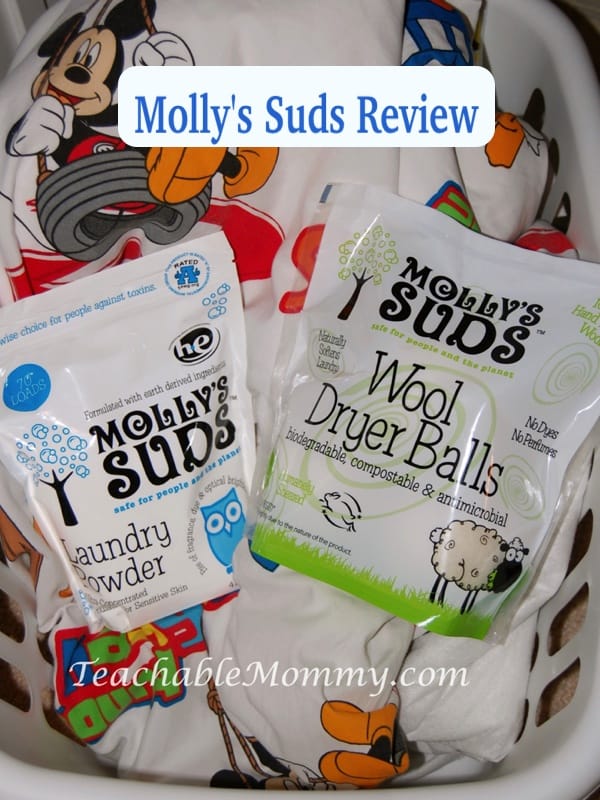 When it came to not using a softener and dryer sheet I have to say I was a little nervous. I've never not used those so it almost felt wrong to do laundry without them! I won't lie. I was intimidated by the Wool Dryer balls.
You just toss 3 of them in your dryer and that's it. If you want a little scent, they recommend adding a few drops of your favorite essential oil. My loads dried in less time and were softer than ever before!
Benefits of Wool Dryer Balls?
Reduce drying time
Reduce Wrinkles
Soften Laundry
Long lasting! They last up to 3 years, that is almost 1,000 loads!
Works with all types of laundry- towels, comforters, cloth diapers, clothing, and delicates
Replaces the need for fabric softener and dryer sheets
Molly's Suds products are available for purchase today at the Kiwi Shop! I recommend picking up the starter pack for tackling all your laundering needs!
I am a Kiwi Shop blogger. I received free products for the purpose of this review. All opinions are my own.