Awesome Con 2018 is over but we cannot wait to join in the fun again next year. Our whole family had fun surrounded by all things geeky. It was the kids' first experience at any type of Con and they loved it. I had to drag them away each day when it was over. Thinking this might be the event for you? Check out my 5 reasons why you need to attend Awesome Con!
Thank you to Awesome Con for the press access to the event. All opinions are my own.
5 Reasons Why You Need to Attend Awesome Con
1. You can dress up!
And I am not just talking about the kids. Adults, we can put on our best cosplay, Disneybound, or fandom t-shirt and no one will think you're too old to be playing dress up. Seriously, one of my favorite things about any Con. I love an excuse to wear a costume!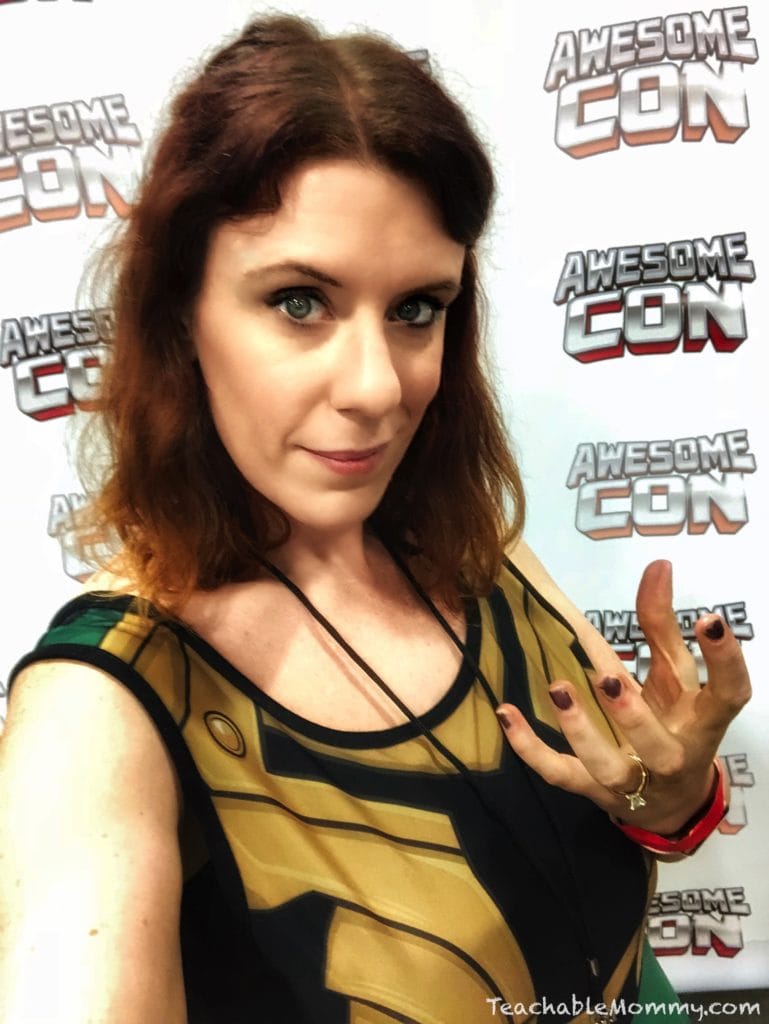 And not only do fans dress up but there are groups of cosplayers who have the coolest booths! I'm a little bias but it was a lot of fun being captured by the Mandalorian Bounty Hunters. They thought they could contain me but they were wrong. No one gets the better of Han Solo!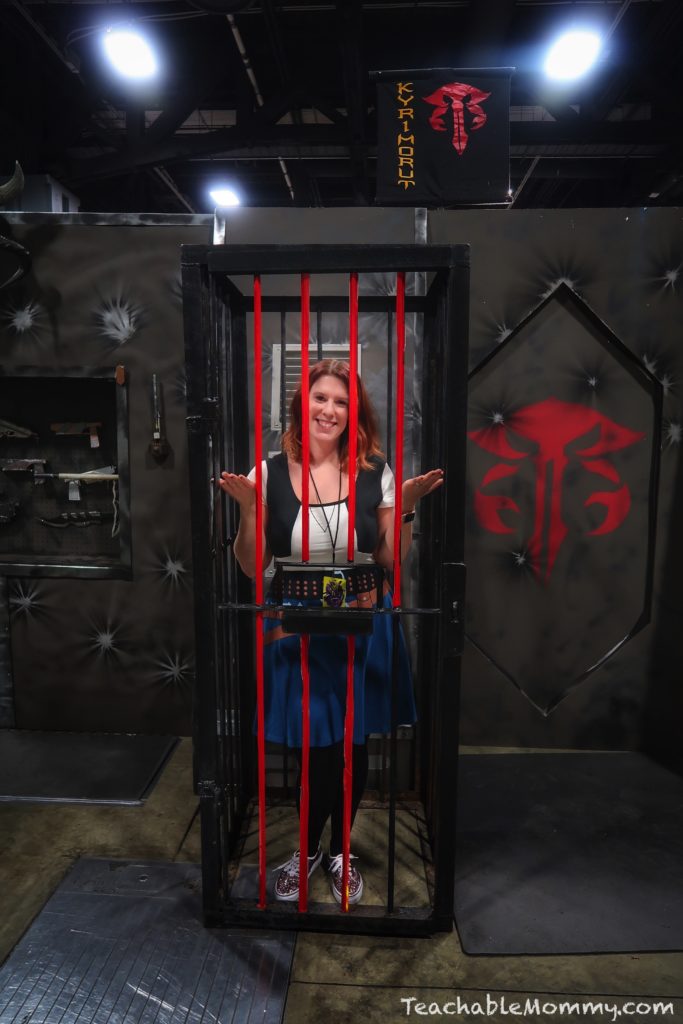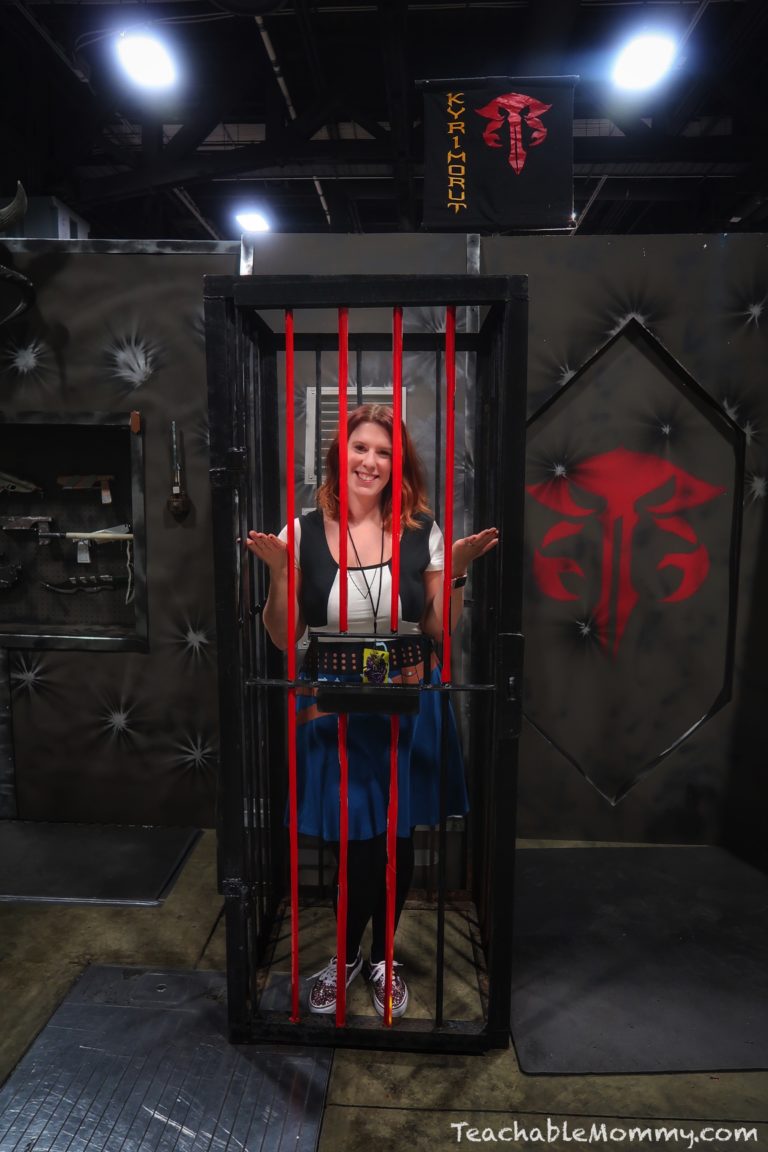 Word to the wise: when you try to put Captain America's mom in jail you're going to regret it.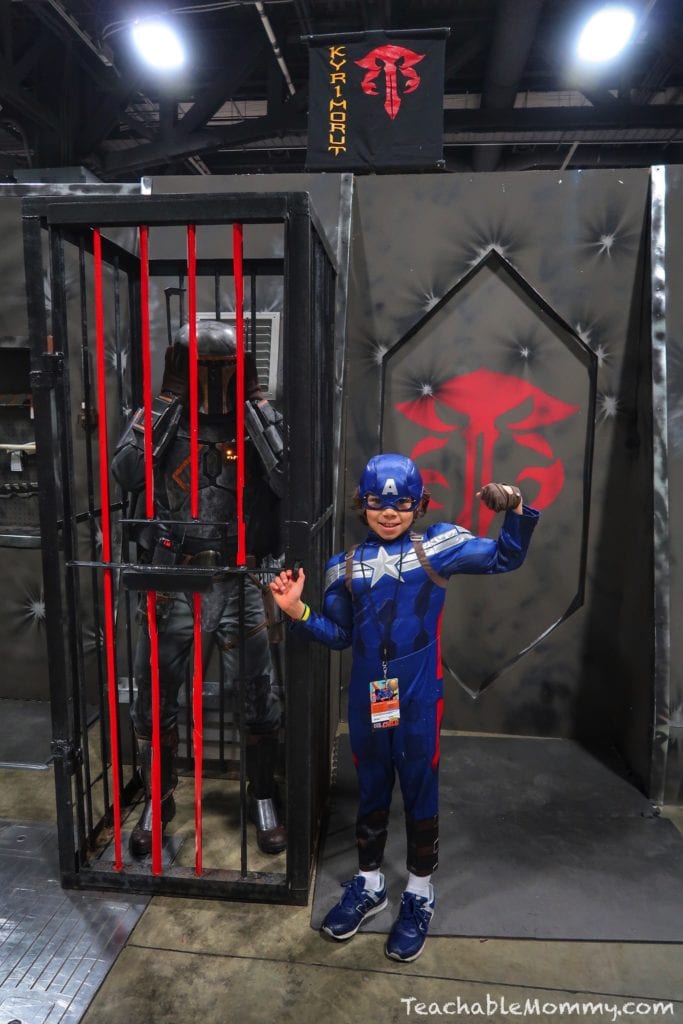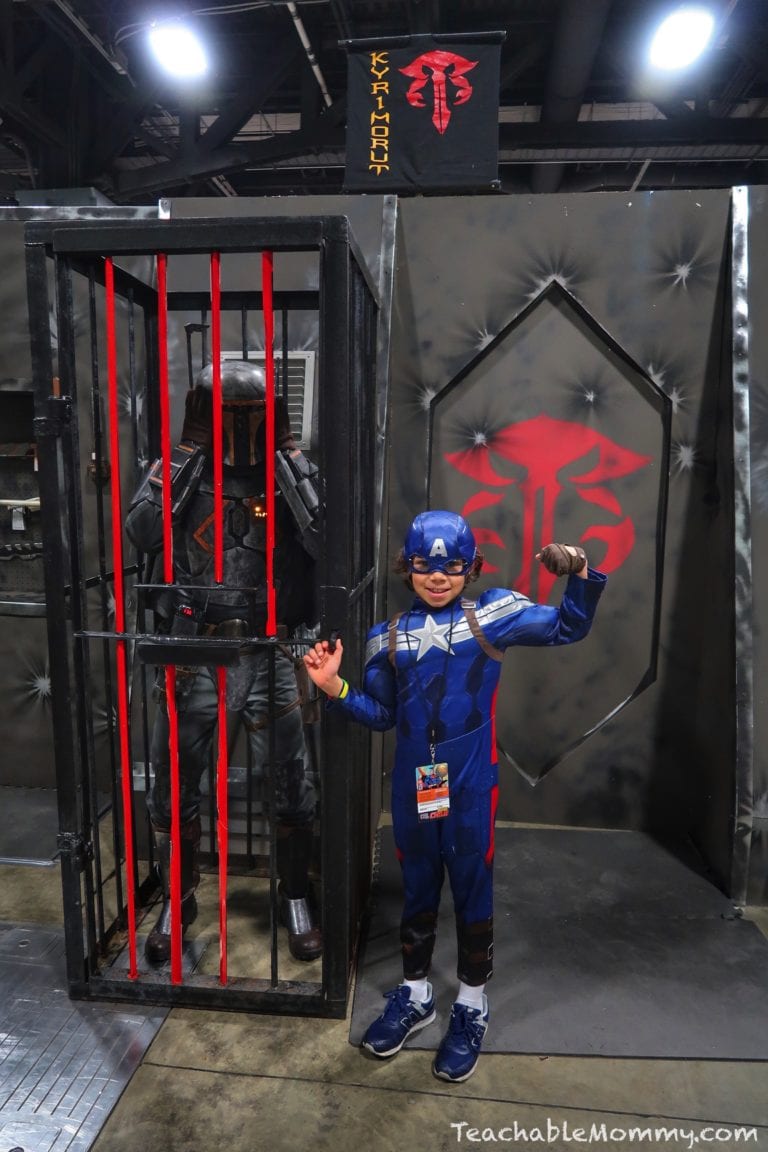 2. Meet the talent of the geekdoms you love.
From on screen stars like John Boyega, voice actors like Phil Lamarr, to animation artists like Bryan Turner, you can get face time with some of your favorite people. Attend panels where the stars and creators discuss their work. Some even allow Q&A from the audience, so if you ever wanted to know if Michael Rooker still plans to watch Guardians of the Galaxy, that would be the panel for you. The artists were my favorite to talk to. They had some interesting stories about how they created characters for their respective shows and what feeds their passion for what they do in the world of geek.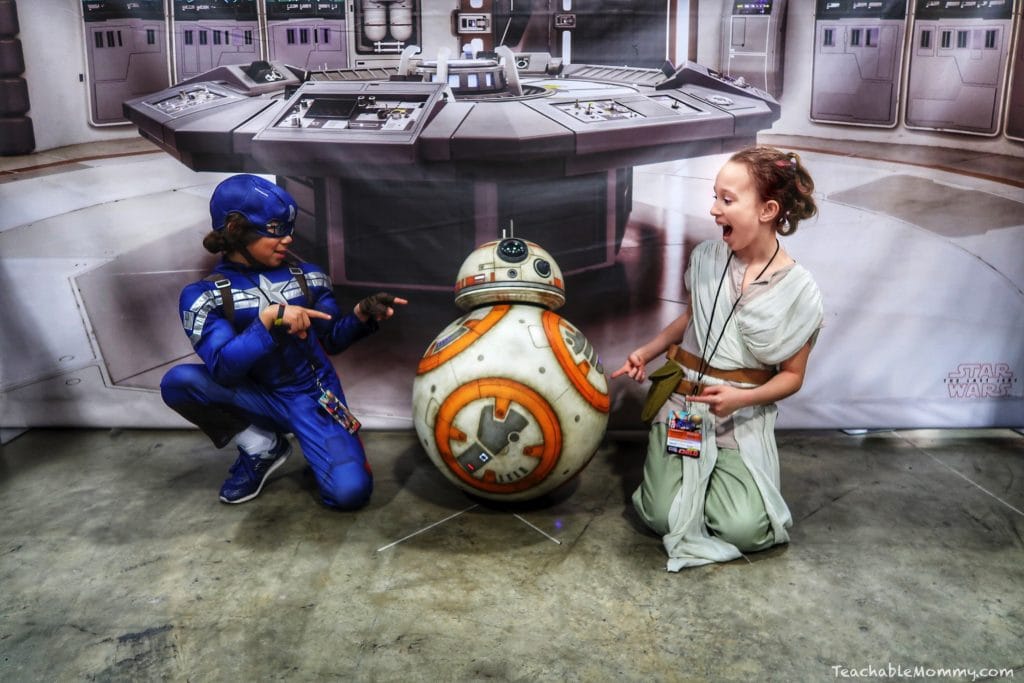 I know we loved meeting BB-8. Him and I caught up from our meeting during The Last Jedi. He was excited I had the kids with me this time.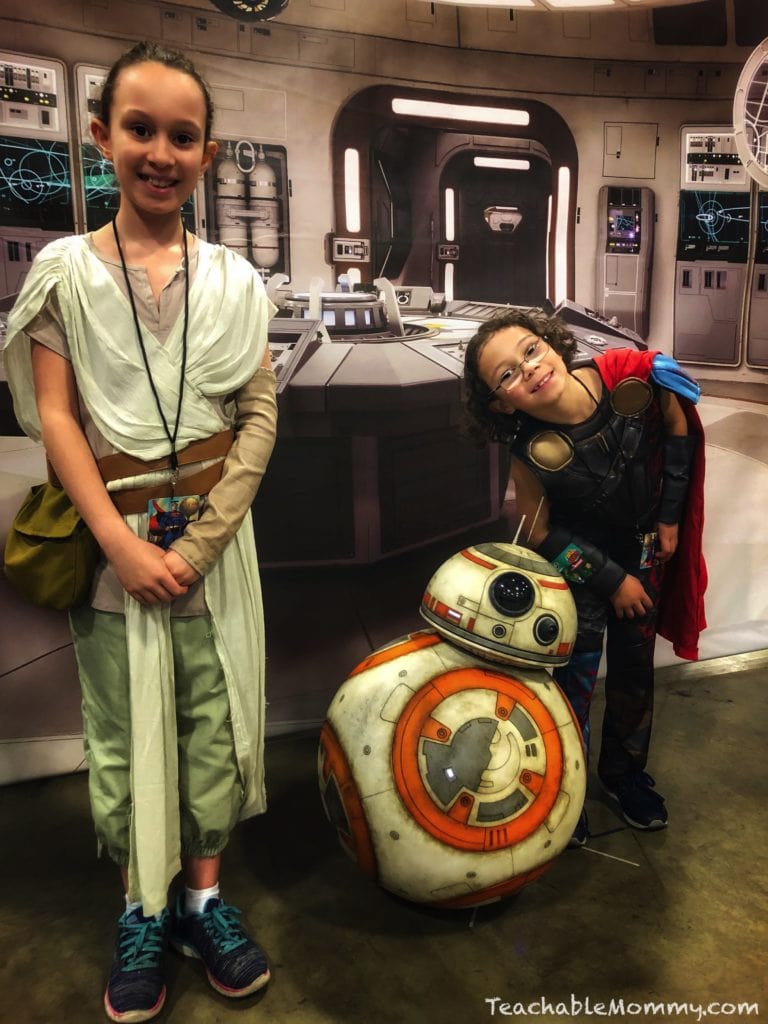 3. Cool collectibles, comics, art, and one-of-a-kind merchandise.
I spent a lot of time, and yes money visiting the vendors during Awesome Con. We all got new (to us) comic books, including some Disney ones from the 90s. Which according to my kids was so long ago but you and I agree it was only about 10 years ago right? Okay, just checking.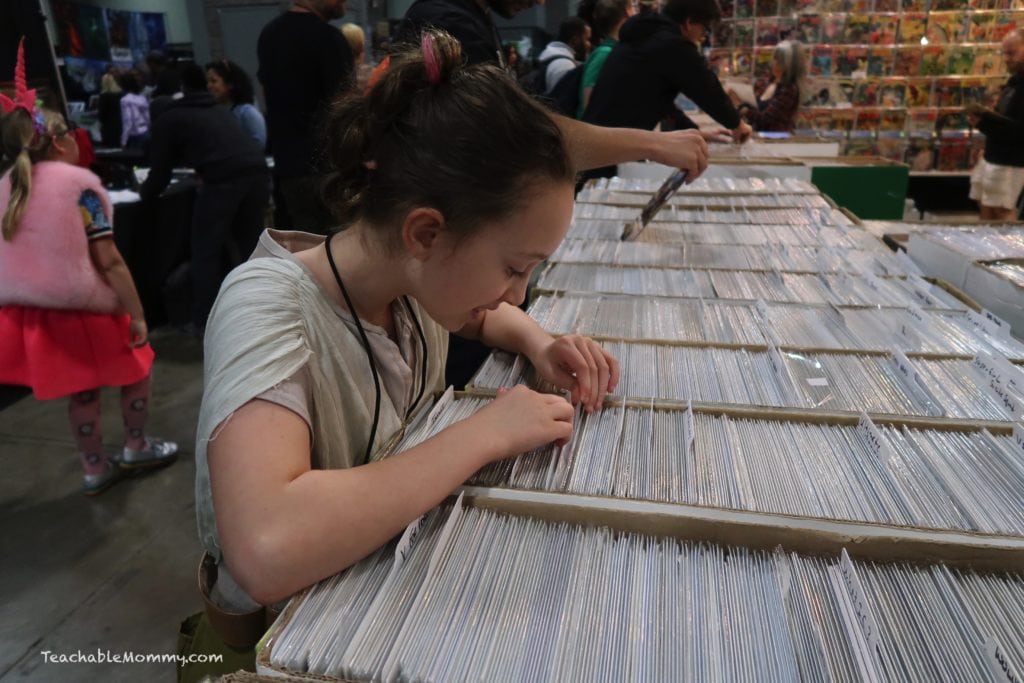 There were costuming booths, journals, nerdy collectibles, original artwork, you name it I probably saw a booth for it.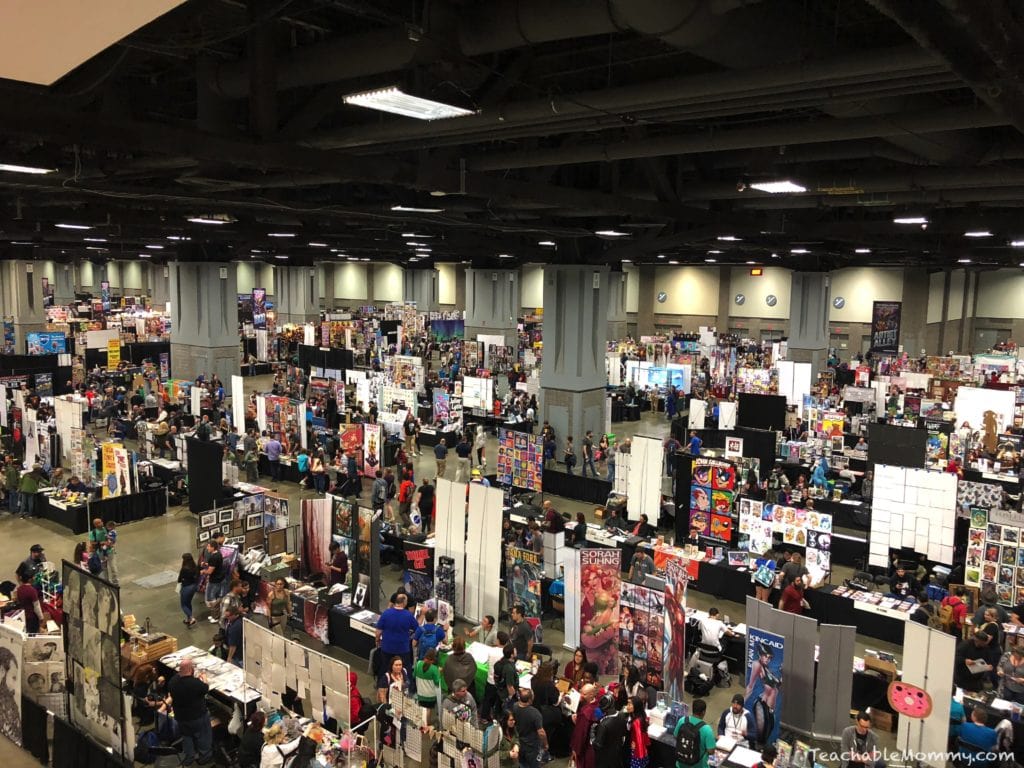 My husband and I also picked out pieces from different artists. Added bonus that they signed their artwork for us. So cool!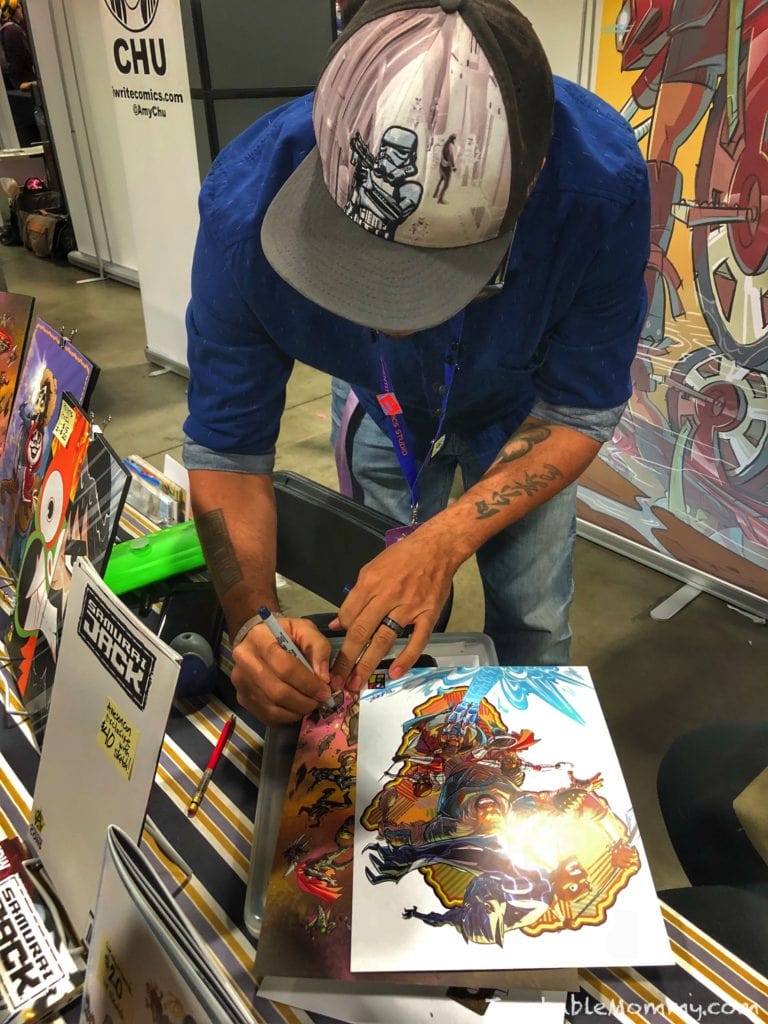 4. The feeling of community.
This is something that I first noticed when I attended Star Wars Celebration, the geek community is a welcoming place. No matter your race, religion, gender, or Hogwarts House, you are welcomed by all.
It was a great feeling to be surrounded by positivity and fun rather than hatred and drama. If only the whole world could be as amazing as this community of fans.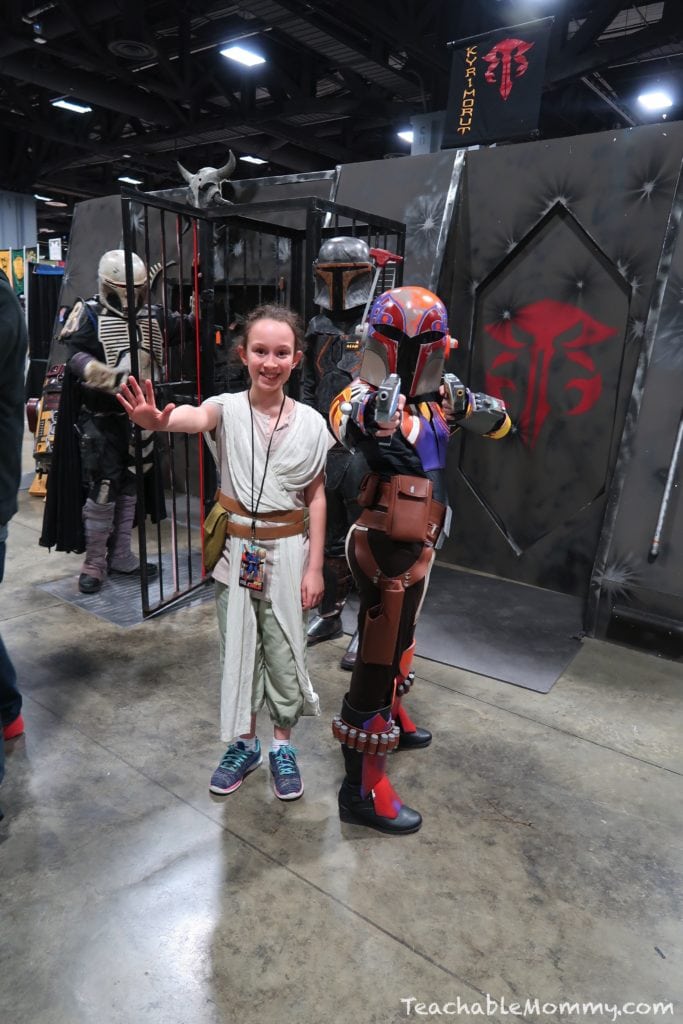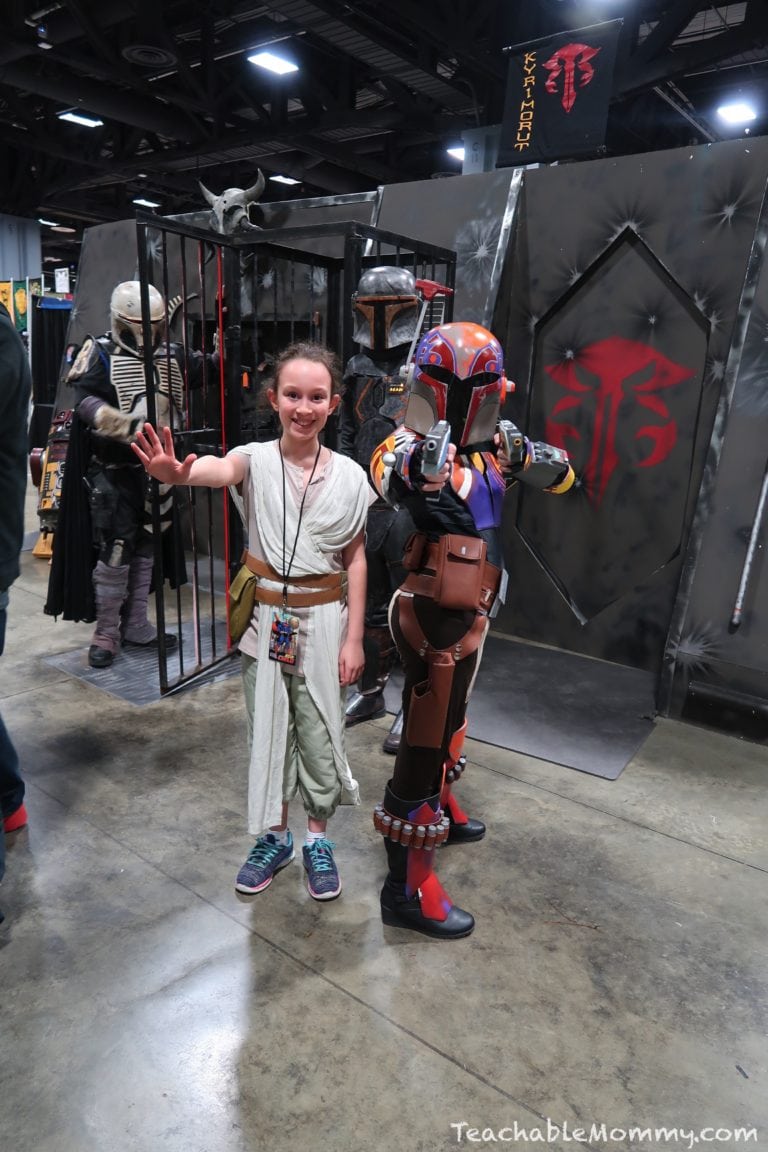 5. Family-friendly event.
Awesome Con is fun for the whole family. With something for everyone and almost every fandom you could imagine represented, you seriously will have a blast. It was nice to spend time together as a family, all dressed up, enjoying some of our favorite things about geek culture.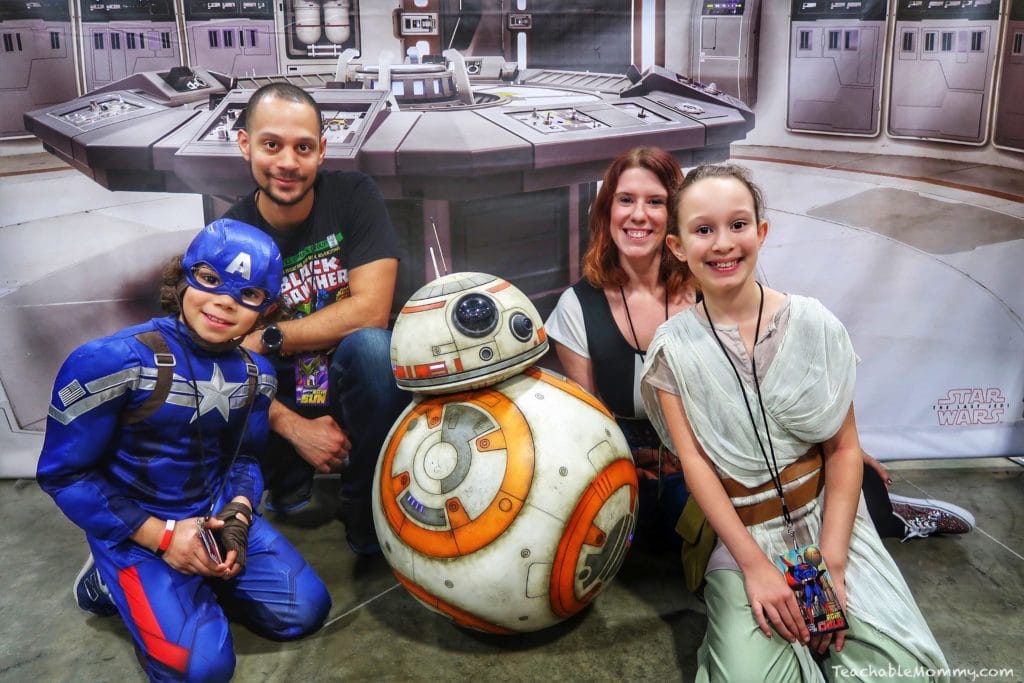 For the kids, Awesome Con Jr. was the place to be. They had gaming, character meet-n-greets, activities, and more. My kids only agreed to leave if they could visit with the Mandalorians, Darth Vader, the Resistance, or to look for new comic books and Funko Pops.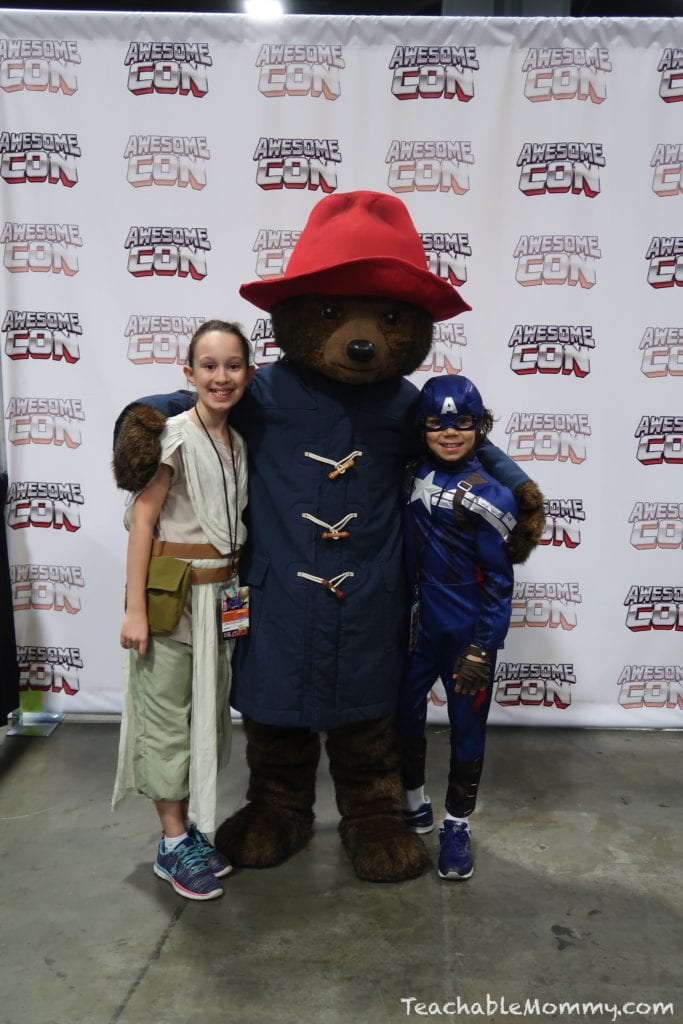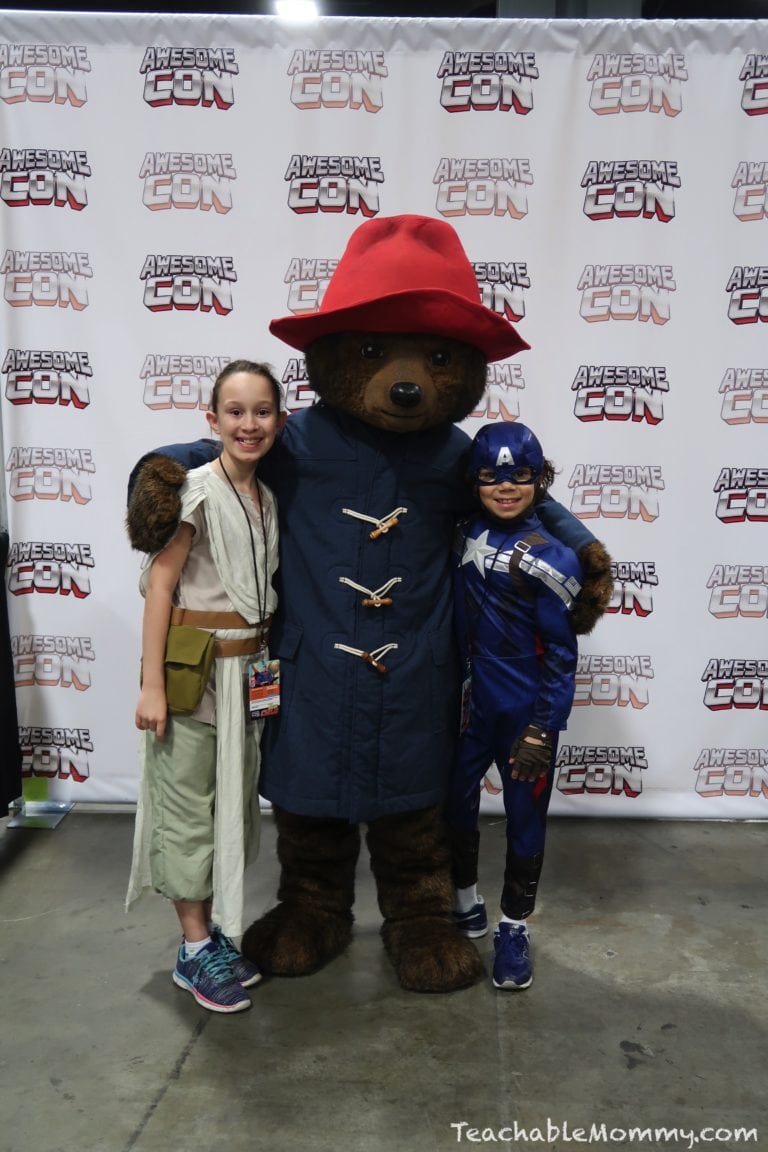 Don't just take my word for it. I asked the kids what they thought about Awesome Con and this is what they had to say:
Awesome Con was awesome. There was a game truck that was cool. I saw a lady wearing a Black Panther outfit, I said Wakanda Forever and she laughed. I ate candy, thanks Mommy! Spider-Man saved the day when she stopped the elevator from leaving us. We had fun with our friends too and I got a new Funko Pop. I can't wait to go next time! – Captain America/Thor age 8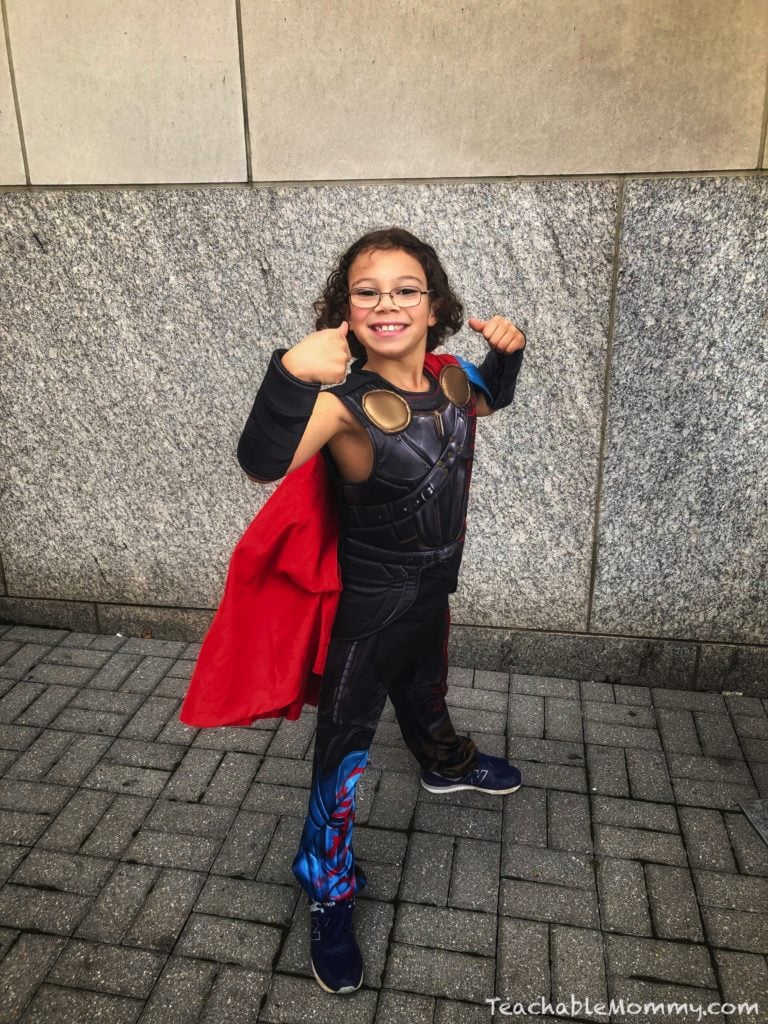 We went to Awesome Con and it was awesome! There were lots of people dressed up. I dressed up as Rey. We met BB-8 and R2-D2, so cool! I got a new comic book and a pop figure of Groot. I love him. There were so many booths, some even had free stuff. I thought the costumes were really cool. We even saw a Porg! I had an awesome time at Awesome Con and I can't wait to go back next year! -Rey age 12
Awesome Con will be back April 26-28th 2019!