Coming tomorrow is the most exquisite show for your little ones, Disney Junior Fancy Nancy! While I was in LA, I got the chance to screen the first episodes of the show, and it was everything a Fancy Nancy fan could ask for. I'm talking bright colors, big words, and lots of laughs.
Afterwards, we spoke with Executive Producer and Director Jamie Mitchell and Story Editor Krista Tucker. I'm excited to share with you what I thought about the show and what Jamie and Krista had to say about the all new series.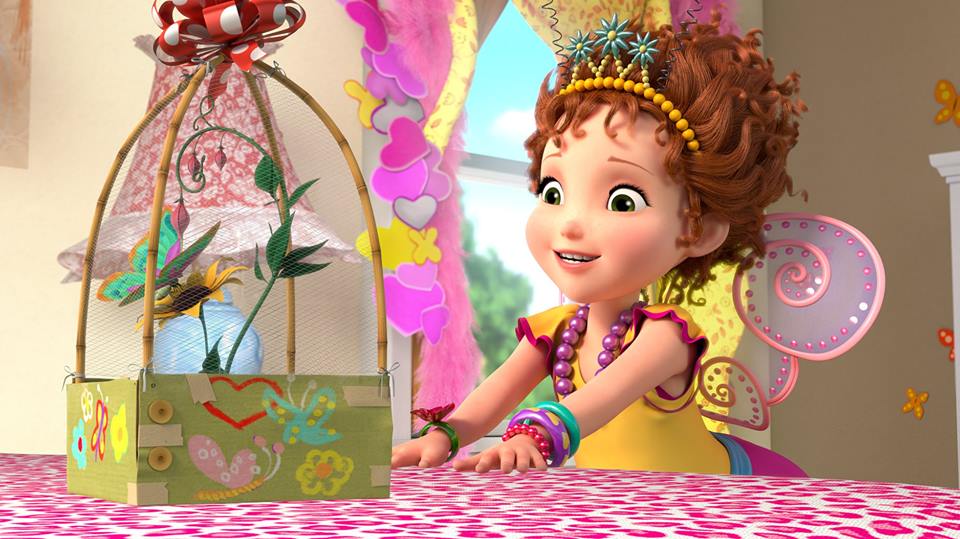 I was invited by Disney to the Ant-Man and The Wasp press trip. All opinions are my own.
Disney Junior Fancy Nancy is Fantastique!
In Episode 1, we meet Nancy, her family, and the kids who live on her street. Her father and grandfather are busy building her a fabulous new playhouse. But once it is finished it is, well, plain. Nancy, with some help from her best friend Bree, JoJo, and Freddy, transforms her playhouse into something that is magnificent and definitely fancy.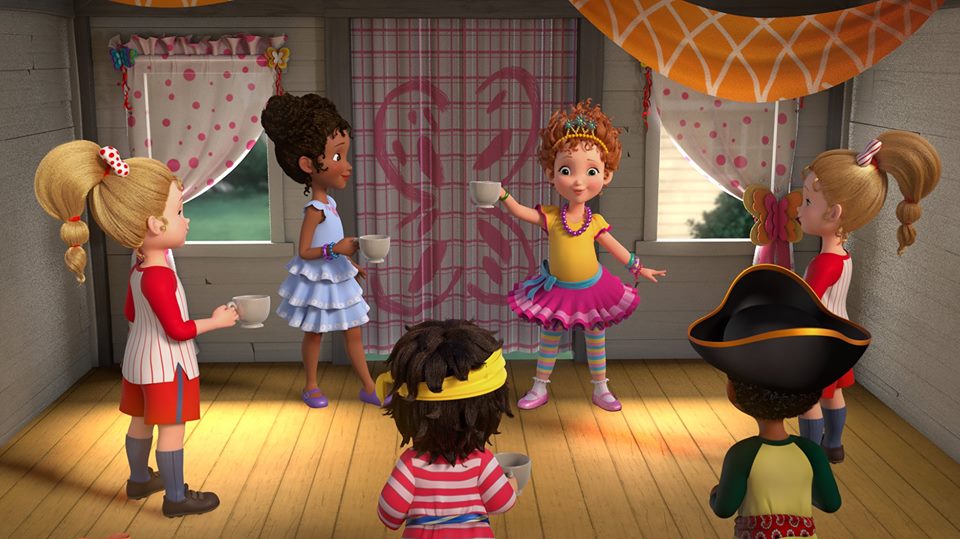 Then in Episode 2, Nancy decides her friends need a lesson in Fancy. Bree and Nancy open a school for teaching others to be fancy. But she needs to learn, just because being fancy makes her happy doesn't mean that is what will make others happy.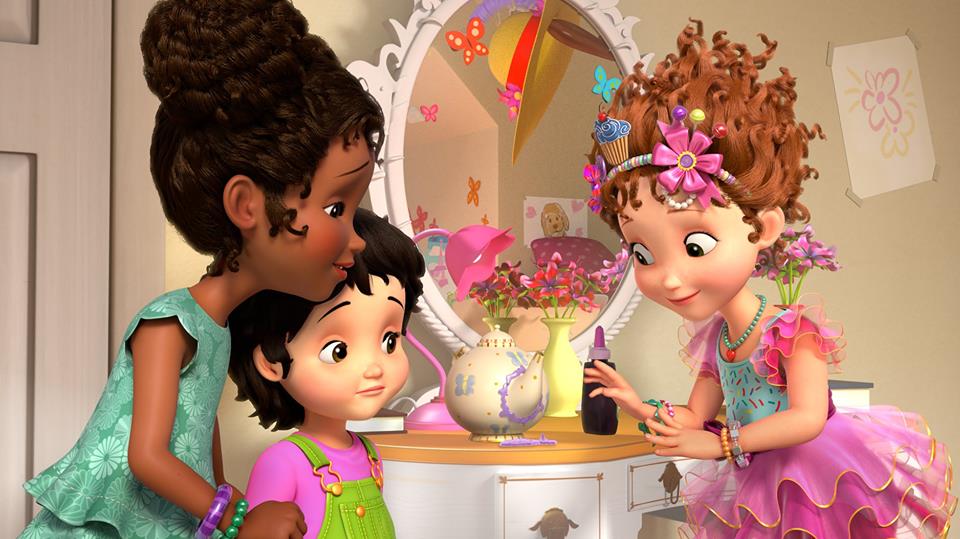 About Fancy Nancy:
The New York Times bestselling book series, Fancy Nancy by Jane O'Connor and Robin Preiss Glasser is coming to life in this all new Disney Junior show. Nancy is a high-spirited young girl whose zest and enthusiasm for all that is exquisite – including language, nature, art, and color – transforms the ordinary into the extraordinary. Excited to experience what the magnificent world has to offer, Nancy uses ingenuity and resourcefulness to exemplify that even if life doesn't always go as planned, it's important to make the most of each day and encourage others to do the same.
This show is cute, colorful, and the writing is super fun. Parents will enjoy watching this show with their little ones and using all the new magnificent words Nancy uses throughout the episodes. Grab your boas and tiaras, it's time to get fancy! oh-la-la!
Fancy Nancy was a property that Disney has been interested in for awhile. I'm happy Nancy is home at Disney, I can't imagine another studio doing her justice. Plus don't you want to see Fancy Nancy twirling around the Disney Parks? I know we do!
The voice cast for the show includes Alyson Hannigan, Rob Riggle, and Mia Sinclair Jenness. Jamie shared a bit about why each of them were chosen for their roles.
Jamie: We auditioned a number of young ladies for the role of Nancy. Mia just stood out. She had this energy, she understood the dialogue and how to deliver the comedic timing. Yet, she brought an innocence to the character. Her singing skills are remarkable.
Alyson is the voice of Nancy's mom Claire. I love her voice and her energy.
Rob Riggle (voice of Nancy's dad Doug), came to us out of nowhere. I just thought he was always really funny. He brings something to the character that is unique, something we didn't expect.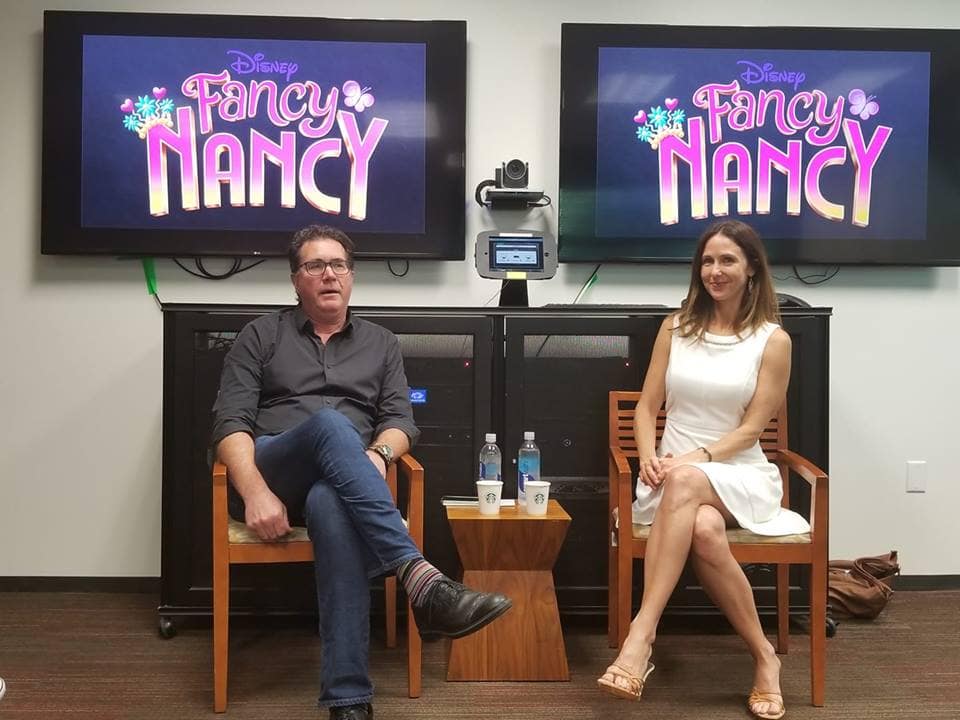 If you have ever looked for Fancy Nancy books you know there are a lot! If you check my daughter's room, I think you'll find the whole collection. According to Krista, only 2 of the books were adapted for the show. Every other story is original and they plan on keeping it that way.
This show isn't just for the kids, throughout the episodes a little parent humor (read: not adult humor just fun, G-rated parent humor) is sprinkled in, which was intentional.
Krista: We know that co-viewing is very important to our audience. Some of these silly moments that happen in our lives with our kids, we're connecting to that on a different level. It's funny to us in a different way.
Jamie: As a parent, I would hear a show in the other room and be like "ugh turn that off!" (Laughter) I like shows that parents get a kick out of while watching it with their child.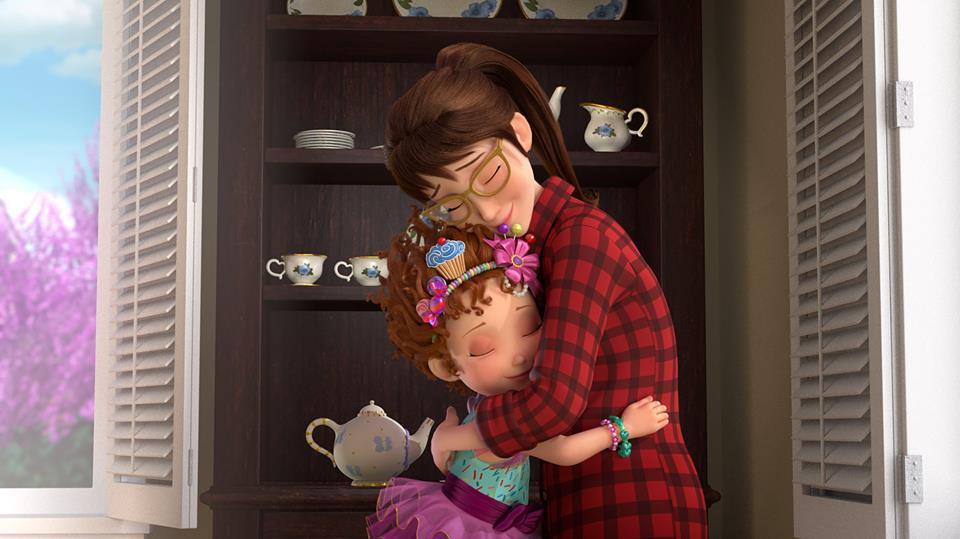 The animation for Fancy Nancy is stunning. I was wondering just how bright and likely it would be, considering the books are always so colorful. The team went above and beyond to ensure that everything from the sheen on the pearl necklaces to the hair on Nancy and Bree's heads were perfect.
Jamie: I wanted to create a 3 dimensional environment, that was real, but heightened reality. I want the environment to be fully immersive for the audience. They look at it and want to be in that environment.
Since the show is almost 100% original, what can we expect from the Disney Junior adaptation?
Krista: The stories center around Nancy's dreams and her family. One of the great things about her is she is flawed, and that lends itself to lots of fun and conflict. The kids are the kids from the cul de sac.
Especially in season 1, we stay mostly in the cul de sac. Our stories are about how she is interacting with her family and her friends. She is somebody who goes out into the world and tries to make it what she wants it to be.
Jamie: The way we started out the series was focused on the family. Then we wanted to expand to the neighbors and their storylines. There are fun life lessons we get into.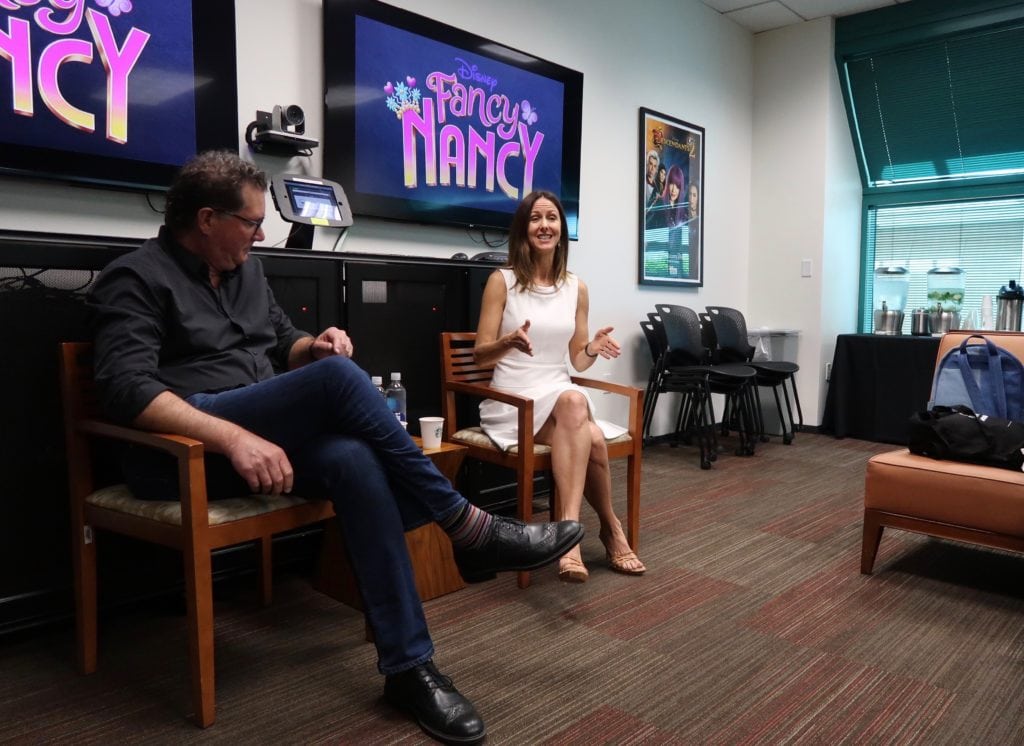 Jamie and Krista obviously are enthusiastic about the show. And they shared their favorite moments as well as what they love about Fancy Nancy with us.
Jamie: In the center of the cul de sac there is a tree, one of the twins falls and sprains her arm. The parents decide this is going to be off limits for the kids. The kids decide that's not acceptable. They become revolutionaries.
Krista: Led by Nancy. This is a great story about fighting for what you believe is right. Kids have voices and their voices matter. They're more powerful than they know.
Jamie: The thing I love about this series, is that it really is about the empowerment of kids.
Krista: The parents aren't telling them how to be. The parents say "be who you are" and they gently nudge them.
Jamie: The dynamic between Bree and Nancy is critical to the series. They argue, and butt heads. Bree is not a pushover. When Nancy comes off braggy, Bree is out of there. She's not going to stand around and be second fiddle. Inevitably they come back together as buddies, but it's about that real kid dynamics.
If you know Fancy Nancy you know she loves to use big, fancy words when she talks. The vocabulary is an important part of the new show.
Krista: The vocabulary is a huge part of what we do. We have French words, fancy words, we have a French consultant who is making sure we are using the words correctly.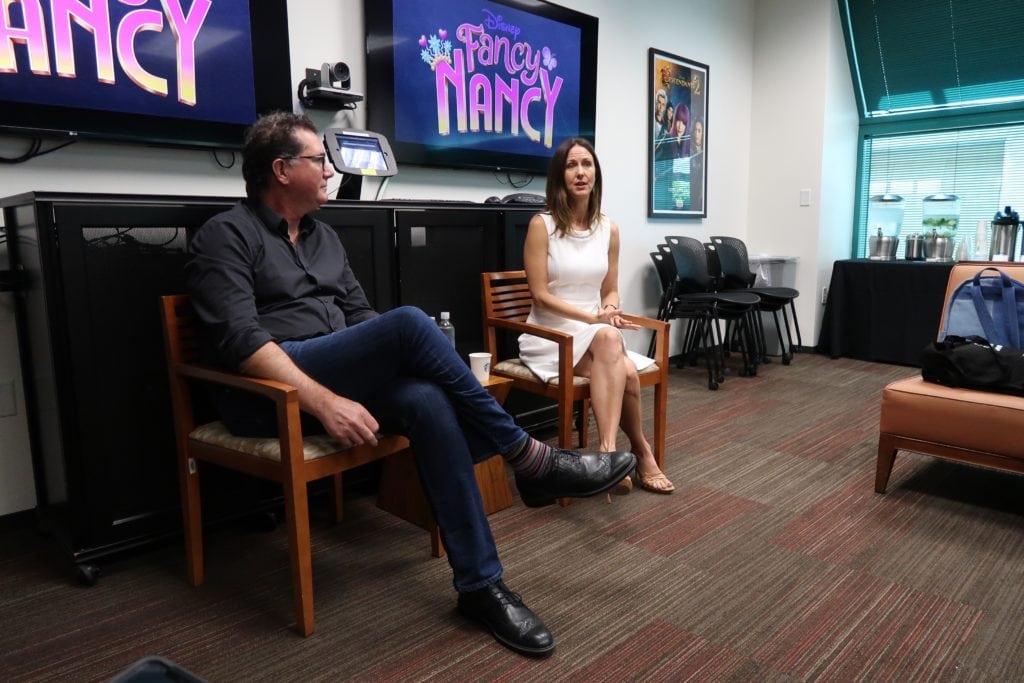 Fancy Nancy debuts on Disney Junior tomorrow, July 13th 2018!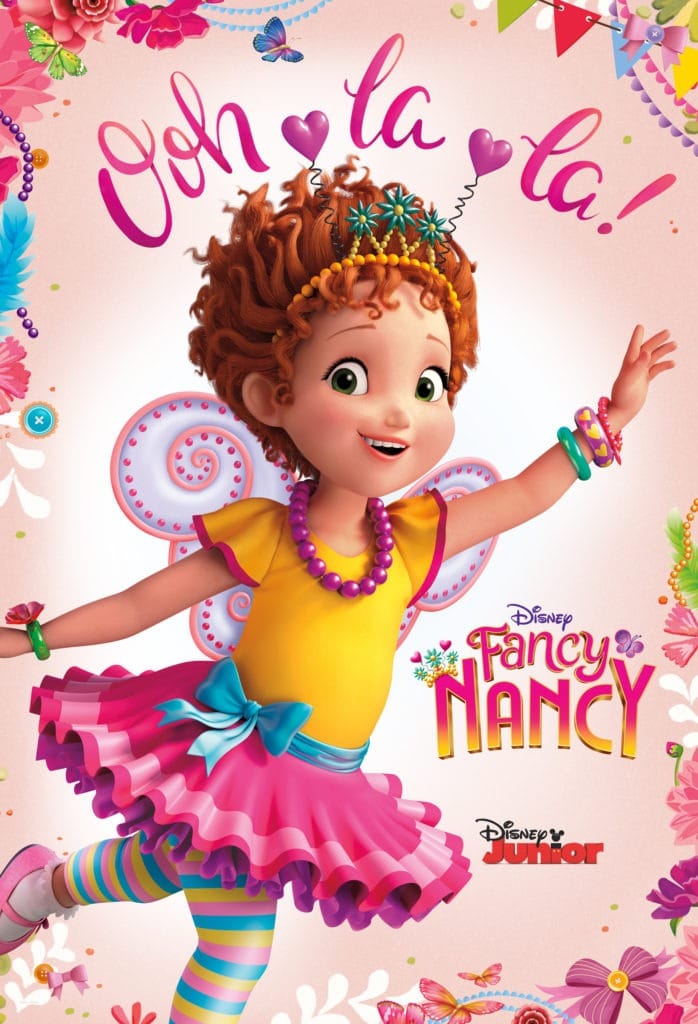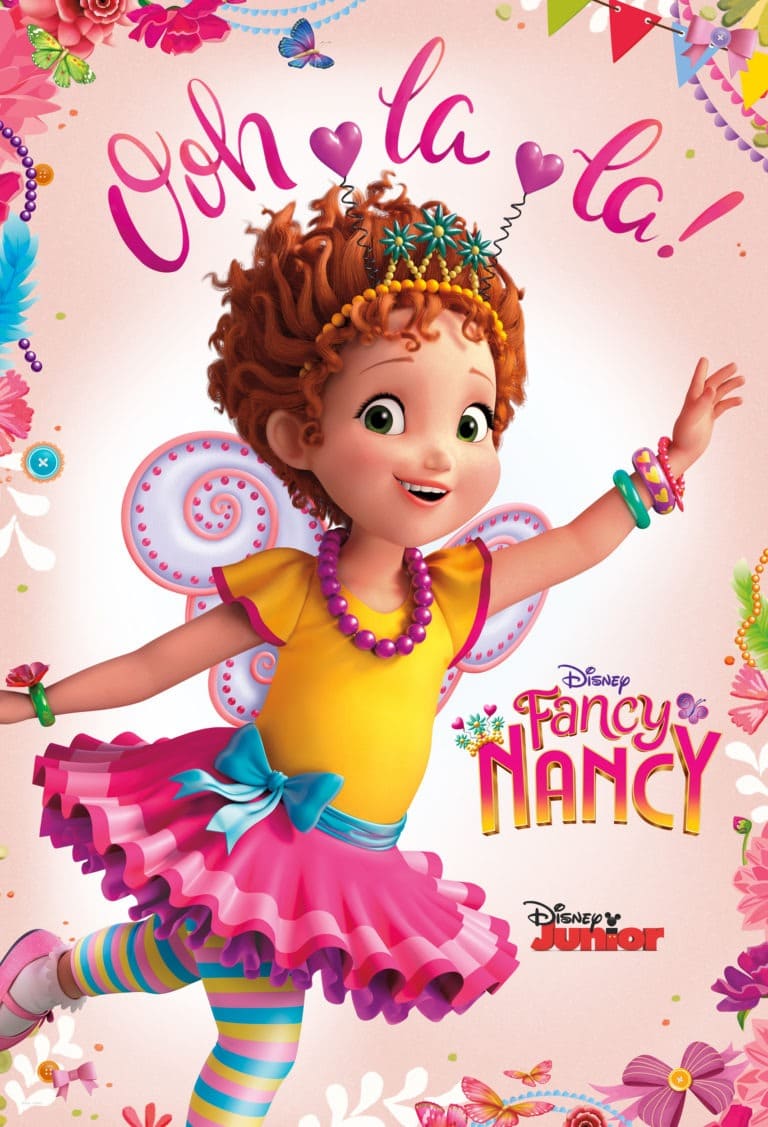 Here is a peek at some of the fun new Fancy Nancy products coming soon to a store near you!