What better way to learn about Cruella than from those who brought her story to life? Which dress was their favorite? What was it like playing such an iconic villain? I've got the answers to all that and more.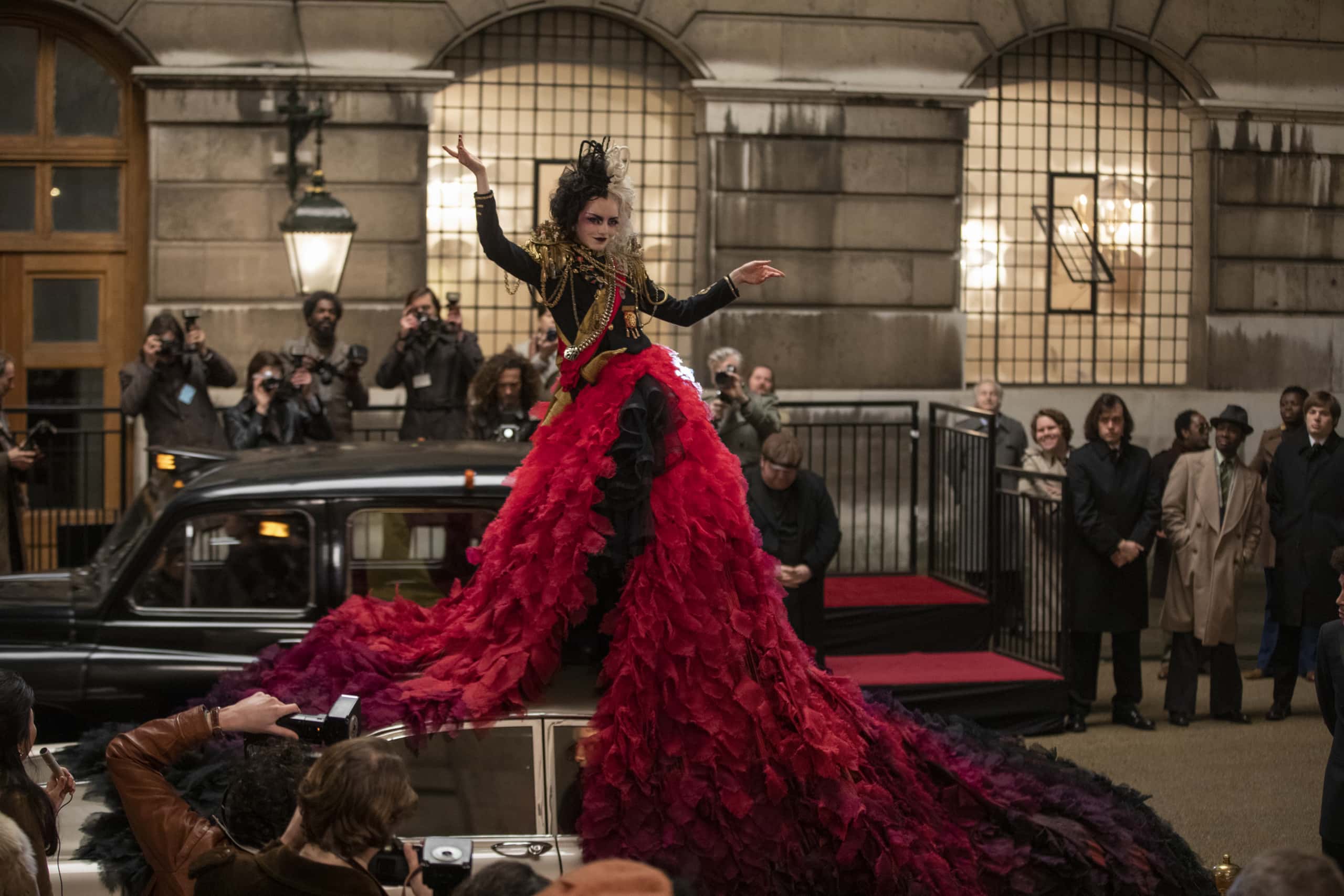 After watching Cruella I can tell you without a doubt it is a wickedly fun movie that you will want to see again and again. Emma Stone is delightfully mad as the eccentric Cruella while Emma Thompson absolutely embodies the villainy of the Baroness. That's all I can say for now, embargoes and all, but why not get some behind the scenes info from the stars themselves. I had the opportunity to hear Emma Stone and Emma Thompson share all about Cruella and it was one of the most entertaining interviews I've ever been a part of.
RELATED: Behind the Scenes of Cruella: Interview With The Filmmakers
Interview: Emma Stone and Emma Thompson On All Things Cruella
Cruella is not a villain that can be taken lightly. She is a fashion designer who uses animal fur to create some of her more wicked looks. The film Cruella is a deliciously dark telling of her origin story. Was it surprising that Disney went that dark?
Emma Stone: I was. They really let Craig and Tony write and make what they wanted to make. I think it's definitely dark for a Disney movie. It was darker than I've seen a Disney movie for a good long time.
Speaking of dark, the Baroness gives Cruella a run for her money. What was the process like creating this nightmare of a woman? You are normally the nice one!
Emma Thompson: I had such fun doing her, because I've been asking for quite a number of years if I could be a villain, a proper villain. And I spent decades playing what my mother used to call, "Good women in frocks." And, now I got to play a really evil woman in frocks. But oh boy, the frocks. I mean, they wore me, actually. I had just the best time.
I am very interested in the dark side of a female character, because they're so rarely allowed to be dark. I found pretending to be mean well, it came horribly easily. I was very well brought up by a very kind and wonderful woman, my mom, and my dad, a wonderful man. I was surrounded by lovely, kind people. My experience of people who were truly mean like that and truly hard and narcissistic is quite rare. But there are quite a number of them in show business. Mentioning no names.
I suppose the Baroness is a mixture of all kinds of people. She's quite venal but her greed is really just for herself. It's like she can't bear anyone else to succeed in any way. She has to destroy all the competition, instead of thinking that the competition might bring her game up, might make her better.
Those frocks though. What was it like wearing all of that? Could you even sit or eat?
Emma Thompson: No. I mean, my underwear was like a sort of ship's rigging. Peeing was hard and involved a team of people. Also the shoes were a real challenge, because I don't wear anything higher than a flip flop, really. I had wigs as well, so I was a great deal taller than I'm used to being. I used to have to move in and out of spaces sideways as well, and generally I had three dalmatians at my feet too.
Emma Stone: Your Marie Antoinette look and that silver dress at the end, you had some really intense shaping.
Emma Thompson: If you have flesh, then what you can do, it is what they used to do in the olden days, you take the flesh and squeeze it in the middle. It moves up and down, like toothpaste in a tube. So you can really make quite extreme shapes, and that's really good fun. It's not fantastically comfortable at the center of the toothpaste tube, but our wonderful tailors and designers, Jenny Beavan had such a good time just pulling in the corset, tight enough so that bits of me would squish out of the top of the costume. And then they'd push a bit back again and squish it back down and then pull it again.
Like when Scarlett O'Hara is being pulled in, and you know that she's not allowed to eat at the picnic because ladies aren't allowed to have appetites. Like the Baroness, who only eats a little bit of cucumber here and there, and, you know, throws her rubbish out the window 'cause she's monstrous.
Emma Stone: (Laughs)
Emma Thompson: That was one of the things I really enjoyed hating about her, was the fact that she didn't eat. I don't trust people who don't eat.
Emma Stone: That's one of my favorite moments too, when the Baroness throws the cloth napkin and the actual fork out of the window. It really made me laugh when we were shooting it. Every time she did it, it made me laugh.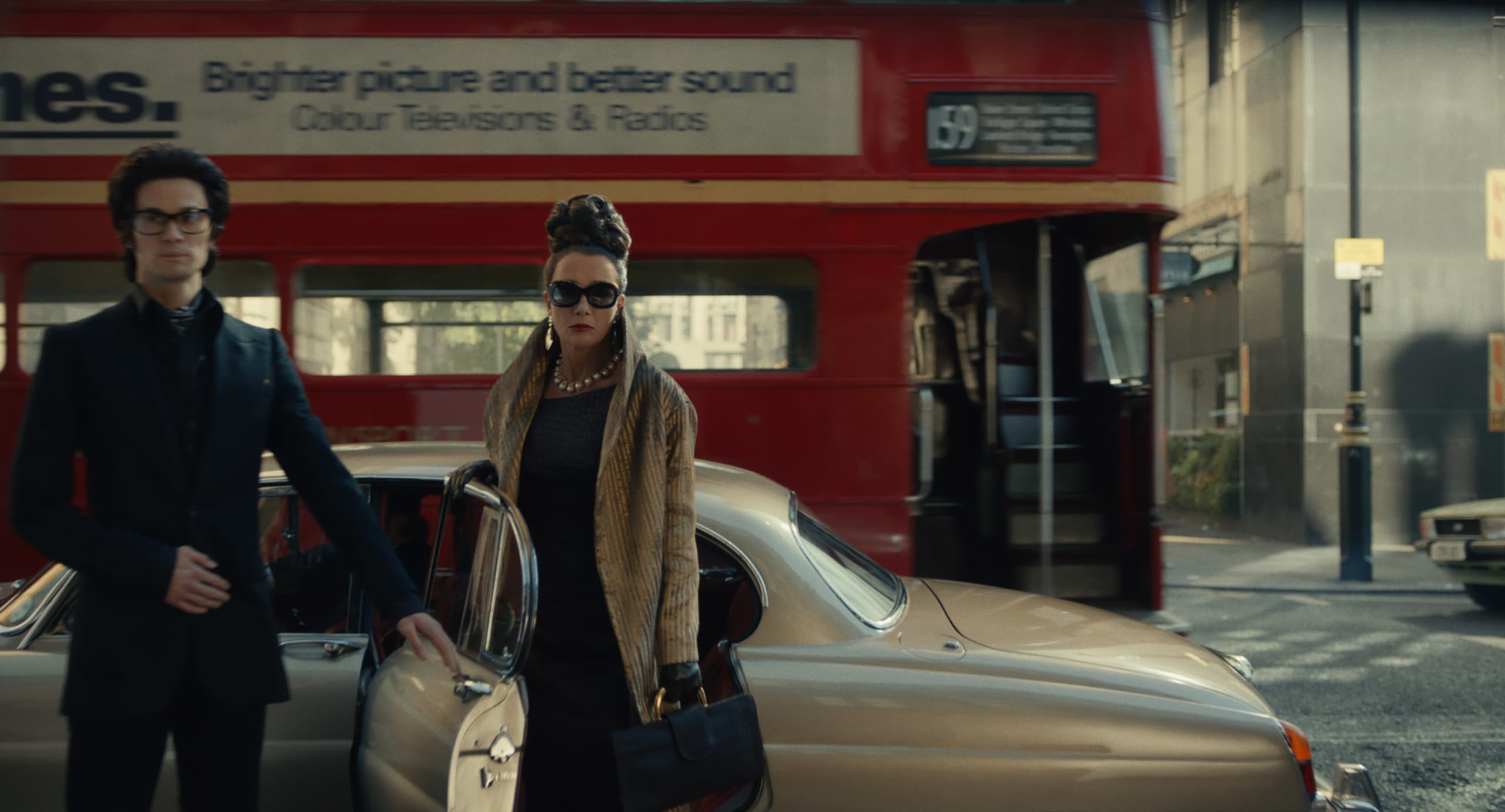 With so many stunning pieces in the film, what outfit stood out to you the most? Which one had you thinking this is it, I am Cruella.
Emma Stone: My very favorite outfit that was absolutely ludicrous was the dress that I wore on the garbage truck, because there was a 40-foot train. And that wasn't attached to the dress, because obviously I wouldn't be able to move anywhere, so they added that onto the dress at the last minute when I got onto the garbage truck to shoot that part. I mean, it's nothing you would ever be able to even remotely wear in real life. There was also that insane skirt when I covered the car. That was epic too, trying to walk up onto a car and then cover an entire car with a swish of the skirt was just fantastic.
The dogs kind of stole the show in a few scenes. Can you share a little bit about what it was like working with the dogs?
Emma Stone: Those dogs were always on set. As many scenes as we could possibly have those dogs be comfortable, they were in, which was amazing.
Emma Thompson: They had to CGI them to be a bit nasty. Because they were such sweet dogs. They were so nice and they worked so hard.
Emma Stone: Estella's dog, Buddy, whose real name is Bobby, was genuinely the cutest and sweetest dog I had ever known in my life. Although I've been jealous of Wink since day one, and I'll say it right here.
Emma Thompson: I tried to get Wink fired. I told stories. I said he'd come and widdled on one of my costumes, and nobody believed me. They just knew I was lying and that it was just a vicious attempt to get rid of this dog that was, frankly, upstaging me and getting in my light. (Laughs)
Emma, you had to play almost two completely different characters in Estella and Cruella. Did you prefer playing one over the other?
Emma Stone: I think Estella is sweet, but she's not fully embodied. So I would say there is something about Cruella that's pretty enticing, because she just kind of is who she is. She's in full acceptance and autonomy there. So I am kind of interested in that Cruella world. That said she does some things, crosses some lines that I don't think I would necessarily cross. But to be honest, I sort of prefer Cruella.
Growing up, I was a big fan of the original animated classic as well as the live action remakes. As a kid, were you a fan of 101 Dalmatians? And then, getting the call. What did it feel like knowing you would get to be Cruella?
Emma Stone: I loved the cartoon of 101 Dalmatians. I especially loved that the dogs looked like their owners. I always thought that was so funny. And I remember as a kid trying to see if dogs did in fact look like their owners, and a lot of times they did. I thought Cruella was such a fun character.
It wasn't as straightforward as getting a call to play Cruella. It was a process of about four years and different writers and different things were brought to the table, and it really felt like we might not ever really make the movie of Cruella, because even though she's such a fun and interesting character, what world would we want to explore her in that would really make sense and make a good film.
I think taking her and putting her in the '70s and she's sort of Cruella from 101 Dalmatians, but she's not also, because you've taken this character and you've created this whole new story for her with fun nods to 101 Dalmatians. Once Craig and Tony came on board, it really started to kind of fly and get very exciting, and it was like, oh my God, we're making Cruella. It's unbelievable.
Emma, you grew up during the 70s in London. What was it like being on this set and seeing things from your past?
Emma Thompson: It was like being a teenager again, 'cause I was born in 1959. So in the 1970s, I was in my early teens. For me, especially in the London streets, it was surreal, because I had actually worn some of those clothes. I think some of the supporting artists were in my old gear. I mean, we were all in afghan coats and clogs and smocks and cheesecloth and maxi skirts and wet look boots, and all this stuff.
Okay last question, if it came down to a brawl who is winning? Cruella or The Baroness?
Emma Thompson: Well you think it would be The Baroness, because she's just heavier, and if she just lies on top of Cruella, she'll manage to suffocate her. But she wouldn't ever get the chance, 'cause Cruella is far too nippy on her feet. She's like Luke Skywalker in the little thingy that goes around with the string, around the legs of that big walker in Empire Strikes Back, one of my favorite movies.
And for those wondering yes my already massive love for Emma Thompson grew exponentially when she made a Star Wars reference.
Cruella is in theaters and Disney+ Premiere Access May 28, 2021. Tickets are on sale now.