Disney's Aladdin brings magic and wonder to The National Theatre with its vivid colors, energetic dance numbers, and dynamic performances. It is not to be missed.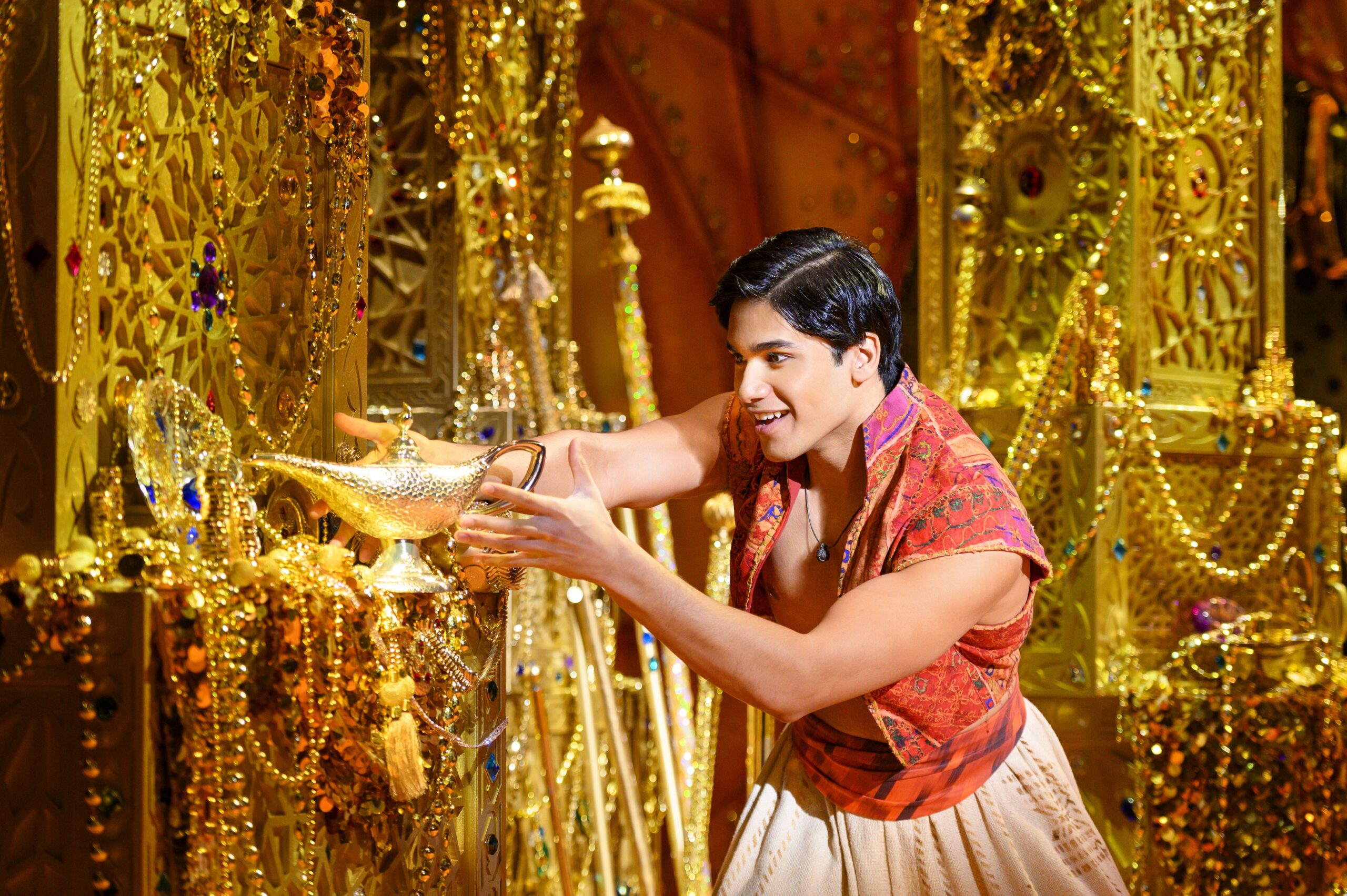 Aladdin Tour Review
Enter the world of Agrabah where Aladdin (Adi Roy) along with his three friends, Babkak (Cameron Sirian), Omar (Ben Chavez) and Kassim (Colt Prattes) scratch out a living using their wits and pickpocketing skills. Aladdin is a good guy at heart though, robbing from the rich to feed the poor. One day he meets Princess Jasmine (Senzel Ahmady) when she sneaks out of the palace to gain some of the freedom she desperately craves. We know what happens next. They begin to fall in love only for Jafar (Anand Nagraj) and Iago (Aaron Choi) to step in to get the diamond in the rough to do their own bidding. Aladdin encounters the Genie (Marcus R. Martin) in the Cave of Wonders who saves his life more than once as Aladdin tries to win over Jasmine as Prince Ali and Jafar plots to take the throne for himself.
Aladdin's story may be as familiar as a Tale As Old As Time but thanks to new music by Alan Menken with lyrics from Tim Rice, Howard Ashman, and Chad Beguelin, this story is given a whole new world life. It is a colorful, dynamic, eye-catching show that captures the audience's imagination from the time the curtain rises to the final bows. The new and familiar songs burst onto the stage thanks to Casey Nicholaw's direction and choreography. Bob Crowley's set designs and Gregg Barnes costumes are just dazzling. But it is the dynamic performances of the cast that bring it all together for one magical night at the theatre.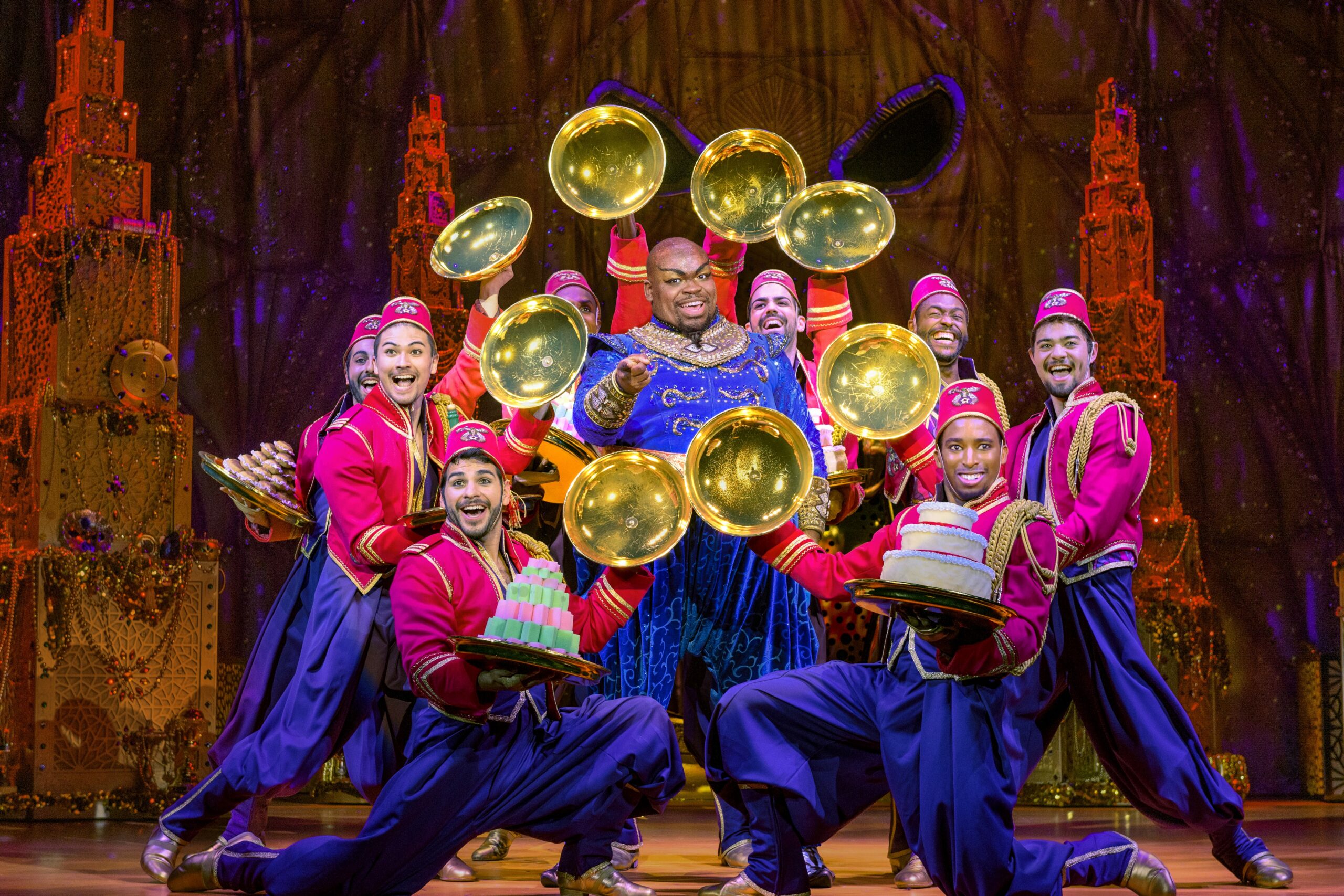 Roy and Ahmady light up the stage as the optimistic Aladdin and determined Jasmine. Several new songs add emotional depth to the characters. Aladdin sings "Proud of Your Boy," a song originally made for the film that was cut. In it Roy pours his heart out as he sings that he will make his mother proud. Ahmady alternates between dulcet tones and powerful swells proclaiming "I Am." From operatic to bluesy, Ahmady wows in every number she finds herself in.
Aladdin may lose a monkey in Abu but he gains three buddies in Babkak, Omar, and Kassim. These three are another great addition to the story with their varying personalities–one is obsessed with food, another dancing, and the third is the big brother trying to keep them all in line.
Although he still parrots Jafar, something cheekily addressed in the show, Choi's Iago is more than a feathered sidekick. He's a human this time who acts as the perfect foil for Nagraj's straight man Jafar. This duo elicits more than a few laughs, as Choi gets in on all the evil and more importantly the evil laugh moments. Jafar is menacing thanks to Nagraj's demeanor on stage but he's also funny as he cheerily announces his cue just when Aladdin feels nothing can go wrong.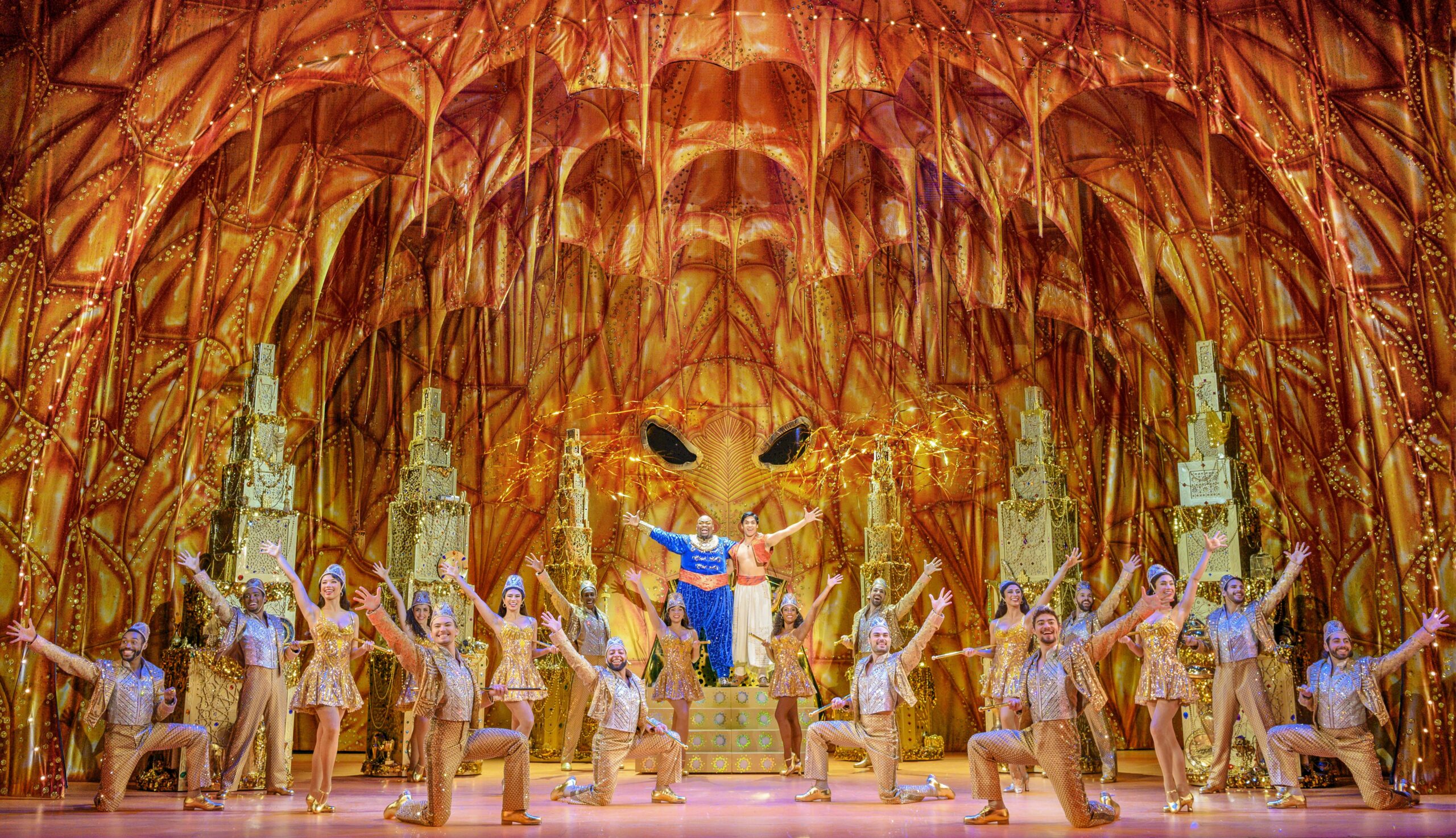 The standout of the show, which will be a surprise to no one, is Martin's Genie. It is never easy to step into a role someone created and taking on Robin Williams' Genie may be the hardest shoes to fill in the history of entertainment. But from the moment he steps on the stage to welcome the audience to Agrabah to the finale, Martin commands the room. It is clear he is enjoying every minute of the show where he vocally wows and gleefully embodies the antics of the Genie. He cracks jokes, weaves in Disney, Marvel, and Star Wars easter eggs, and even brings Grogu out for a second. Plus he hilariously breaks the fourth wall in ways that would make Deadpool and She-Hulk jealous. As a longtime fan of the movie and of Williams, I think Martin does an incredible job of bringing all the energy and spirit needed for this role.
Speaking of energy, there is hardly a moment to rest for the ensemble as quick costume changes and even quicker footwork takes us through the story of Aladdin. "Friend Like Me" is a 10-minute larger than life spectacle that ends Act I with "Prince Ali" opening Act 2 to the cheers of everyone. It is exhilarating to watch and to really catch all the details will take more than one viewing.
Aladdin is a well-known story, but this new take on the classic brings a whole new world of wonder and magic to the stage. Boosted by incredible performances, gorgeous costumes and sets, and make-you-dance-in-your-seat musical numbers, Aladdin makes for one fabulous night at the theatre.
Disney's Aladdin continues at The National Theatre through April 30 for tickets visit Ticketmaster or go to Broadway at the National. The show is recommend for children 6 years of age or older. Children under the age of 4 will not be admitted. The show runs for two hours and thirty minutes and includes one 25 minute intermission.