Looking for the perfect girls' night out or Mother's Day movie night pick? Look no farther than Book Club The Next Chapter, a laugh-out-loud, heartwarming sequel that sees veterans of Hollywood once again having an absolute blast together.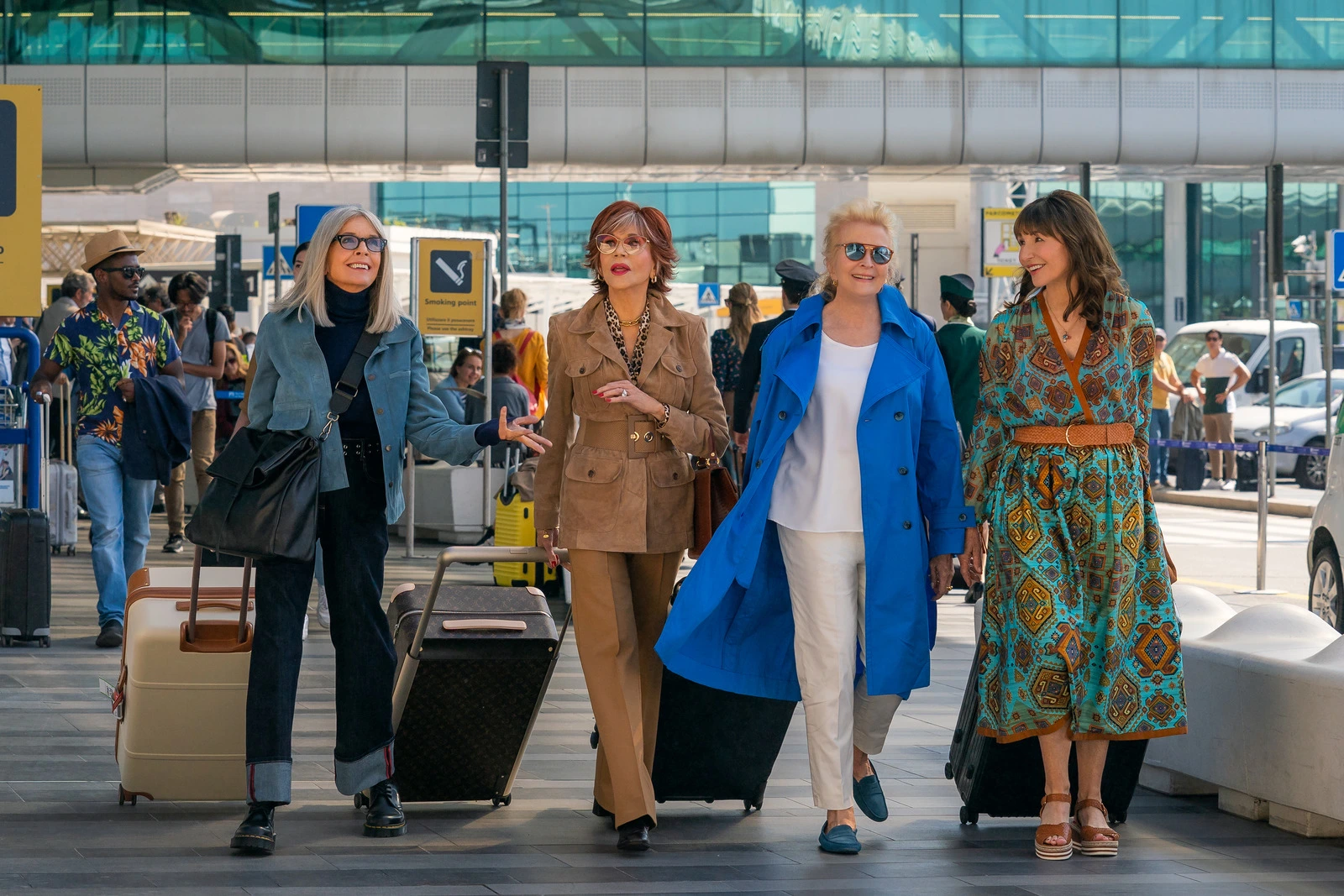 Book Club The Next Chapter Review
When the story begins the best friends, Vivian (Jane Fonda), Carol (Mary Steenburgen), Sharon (Candice Bergen), and Diane (Diane Keaton) are each dealing with life-changing situations and the global shutdown in different ways. But no matter what life throws at them– retirement, heart attacks, or pet loss, these four are still there for each other. When Vivian announces she is engaged to Arthur (Don Johnson), the friends immediately devise a plan to take a once-in-a-lifetime trip to Italy, something that they have wanted to do together for decades. This girls' trip/bachelorette getaway doesn't go as smoothly as they would like but as long as they have each other, life couldn't be sweeter.
Book Club: The Next Chapter is a funny, heartwarming follow-up that in many ways manages to outshine its predecessor. The stars all have a natural chemistry and that is felt here more than ever as they banter back and forth with one another. This film is both raucous and incredibly heartfelt, an excellent mirror for real friendships. Belly laughs one moment and best friend tough love the next, this romp through Italy is both ridiculously fun and surprisingly sweet.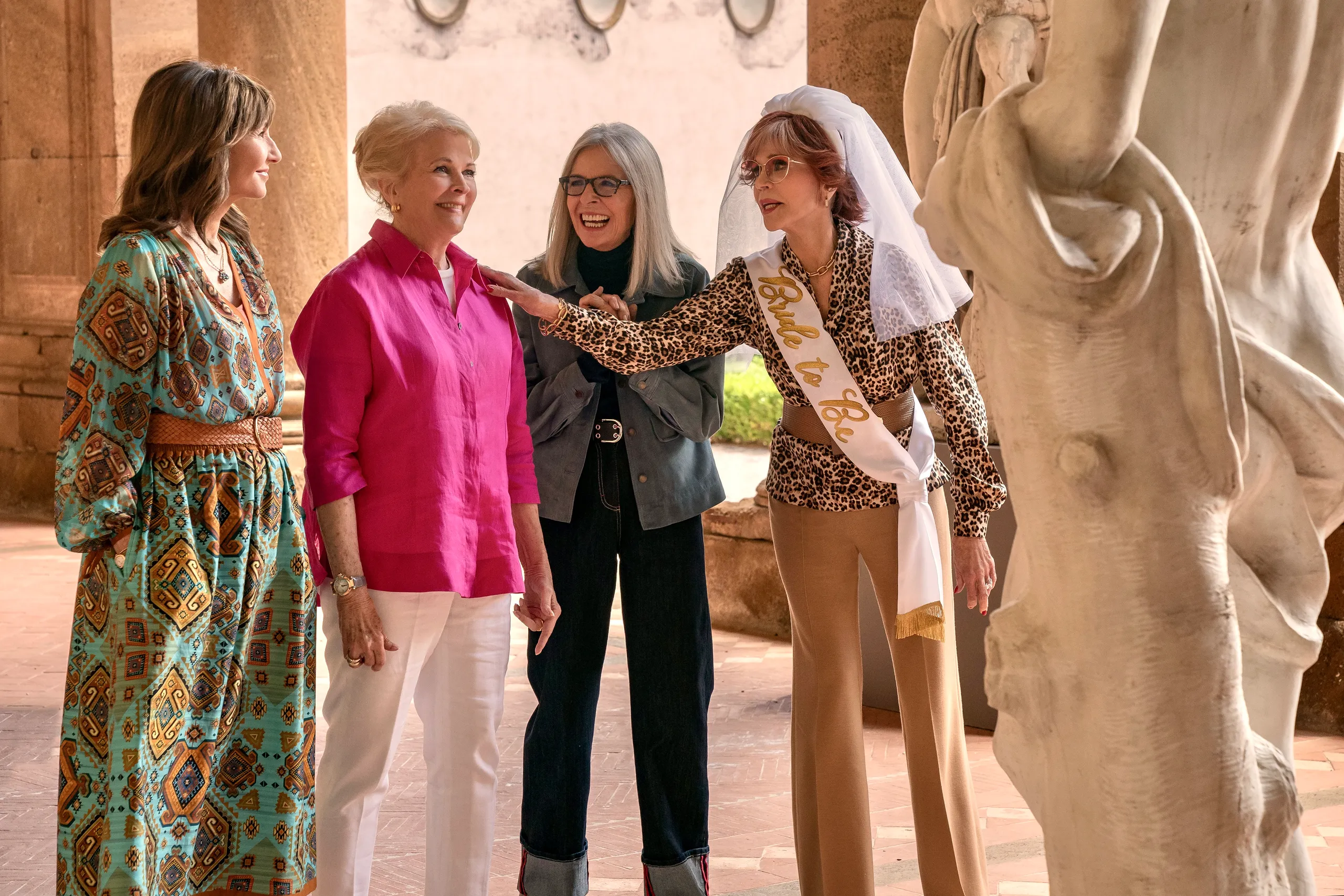 This time around, it's less about the book and more about unrealized dreams. In their twenties, the ladies envisioned taking a trip to Italy but as it does, life happened to each of them. Now the septuagenarians have the perfect excuse to finally make it happen, Vivian's engagement. What follows plays out similarly to an extended episode of your favorite female sitcom. Although several come to mind, Golden Girls would be the best comparison for this group.
Leaving behind the confines of following one book, The Next Chapter leaves book club behind for a scenic and wine-filled journey through Italy. Even though it is a line in Paulo Coelho's The Alchemist that nurtures the seed of travel in their minds. Ultimately it does retread familiar story beats, especially Vivian's continued hesitancy about giving up her freedom. She clearly loves Arthur but has some hard habits to break. Arthur, bless him, is as amiable as ever. It is refreshing to watch him, along with Carol's husband Bruce (Craig T. Nelson), and Diane's lover boy (lover man?) Mitchell (Andy Garcia) loving these women at their best and at their quirkiest.
Despite the predictability, the script by Bill Holderman and Erin Simms never feels worn out. It is familiar in the way life should feel familiar if you've known someone for 50 years. Vivian's impending wedding may be the catalyst for the trip but each lady has her own moment to grow and shine. They all learn that you are never too old for some tough love from those closest to you. Carol must face her fears of what if in order to embrace the moment. Sharon realizes her identity is not dependent on her job, but don't worry she is also still embracing the other lesson learned from the original. Sweet Diane must let go of the past in order to have a future. Even if she didn't necessarily want to let it go in that way, life is always there to throw curveballs at train stations when we least expect it.
Watching these women facedown relatable life experiences with humor, some grace, and a little humility is entertaining and heartwarming. Sure some things are a bit far fetched. How is one police chief showing up in all corners of the Italian countryside? Or my personal favorite, how did four intelligent, well-traveled women get conned so easily by grifters? These imperfections however can be overlooked and chalked up to it's all for laughs.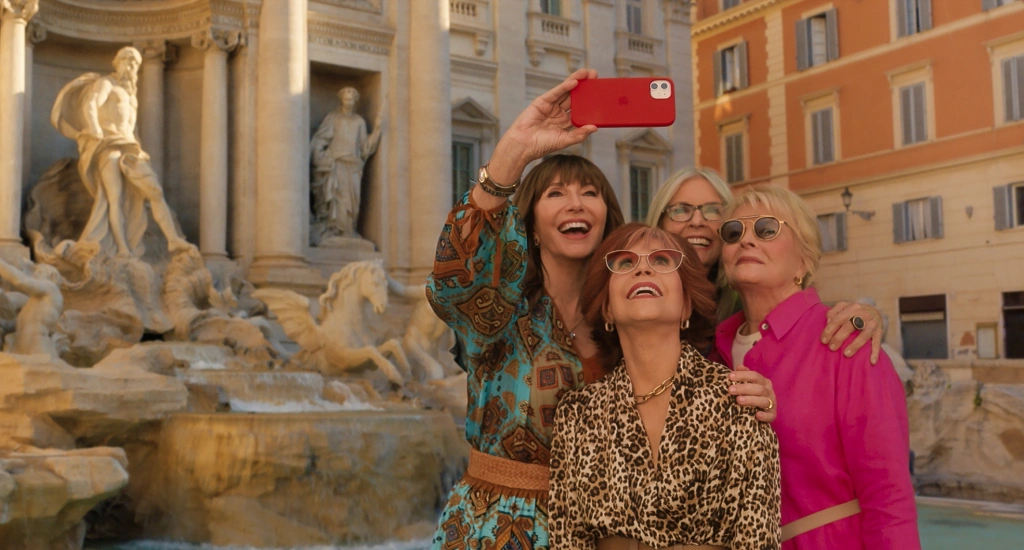 With effortless performances by these legends of Hollywood in the picturesque background of Italy it is hard not to enjoy watching The Next Chapter. Holderman and Simms play to the strengths of these women, allowing them to do what they do best and have been doing for so many years. They also give space for their natural friendship to shine and it does so in every moment. In fact, I felt that their chemistry stood out more to me in this film than the original Book Club which is the main reason why I believe this sequel exceeds its predecessor. Every line feels sharper and lands better this time around.
Book Club The Next Chapter is a funny, heartwarming good time that is likely to be seen as a sign to more than one group of besties to "take the trip." It isn't out here to break box office records or start a decades long franchise, which is a relief. Rather it is there to entertain and prove that women, especially those above middle age are more than just moms or grandmothers. They are fierce, loyal, and hilarious humans who have plenty of life left to live. While older men consistently show up as headliners with love interests half their ages, it is rare to see films show this side of women at all. The Next Chapter is just one film aiming to change that, but I hope it is a sign that more will follow. I may not be middle aged, but I can appreciate wise, snarky, and powerful women doling out some important life lessons all while looking absolutely fabulous.
Book Club: The Next Chapter is in theaters on May 12. It is rated PG-13 for some strong language and suggestive material with a runtime of 107 minutes.