Harkening back to the 80s and 90s, Disney's Crater is a surprisingly emotional coming-of-age sci-fi adventure that serves as a bittersweet reminder that life can change in an instant so enjoy it to the fullest.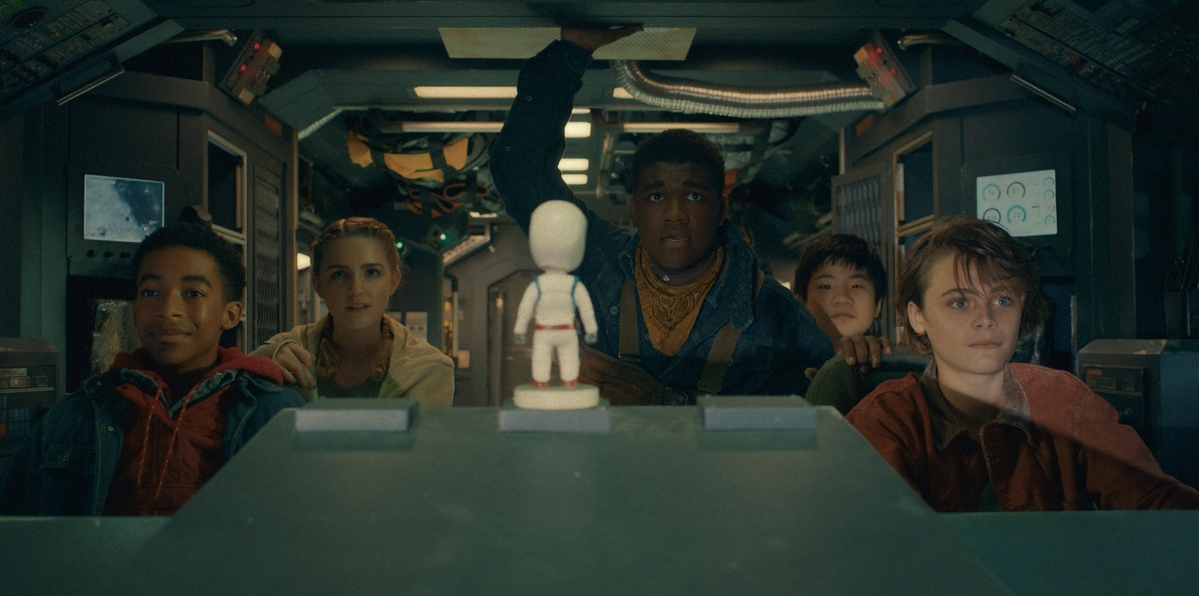 Crater Movie Review
Raised his entire life on a lunar mining colony, the recently orphaned Caleb (Isaiah Russell-Bailey) learns he will be sent to Omega, a distant lush planet due to the "death benefits" transferred to him following his father's (Scott "Kid Cudi" Mescudi) death. Facing the thought of leaving everything he has ever known behind, Caleb is determined to make the most of his last 72 hours on the moon with his three best friends–Dylan (Billy Barratt), Borney (Orson Hong) and Marcus (Thomas Boyce). This includes following his late father's treasure map to an uncharted spot. But in order to pull off this epic plan, they need the help of newly arrived earthling Addison (Mckenna Grace).
Crater is a throwback to the classic 80s/90s sci-fi adventures that resembles a cross between The Goonies and Stand by Me that takes place in space. Those unfamiliar with those films might feel there are some Guardians of the Galaxy vibes as well which is true, but unlike Guardians, this film is firmly made for its young teen audience. It speaks to their futures and the inevitable changes, as well as that feeling that anything is possible when they are surrounded by their best friends. The film doesn't dumb down the more serious tones for its characters or the audience. These kids are smart enough to know what is happening on the colony around them and although resigned at first, become empowered to seek out change after the events of this last big adventure. Sometimes those elements don't meld together but the charisma of the young cast and the fun are enough to make up for it.
RELATED: Cast of Disney Plus Film Crater Talks Moon Camp and Stunts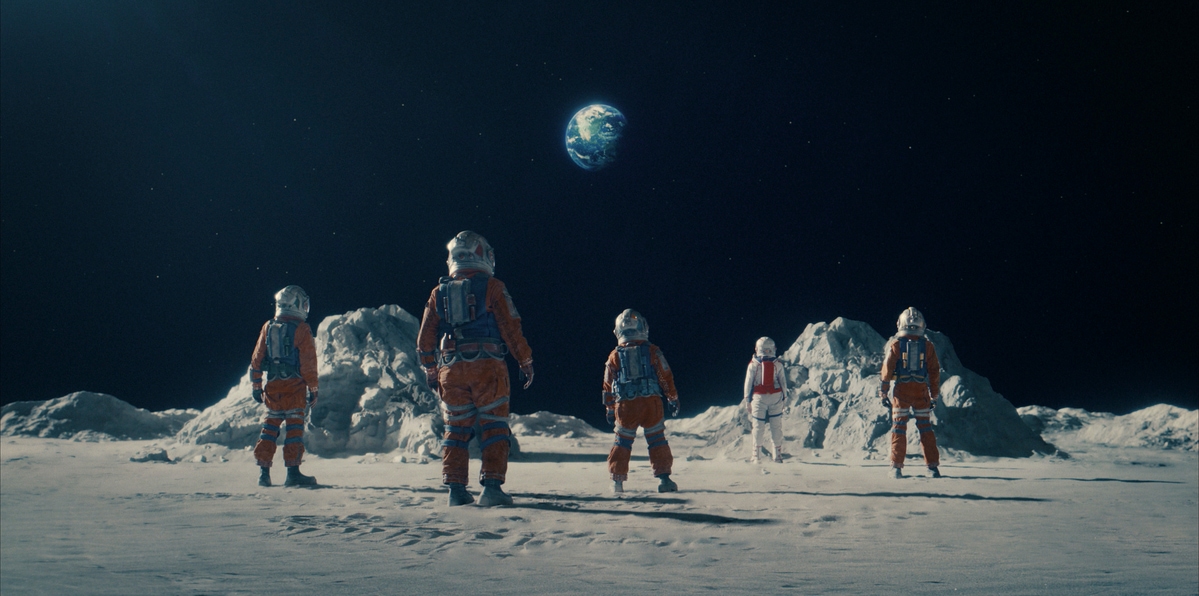 While the flashbacks of Caleb's parents, particularly his father help anchor the emotional why behind his motives, this film really finds its footing when the teens are on their own without any adults in sight. This is when the bread and butter of coming-of-age films comes out in force, which is the unbridled joy that comes from a group of adolescent besties embarking on a life-changing adventure. The best scene in the film happens to be a visualization of that freedom from the watchful eyes of adults. The group stumbles upon what is essentially an abandoned model home and proceeds to throw themselves an epic house party.
But what makes these films special is that they aren't all just fun and games. Along with that excitement is the uncertainty they all face not only in the present but as adulthood looms in the distance. Again, another staple of the genre. Director Kyle Patrick Alvarez (13 Reasons Why) does an excellent job here capturing their ever-changing emotions, giving the audience an up close look at what they are feeling. The cast themselves are a dynamic group of young actors who clearly are enjoying their time together on the screen. Their friendship is a standout, not only because it feels authentic but it also is an example of how amazing it is to have a healthy, positive bond.
Barrett and Russell-Bailey act as the co-leaders of the group and it is refreshing to see them relying on each other and never trying to outdo the other. Hong and Boyce act as the more cautious members with the latter's character having a very good reason to be more careful. Grace's Addison anchors the others by providing a much needed fresh mindset both by being the newest member and the only one from Earth. Mckenna Grace has already starred as the younger version of many of Hollywood's A-List but this film proves she is ready to step into a leading role.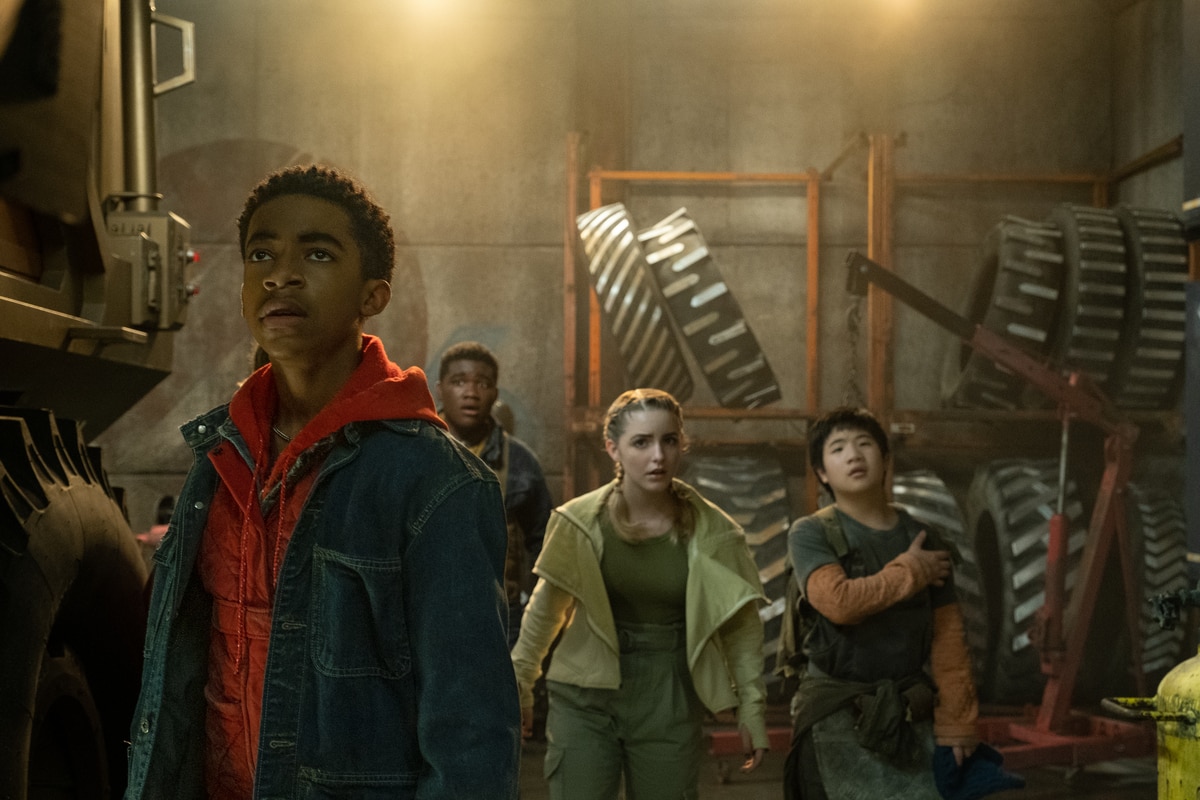 The screenplay by John Griffin makes for a bittersweet story that also tries to work in strong talking points about conservation, forced labor, and apathy of older generations (particularly boomers). Some of these land while others feel jarring when paired next to the more carefree aspects of the story. The ending itself is surprisingly emotional, choosing not to take the usual happy ending approach but one that drives home the point of the entire film– letting go of the past, reconciling with everything we've lost, and making the most of the present.
Crater is a callback to the 80s/90s coming-of-age sci-fi adventures that were once plentiful. For young teens it will be as if their imagination and dreams about space have come to life. Though the plot at times doesn't blend well with all it is trying to accomplish, the young cast's performances and the heart of the story make up for any pitfalls. It is a trip of a lifetime that doesn't go the way you might expect it too, but bittersweet moments mixed with joyful ones make for an emotional and thoughtful ending. Who knows, it may just inspire a new generation of young eco-warriors to help out our one and only planet Earth.
Crater is now streaming on Disney+. It is rated PG for thematic material, action/peril and language with a runtime of 95 minutes.