A coming-of-age story that callback to sci-fi films of the 80s/90s, Crater is a surprisingly emotional story about a group of best friends one last epic adventure before their lives change forever. The cast of the film got together to tell us about their time at moon camp and what it was doing stunts in "space."
Cast of Disney Plus Film Crater Talks Moon Camp and Stunts
Raised his entire life on a lunar mining colony, the recently orphaned Caleb (Isaiah Russell-Bailey) learns he will be sent to Omega, a distant lush planet due to the "death benefits" transferred to him following his father's (Scott "Kid Cudi" Mescudi) death. Facing the thought of leaving everything he has ever known behind, Caleb is determined to make the most of his last 72 hours on the moon with his three best friends–Dylan (Billy Barratt), Borney (Orson Hong) and Marcus (Thomas Boyce). This includes following his late father's treasure map to an uncharted spot. But in order to pull off this epic plan, they need the help of newly arrived earthling Addison (Mckenna Grace).
To prepare for their time on the set of Crater, Isaiah Russell-Bailey, Billy Barratt, Orson Hong, Thomas Boyce, and Mckenna Grace took a trip to moon camp, where they learned everything there is to know about the moon. This included learning how to spacewalk and also prepared them to do their own stunts.
RELATED: Crater Movie Review: Surprisingly Emotional Coming-Of-Age Sci-Fi Adventure
At first, moon camp started out as Zoom calls with a NASA astronaut. "He was very clever and he knew everything he was talking about. He would just basically tell us about everything to do with the moon," Billy remembers. It wasn't all Zoom classes though. "We did altogether six weeks of prep [for] spacesuit fittings and the harness stunt training as well," Isaiah added. "For four of those weeks, we worked with the team at Legacy to help build our spacesuits and to make sure they looked like real, functional spacesuits. For the last two weeks, we worked with Dave McCumber and his stunt team to help us look like real astronauts and perform like real astronauts in low gravity. And most of that was actually harness work. They made sure our spacewalk looked as realistic as possible."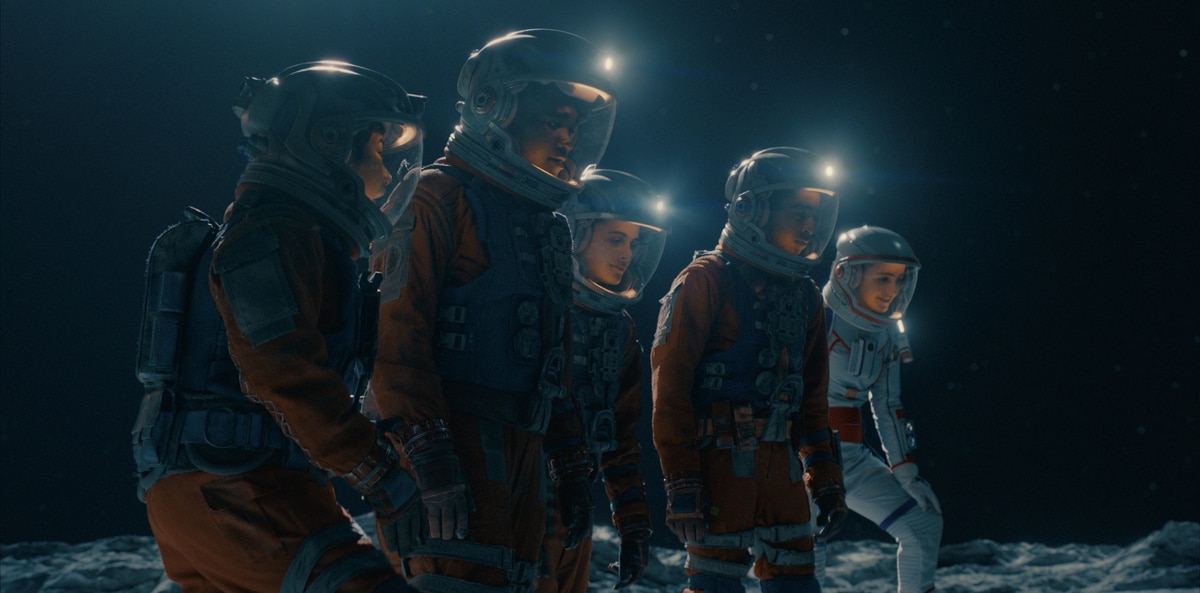 There were a lot of awesome moments on screen during the film, but each cast member had a favorite. For Billy it involved a jump. "We lined up, there was all of us. And I liked it because we were all doing the same thing. And I remember, we jump off of this sort of crater and then we just run down. But the way that we shot it, it was like just jump." Isaiah added that the scene was "kind of like skydiving." But he also shared his favorite moment where he felt like a MCU hero. "I would say that the stunt that I liked the most was having to pick up Billy and run across the moon while meteors were flying at us. I just thought it was cool because I kind of felt like Captain America saving Tony Stark while I was picking him up. So, it was definitely a little bit of an ego boost."
Thomas' favorite stunt did not involve wire work but just being able to let loose and do all the things kids everywhere wish they could do at one time or another in their lives. "There is a scene where we're in this kind of house thing and I got to break a really modern lamp. It was just fun, just kinda just destroying stuff and just having a good time. That was one of the best days shooting, in my opinion," Thomas smiled.
Turns out that shoot was a favorite for everyone. "I very much remember the scene where we were breaking a bunch of stuff because I remember Billy and Isaiah throwing these pillows that I don't think you were supposed to be
throwing because they were too hard. We were all throwing these pillows and stuff at each other and falling over," Mckenna laughs.
Slight spoiler, it was also my favorite scene in the film too! You can watch that and the whole movie, because Crater is now streaming on Disney+.