A compelling and often humorous biopic about the infamous French emperor, Napoleon is a study of a man who warred with himself over what he loved more– France, his career, his wife, or his massive ego.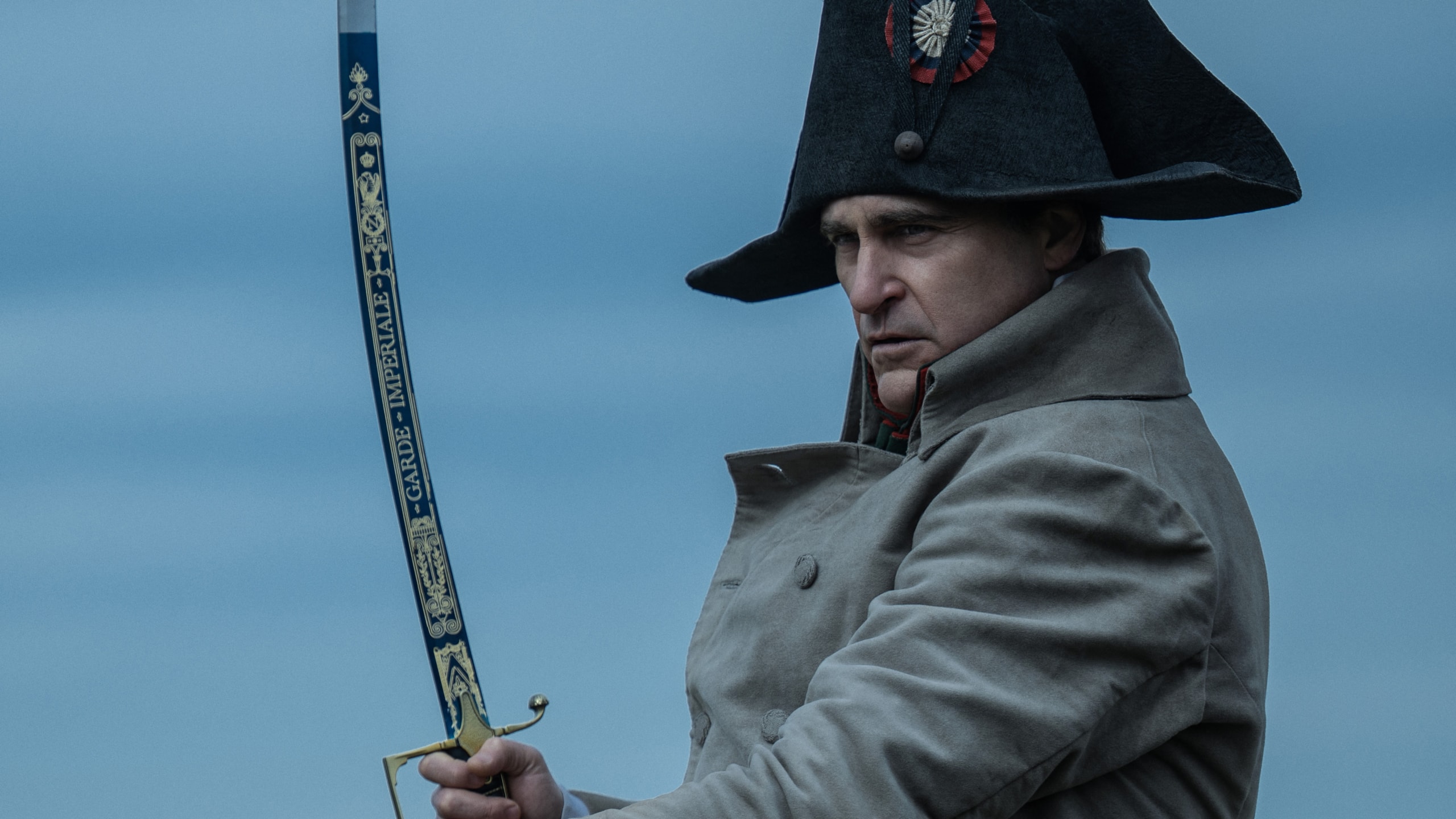 Napoleon Movie Review
The last Queen of France, Marie Antoinette, faces her day at the guillotine while an officer named Napoleon Bonaparte (Joaquin Phoenix) watches from the sidelines. This new era for France is just what he needed to prove his military prowess and climb the ranks to become a commander of the army. After an expertly planned attack on Toulon, Napoleon is finally recognized as an expert tactician. From that point on he meets and falls madly in love with his wife Josephine (Vanessa Kirby) and begins his takeover of the world. Napoleon's star rises fast, but what goes up must come down.
Director Ridley Scott is known for historical epics that shine a harsh light on men who crave power (The Last Duel and House of Gucci being the latest examples). Napoleon is no different. While plenty of directors have been tasked with bringing to life one of the most infamous leaders in history, Scott's approach stands out amongst them. Instead of revering his subject or making an effort to constantly bring up his height (outside a visual gag in Egypt), Scott chooses to be more pitying of him. Here was a "great man" whose plans forever fell short of their goal, no pun intended, despite his genius and arrogance. Reunited with Phoenix, the two paint a portrait of a brilliant military leader, hobbled by the volatile combination of his hubris and insecurities. Phoenix and Kirby shine as we are taken through the highs and lows of Napoleon Bonaparte's life.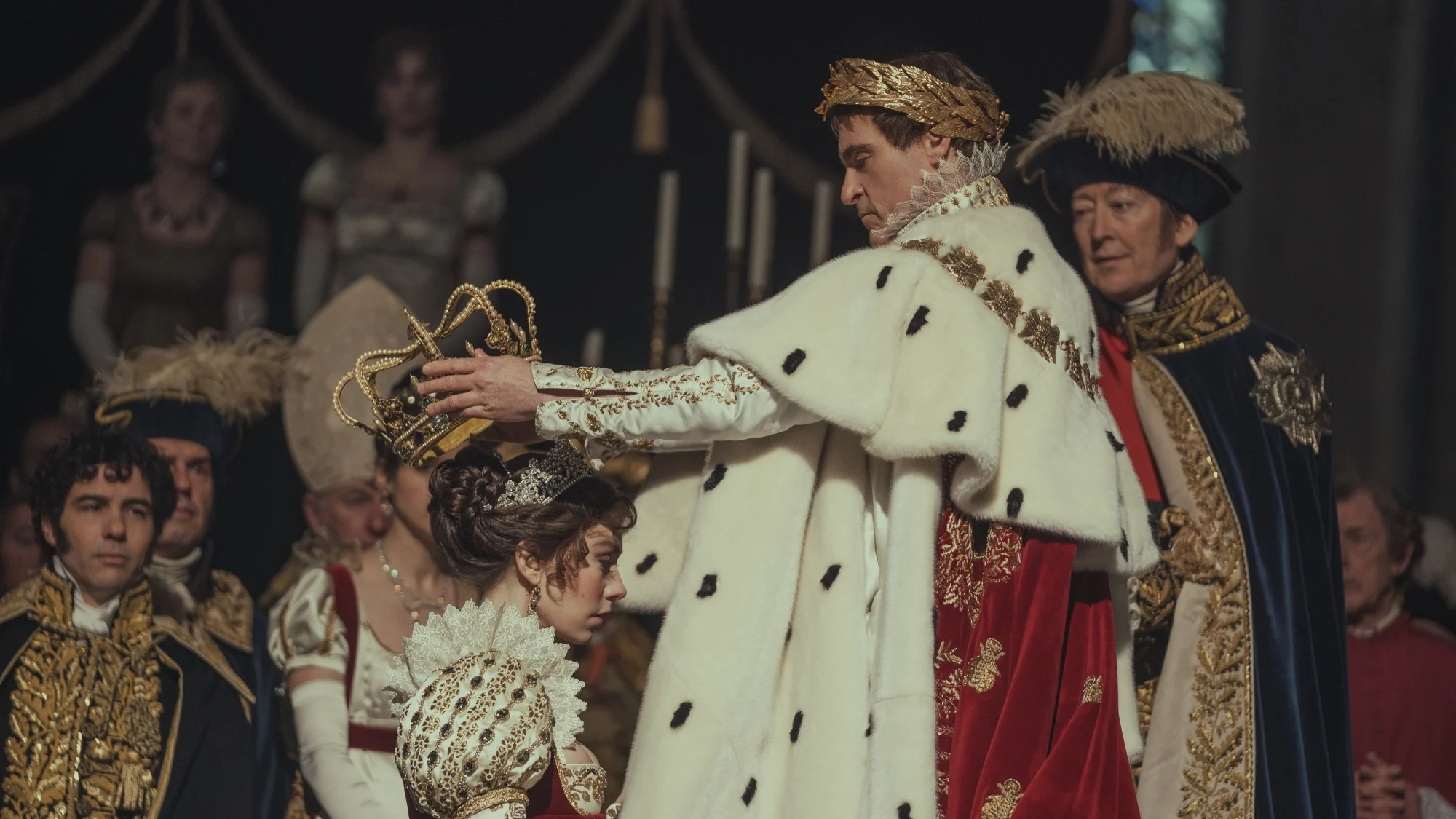 Napoleon is a war story but the script by David Scarpa is also humorous, something that was a bit unexpected. Poor Napoleon though is not in on the joke as the humor comes directly at his expense. As mentioned the height is never outwardly mentioned, and the way he looms over others or looks up to them switches depending on the camera angle and the mood of the titular character. Napoleon is brought down to size by Scarpa's words, spoken with dry wit and quirked grins. Even Napoleon has a hand in showing his childish nature when he whines to the British Ambassador: "You think you're so great because you have boats!" In this way Phoenix channels his character Commodus from Gladiator not only in his petulance but also in his preening when the crowns himself Emperor of France.
Scarpa and Scott keep the runtime moving, giving very little time for audiences to orient themselves in the story. Cursive title cards act as location, date, and people identifiers but no extra depth is given. Most people who have had any sort of history class have some cursory knowledge of Napoleon. Scott seems to bank on you knowing enough as to not to have to explain the why's and wants that drive Napoleon. You are told by the man himself he wants to become great, that he is obsessed with peace and his wife, and that's that. These are presented as statements of fact that are not to be questioned or expanded upon. It's fine, it keeps the exposition to a minimum but it did have me going to Wikipedia and other sources to learn more after the fact. The rumored 4 hour director's cut that will be release at some point may end up filling in the lines that are missing in the theatrical version. But for now, either brush up on the story beforehand or just go with the flow and enjoy the ride.
A bloody, gory, helluva ride it is too. Cinematographer Dariusz Wolski brings Scott's vision for brutal and massive battle scenes to life. Despite being full of foot soldiers, horses, cannons, calvary, drums, and more it is easy to follow who is who on the battlefield. The purposeful graphic and detailed nature of the battles puts audiences onto the field, living the nightmare alongside Napoleon's men. Wolski utilizes wide shots and pulls the camera along to show the depth of the stage these battles take place on. Each conflict feels unique and that has nothing to do with the various locations Napoleon found himself. Of all the ones shown, Austerlitz and Toulon are the standouts. The latter opens the film, laying the groundwork for the type of carnage and dizzying battle highs to come. Austerlitz on the other hand serves as the crown jewel, the battle in reality cemented Napoleon's skill at commanding and the film version is no different.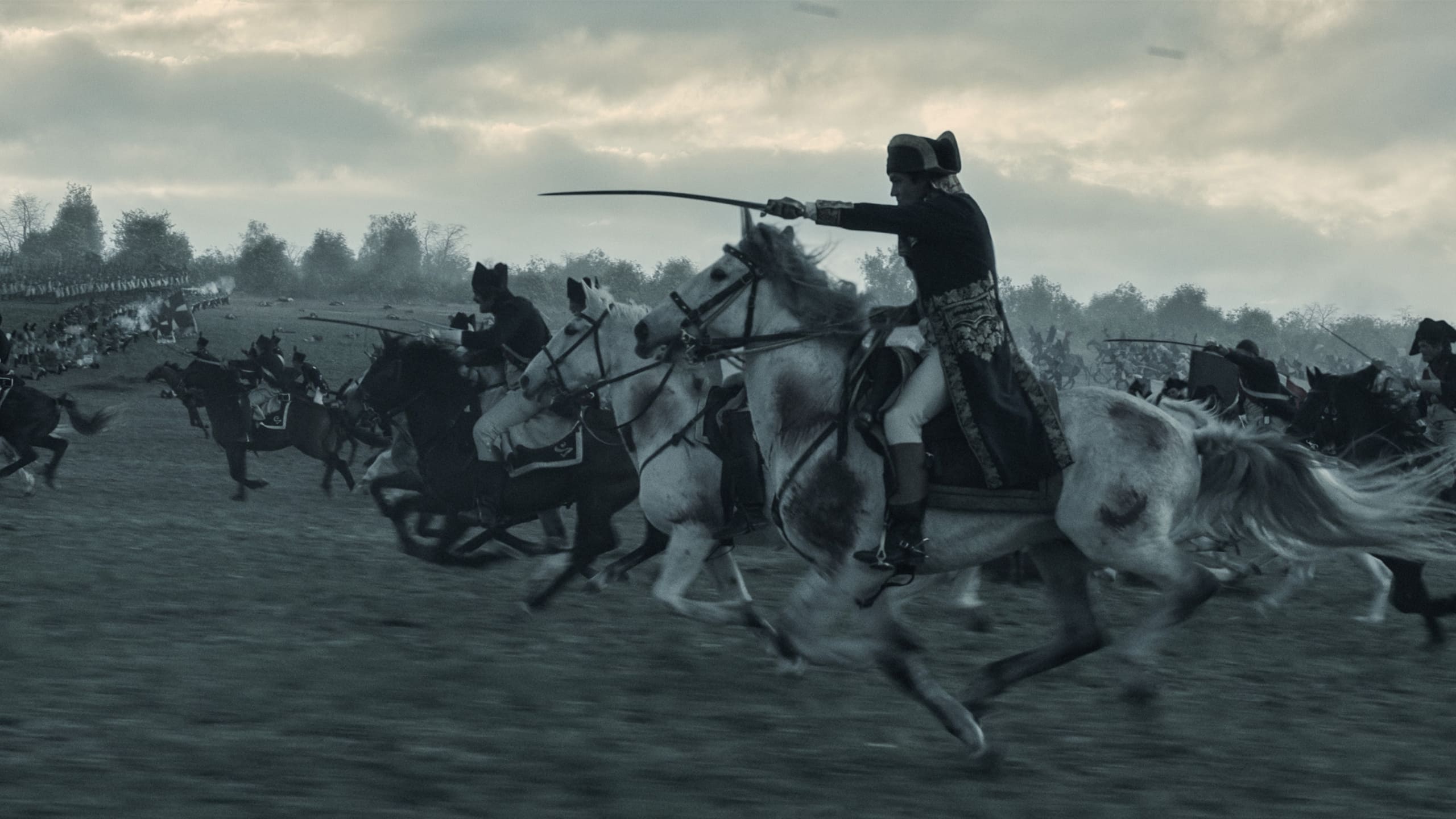 Stunningly vicious visuals aside, it is the performances of both Phoenix and Kirby that are what people will talk about after the film. Phoenix plays the emperor as both a genius and a sulking overgrown child who struts around with an ego larger than his bicorne hat. On the battlefield, Napoleon is a formidable opponent, an immovable obstacle standing before his enemies. Back in his homeland of France however, he is foolish, stubborn, and sniveling whether he is complaining about lack of letters from his wife or falling down stairs during the vote that will make him emperor. Phoenix sells it all gloriously but he gets a big boost whenever he shares the screen with Kirby's Josephine.
There is an undeniable albeit awkward attraction between the two, with Josephine clearly the one in control. Their quarrels lead to some of the funniest lines in the film like when she calls him fat only for him to respond: "Destiny wanted me to have this lamb chop!" A former aristocrat, she is introduced with a buzz cut as she walks out of prison after the Reign of Terror ended. She soon catches Napoleon's eye although he is the worst at flirting. It is comical and even a bit painful to watch but he wins her over, although at first it is clearly only due to her interest in the protection his status will offer her and her children. Josephine presents Napoleon with sly smiles, eye-rolls, and some genuine laughs. Kirby is alluring as the Empress, keeping her character's cards close to her chest, she has secrets and schemes of her own and she isn't interested in telling Napoleon or the audience what they are.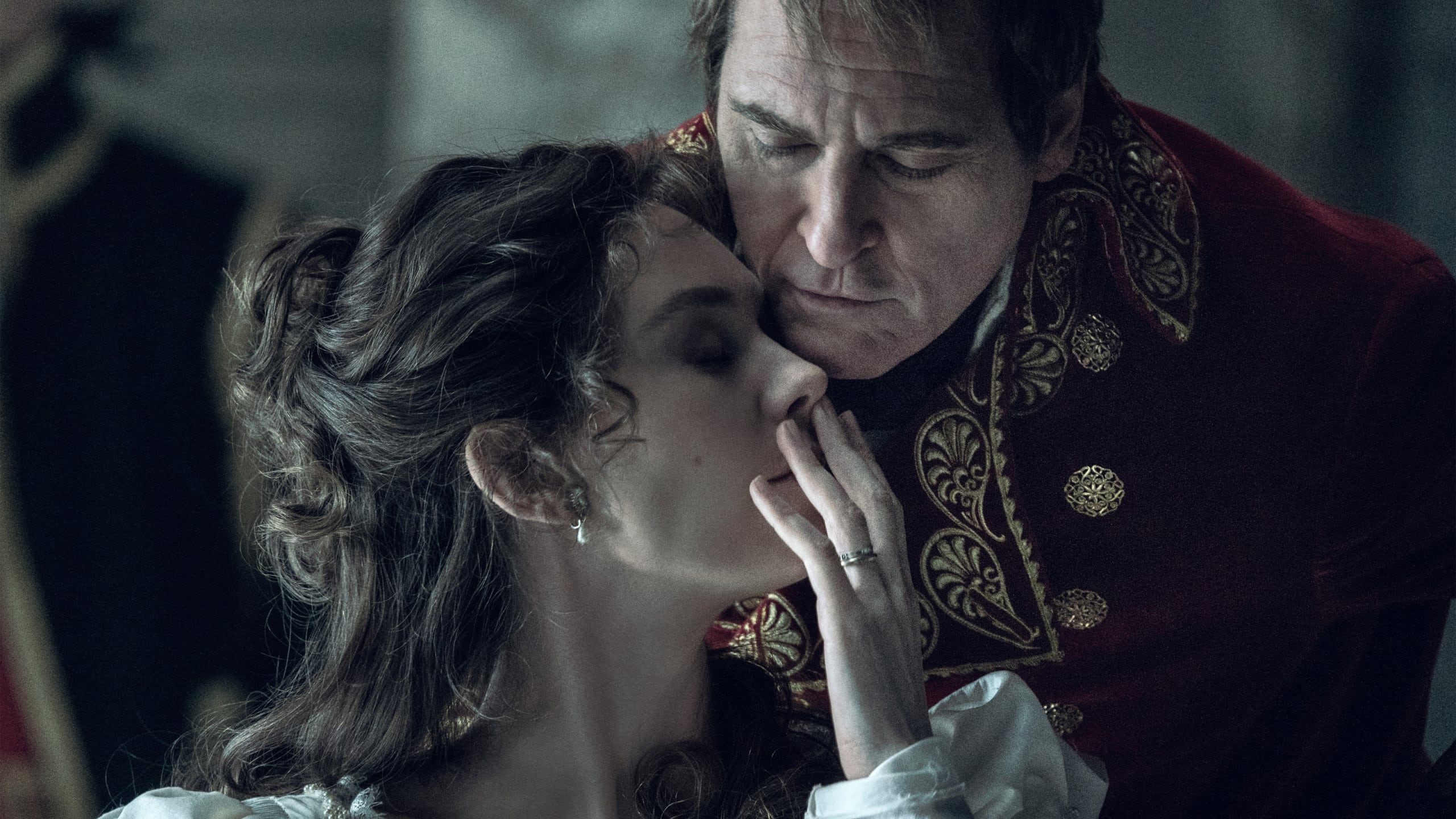 Napoleon is a compelling and often humorous study of a man who warred with himself over what he loved more– France, his career, his wife, or his massive ego. Scott didn't set out to make a film that would idolize this historical figure nor necessarily tear him down despite the jokes made at his expense. Rather Scott presents Napoleon who was on one hand one of the greatest military tacticians and on the other an insecure, awkward man who never quite overcame his weaknesses. He leaves it to the audience to decide what they think about him by the end instead of forcing his viewpoint on them. The battles are breathtakingly barbaric, never shying away from the true nature of war. And the leads shine bright no matter the situations they find themselves in. The runtime is a long one, but Ridley Scott knows how to make it fly by with the right amount of intrigue, action, and well-placed wit.
Napoleon is in theaters on November 22. The film is rated R for strong violence, some grisly images, sexual content and brief language with a runtime of 158 minutes.