I was so excited to win the My Little Pony Twilight Sparkle: Teacher for a Day app from @RuckusMedia. My daughter loves playing with the ponies and I was a huge fan when I was little. Just like any other app I download for my kids I checked it out first. I didn't think there would be anything bad, I do this so if she asks me how to do something I don't say "ummm, umm hmmm….." She still believes I know everything so I want to keep it like that! I really liked it, the colors were bright and fun, the story was a sweet one. The games were great for strategy and observation skills. I loved the options to have it read to you, read yourself, or read and record your voice. I was going to write this review up after that but I thought who cares what I think? I'm not the target audience for this app, so what does it matter if I say things like "visually perfect, outstanding, I give it 5 stars!" I mean I feel that way yes but what does it matter if I love it and my kid doesn't. So I decided to write down everything my daughter said about it while playing it for the first time.
A little background: my daughter is 5, very smart (of course!), and not always easy to please. If you ask her what she is she will tell you a ballerina princess. So her majesty is very picky about a lot of things. Here is what she said: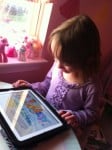 As soon as it got to the title screen:
"Wow!" *big smiles*
I asked her, do you like the colors?
"I like the colors mommy."
Then I just sat back and watched:
"So cool mommy. Wow. I like the ponies. I gotta find the sparkles! The sparkles makes it do silly things. Awe mommy, princesses with sparkles. I like to wear sparkles when I'm a princess."
What was your favorite part?
"When they all went to the schoolhouse."
Why?
"Because they all dressed up. And her friends came to her house and cheered her up. That was my two favorite parts."
Which game was your favorite?
"The tilting one to make her run."
And then the ultimate validation:
"Can we please play again?"
Bottom Line: Great story about helping friends, cute pictures, fun games, and we will definitely play it again!
*Yes the my little pony audience in the picture was her idea, she wanted them to see their friends 🙂