When it comes to party planning I love going above and beyond to have an amazing event. This year, I wanted to do something really special for my daughter's 6th birthday. The challenge was having this party on a budget, but I believed it could be done! She loves Rapunzel, so I decided to do a Tangled themed party. But, I did not just want to go to Party City and buy whatever decorations they had. No, this year I wanted to have a do-it-yourself party, and thanks to the internet and an awesome group of friends, the party turned out amazing! Here is part 1: Tangled Birthday Party: Food and Decorations
One of the best resources I found was Disney's Family Fun website for "Everything Tangled." I got several ideas from there. First, were my invitations. I printed them out, glued them to "Fussy" colored cardstock, and cut them out with my cool scrapbook scissors. Second, I plan on getting the thank you cards off their site as well.
I did decide to get a few things from the party store, and I made the mistake of taking my daughter with me. Her eyes lit up, "Oh mommy! We need the plates, cups, and tablecloth!" We compromised, I agreed to buy the plates and tablecloth. Lucky for me, I later found the Tangled Party plates on clearance at Toys R Us, so I could return the others to party city. Tip #1: always keep your receipts! Instead of doling out extra money for the Tangled cups, I bought plain yellow ones at the dollar store. But, never fear they weren't left plain, I bought Rapunzel scrapbook stickers and added some to each cup. And the birthday girl got a special Rapunzel cup from her Aunt, so everyone was happy!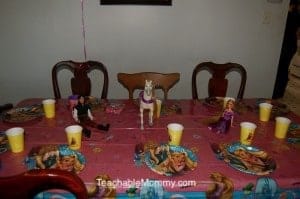 The color theme was purple and yellow. Although I did buy a few balloons (it's not a party without them!), the main decorations were these pennant flags. I got the Sun Banner Template from SuperMom Moments, hole punched each side, and weaved yellow yarn through the holes.

Tip #2: use your child's toys for decorations. I used one of my daughter's Rapunzel's doll, Flynn, and Maximus as a centerpiece on the table and the other Rapunzel in our entry way.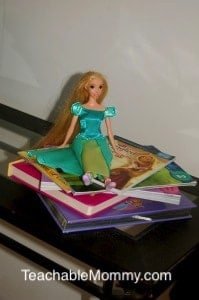 I kept the food simple and healthy. Since frying pans were so prevalent in the movie I thought it would be a cool idea to use them to display the food for the Tower Kabobs. I got a lot of compliments on this idea and it really was pretty simple to put together. If you don't have a bunch of frying pans in your cabinet, ask to borrow the 8/9in ones from your friends. I also had apples for the valiant, smart, and everyone's favorite horse/dog Maximus, braided honey wheat bread, "princess" water, and of course cupcakes.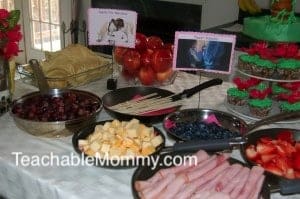 The skewers were plastic, to make it safer for the kids to make their own Tower Kabobs. The kids had a lot of fun building food towers and eating off sticks!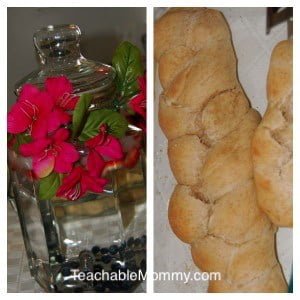 The Rapunzel cupcake tower was a big hit with all the kids. To make the tower, I used a styrofoam disc and a plastic dowel. To save on icing, I covered the disc with green construction paper and added grass around the outside. We stacked one package of pecan pinwheels, two cupcakes, and one ice cream cone. For the flowers, I bought a silk flower garland strand on sale at a local craft store. It had enough flowers to use not only on the cupcakes but also to drape around the water dispenser.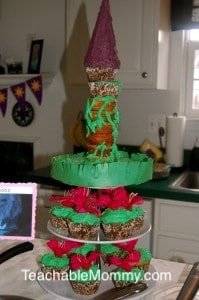 After taking the picture, we decided to move the top tier unto a separate stand, just to be on the safe side. With 10 little girls running around we didn't want Rapunzel to lose her tower!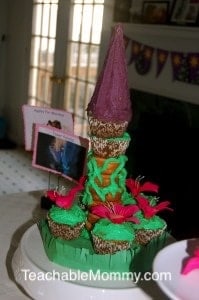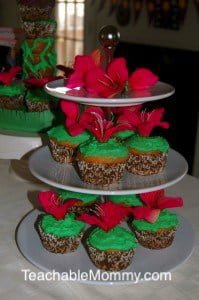 Tip #3: I bought the cardstock, stickers, yarn, styrofoam disc, dowel, and flowers at my local craft store. I shopped sale items, and used 50% off coupons for the items not on sale. You might have to do more then one transaction but it is worth the money you save!
Here is my Tangled board on Pinterest.
Check out my second post for more about the activities and games from our Tangled Party!