This is part 2 of my little man's Sesame Street Party. For ideas about party Games and Activities check out my first post. When I think Sesame Street I think bright colors, ABCs and 123s. Those ideas were the basis for the entire party.
These super cute invitations were designed with very little input from me. I only specified characters and "this party is brought to you by the letter C and the number 3." I thought that line was original but have since seen others like it. Still cute though!
To decorate my house, I grabbed all of our Sesame Street toys, box of alphabet blocks, and got creative.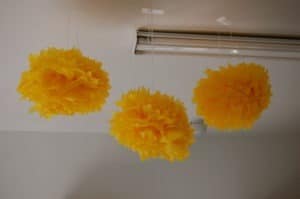 You can't have Sesame Street without a little Sunny Days and lucky for me I already had huge yellow pom poms from my daughter's Tangled Party.
Tip #1: Use what you have, no need to buy expensive one time use decorations. Use your imagination!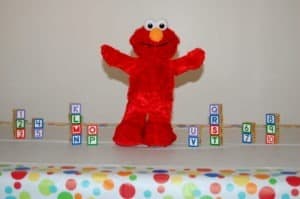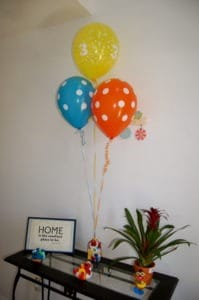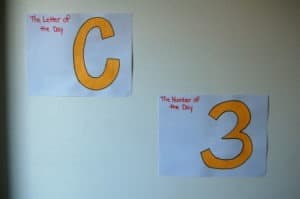 Our party was brought to you by the letter "C" and the number "3."
I made a special welcome sign for the front door. Similar signs cost a pretty penny online. This one cost me 50 cents. Thankfully it was not as hard as my daughter's Flynn Rider poster! However I forgot just how tedious it is to color in with markers the right way!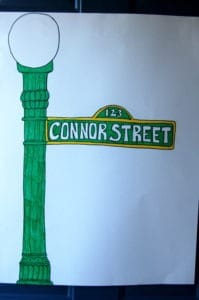 Tip #2: Make what you can. If you aren't crafty I'm sure you know someone who is!
 If you watch Sesame Street, I know you have seen Elmo's World. Dorothy stars as his faithful pet who is always thinking about something special. Dorothy decided to stop by our party and the kids loved her! (or him…not sure how you tell the difference!)
Of course we had to ask…..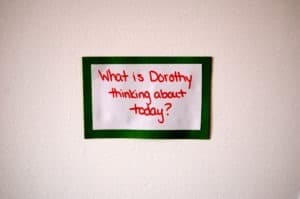 Dorothy also helped me keep track of the goody bags. Thank you Dorothy!
Our party was at lunch time, and the food was light and simple. The sandwiches were cut into triangles and I also found alphabet cinnamon "cookies" at Trader Joe's. Cookie Monster is guarding the 3 cookies and Abby made the fruit cups magical.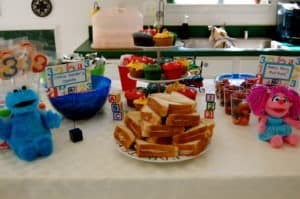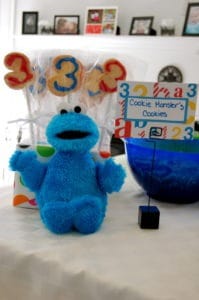 These cookie pops were simple and Cookie Monster approved! Bake and let them cool before icing. I used cookie icing from a local craft store, it is just easier that way! I wrapped a shipping box with colorful polka dot paper and punched holes in it to arrange the cookies.
Tip#3: Besides using coupons for craft and baking items, keep an eye out for great sales. If you know ahead of time what you want to do for your party, it is easier to find great deals.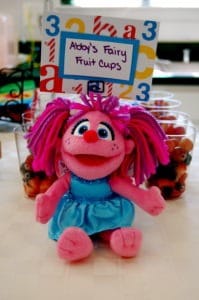 And now the cupcakes and cake. These guys took the most work overall but they definitely looked great. We used the Wilton Dessert Decorator Plus (see bottom) and it was a lifesaver. Big Bird's mouth is made from almonds rolled in yellow candy melt. Oscar and Elmo's mouths are made from already rolled fondant (available at your local craft store). Cookie Monster is munching on cookie crisp cereal and Elmo's nose is a m&m.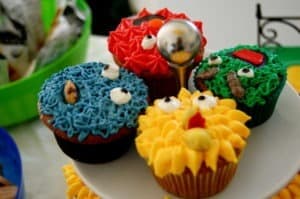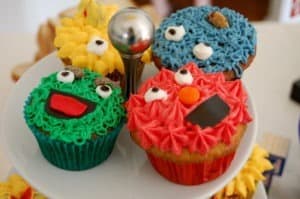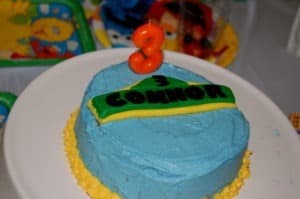 The cake is a simple 8inch round. I cut the sign from the fondant and the writing is sugar sheets already cut into letters and numbers.
Tip #4: Practice your icing. Play around with different tips until you get the look you want. That will make it easier to crank these out when the time comes.
My little guy and all his friends loved the party! I hope these ideas can help you plan an awesome party too. Below I included some of the items we used to make it happen, including the icing decorator (a MUST!).
Which cupcake is your favorite?