My baby boy was turning 3 and I could not think of a better way to party then with his favorite Sesame Street characters. What I love about Sesame Street is it is a show I watched as a kid too. Sharing the love of Cookie Monster with my boy warms my heart…nom nom!
Living on one income means throwing a great party without overspending. This post will help you throw a fun Sesame Street themed party without breaking the bank.
Since this was a 3 year old's party and our party guests ranged in age from under 1 to 3, I wanted to keep things simple and fun.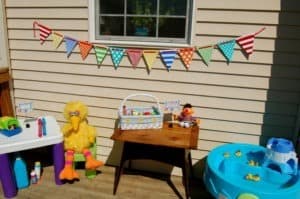 For the game, I set up Ernie's Rubber Ducky pond in my son's water table. Each duck was labeled with a number that corresponded to the prize basket.
Tip #1: Use what you have. We already had the water table and most of the bubbles.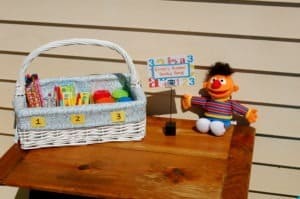 These birthday Rubber Duckies were super cute!
Tip #2: When you have to buy, shop around.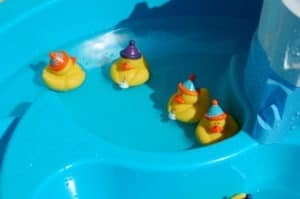 We also had Big Bird's Bubble table. Who doesn't like bubbles? If you are looking for a great bubble machine let me recommend this one. It is still working and the bubbles blow out not up.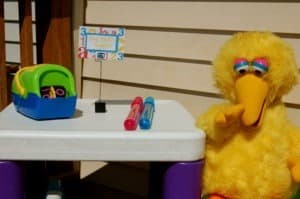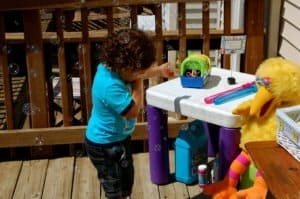 Tip #3: This goes along with my next post, but if you are doing any sort of themed party use your child's toys for decorations.
You can't have a party without goody bags! I bought plain bags at the party store, and found cute embellishments at the craft store. The Sesame characters are chipboard pieces, glued to the bags.
Tip #4: Coupons Coupons Coupons, 40/50% off one item at the craft stores.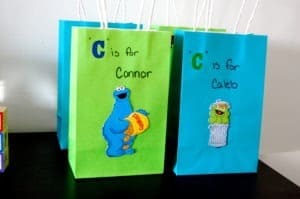 Anyone who knows my son, knows he has a love affair with goldfish. And Elmo loves his goldfish, which gave me an idea. Inside the bags along with other goodies I included goldfish snacks with this little rhyme.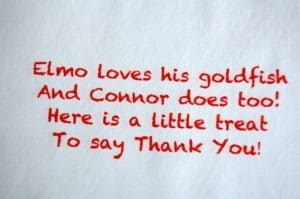 My son and I love Cookie Monster….who is your favorite Sesame Character?