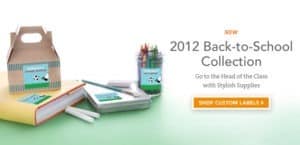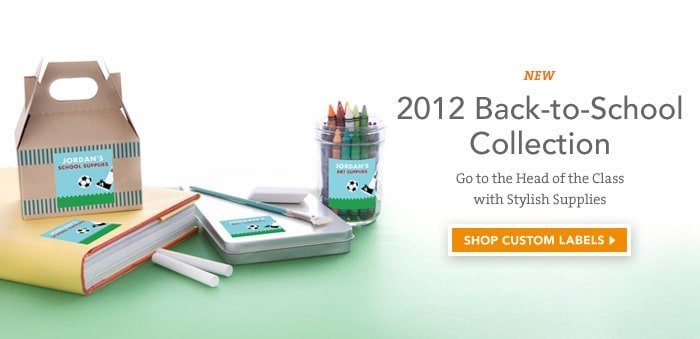 Tiny Prints has some great new products that are a must have on any back to school list! Their new back to school collection includes personalized note cards, allergy alert cards, mom contact cards, lunchbox notes, teacher stationary, custom stickers and labels, and more. Here are just a few examples of my favorite products from Tiny Prints, check them out and enter the giveaway below to win a $50 giftcard to use at TinyPrints.com!
If there is one thing all children need it is labels! I label everything my children take to school. That might make me crazy, a little OCD, or whatever but honestly kids lose things and who wants to buy supplies more than once. These cute personalized labels from Tiny Prints will make my job easier this year. You can even order ones with your child's cute little face on it.
When my daughter started kindergarten last year I began writing her little notes and leaving them in her lunchbox. I still remember after the first day of school she hugged me and said thank you mommy for the note! It is simple things like this that can make their day.
If your child has food allergies you want to make sure they have their information on them at all times. These allergy cards allow you to list out any allergies, ways the teacher can help your child, as well as emergency contact information. Having all the information in one place and easy to access can make a big difference.
I couldn't possibly fit everything I loved in one blog post! So here is my pinterest board of all things Back to School by Tiny Prints!
Join us for a Back To School Twitter Party with @ResourcefulMommy on Tuesday August 21st from 1-2pm PT/4-5pm ET. There will be giveaways so don't miss out! For all the details see Resourceful Mommy's post.
Love all these products? How about a $50 promo code for you to spend at Tiny Prints?! To enter the giveaway follow the instructions below and leave a comment for each entry!
Get Connected with Tiny Prints (1 entry for each)
Bonus entries:
Follow Me on Twitter (1 entry)
Like Teachable Mommy on Facebook (1 entry)
Subscribe to the RSS feed of this blog (1 entry)
Share this post via the buttons at the bottom (unlimited entries)
Visit the Back to School page  click through to your favorite product page, and pin your favorite item on Pinterest with the hashtag #TinyPrintsBTS (1 entry per pin)
*CONTEST ENDS AUGUST 28th Winner will be announced via Facebook and Twitter so don't forget to leave your twitter handle or facebook name so I can get in touch with you.
*I received a gift card to Tiny Prints as a thank you for writing this post. The opinions as always are my own!