Getting kids to eat their veggies can be a daunting task. My motto is you have to keep trying. My daughter is a notorious picky eater when it comes to trying anything new. She has always loved salads, green beans, and carrots, much to the surprise and admiration of some of my mommy friends. However, when I decided to start expanding our diet to include a more diverse group of vegetables she balked. Cauliflower was one in particular she had no interest in even trying. Then one day I was at my best friends house and she had some pasta and cauliflower leftovers. I had some for lunch and decided I was going to try it with my daughter. The next night I made this dish for her and she loved it!
This pasta is a traditional Italian dish, super cheap to make, and healthy too!
For this recipe you need:
4-6 Cloves of Garlic

Olive Oil
Red Pepper Flakes
Garlic Powder
Sea Salt
1 Head of Cauliflower
Whole Wheat Thin Spaghetti Pasta
Pecorino Romano Cheese Wedge (or you can substitute grated Parmesan)
Cut the cauliflower into 4 sections and boil in salted water (I use sea salt) until fork tender. While the cauliflower is boiling, heat the olive oil in a medium saute pan.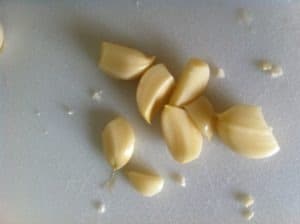 When cooking Italian, garlic is a must. Add it according to your taste. I rough chop mine, because Momma says if you can't see the garlic it's no good!
After rough chopping the garlic cloves, add them to the olive oil, and saute over medium heat. After the cauliflower is ready, drain and add into the garlic/olive oil mixture. Then add a little more sea salt, red pepper flakes (my daughter doesn't like anything that is too spicy so I keep the red pepper to a minimum), garlic powder, and grate the Pecorino Romano cheese on top. Then it is just a matter of stirring and tasting, adding more cheese or whatever you think it is lacking until you get it just right.
 Cauliflower mixture after adding all the ingredients.
While the cauliflower is marrying with the other ingredients start your pasta water. Tip 1: I usually have my pasta water on a low heat the whole time I am cooking, not only this dish but any that require it. When I am ready to cook the pasta I just crank up the heat and it doesn't take long for the water to boil. Don't forget to salt your pasta water. Cook the pasta according to the box, I prefer "al dente," and before you drain it  save some of the water on the side.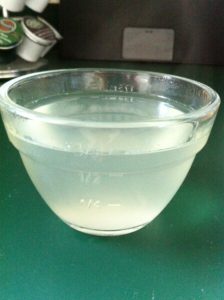 Tip 2: Saving pasta water is one of the best tricks I have learned. Sometimes pasta dishes can come out a little dry, by saving the pasta water, you can add not only moisture to the dish but flavor as well. The water holds that starchy pasta taste. 
After draining the pasta put it back into the pan then pour in the cauliflower mixture and mix. If it seems a little dry, add some pasta water on top and stir again. That's it! Healthy, easy, quick, and cheap, what's not to love?!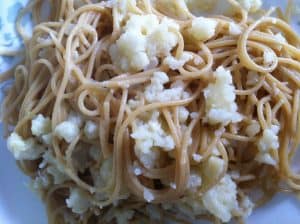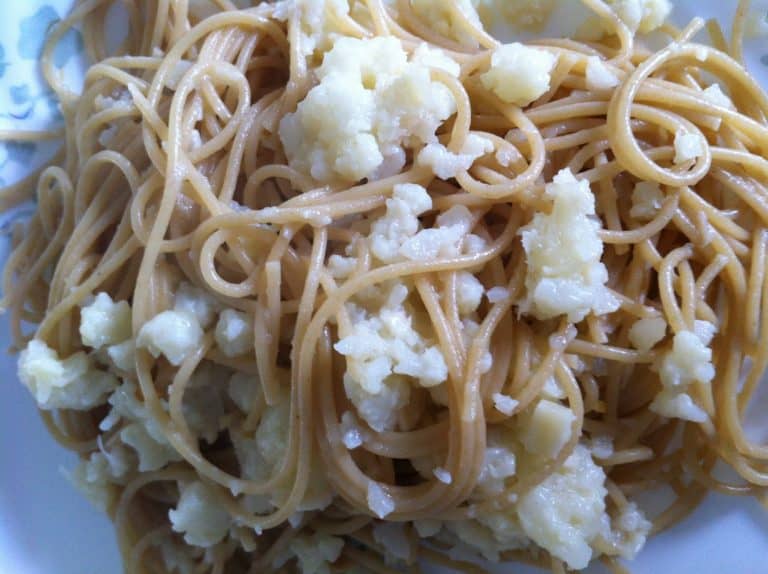 Finished Product! Yummy!