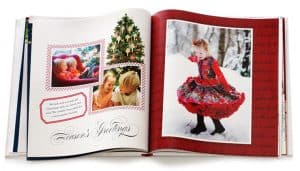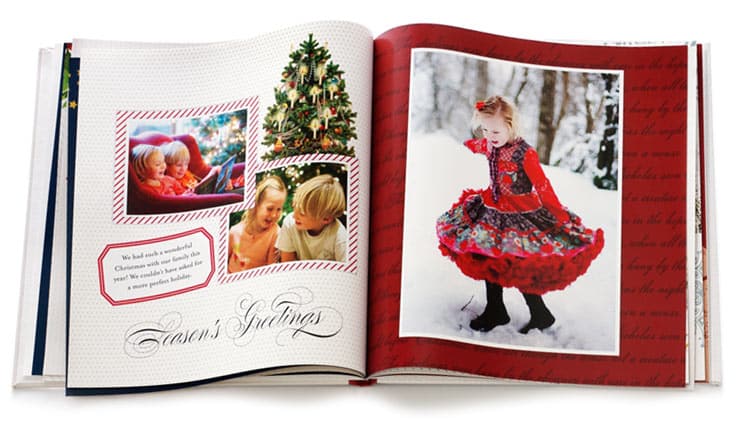 It's that time of year again: Moms are attempting to recreate that Pinterest family photo, cards need addressing, half of the light strand won't light, and everyone is trying to find that perfect gift. Although I can't help you to get all your children looking and smiling at the camera at the same time, I can help you find a perfect gift. Look no further than Shutterfly's photo books.I really love their photo books and all the options they give you when you are creating yours. I actually have 8 of them! I make one each year full of pictures of my children and all the fun we had.
Shutterfly photo books really are one of the best gifts ever. This Christmas I am making one for my grandmother. I am including pictures from my childhood with her all the way through my adult years and pictures of her with my children. I know her well enough to know that she will probably tear up when she sees it and then show it to everyone who comes to visit. They are completely customizable from the cover, page color, embellishments, fonts, to the number of photos per page, you can truly create a one of a kind gift.
These books always turn out beautiful and classic. The photo books would make a great gift for any family member or even yourself. I have a friend who makes them to send to the birth parents of her adoptive children. Whoever you choose to make one for, I guarantee they will love it and cherish it forever!
This video really touches my heart. I love my grandmother so much and this video reminds me of my baking days with her.
Shutterfly and I would like to help you create the best gift ever for someone special in your life this holiday season.
***TWO (2) Lucky Winners Will Receive A Code For a FREE Photo Book from Shutterfly!***
To enter the giveaway follow the instructions below. Winners will be contacted via email and announced on Facebook and Twitter. One entry per action (exception Tweeting), leave a comment for each!
*Giveaway ends December 12th 2012*
 Watch the video: Shutterfly Photo Books: The Best Gift Ever and comment on this post with what scene in the video reminds you of a memory from your own life
Visit the Photobooks page on Shutterfly and look for the"Styles" tab. Click on that tab and choose your favorite photo book style. There are 9 different ones to choose from and leave a comment on this post telling me which is your favorite.
Tweet (this can be done daily, please leave a comment for each tweet): "Enter to win a free Photo Book from @Shutterfly and @IrishRed02 https://www.withashleyandco.com/?p=1639 #SFLYphotobook"
Bonus Entries:
Like Teachable Mommy
Follow Me
Like Shutterfly
Follow Shutterfly
Subscribe to the Teachable Mommy RSS feed
Share this giveaway via the buttons below
*This post is sponsored by Shutterfly. I received a free photo book for writing this post. No monetary compensation was received and the opinions are my own.