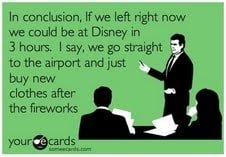 Our first ever family trip to Disney is officially booked!!!
Words cannot begin to describe how happy I am about this vacation. When we started finalizing our trip details I started to think back on my first trip there as a child. I remember riding the Dumbo ride over and over again, not minding the long lines. Seeing Mickey and Minnie in real life was almost too much for me, as a 5 year old I felt like I was going to burst from the excitement! As a child and even young adult, I wished I could live at Disney. I wanted nothing more than to work for them, be in a show, or just be a princess!
I have been to Disney World 4 times in my life. My husband and two children however have never been. To see them experience the magic for the first time is going to be amazing. I'm close to bursting just writing this out!
I am planning on a writing a post once a month (or maybe a little more) about our preparations for Disney. My first plan of attack is to make a super cute countdown calendar to keep up in our house. The original idea of having one finished for this post didn't happen because life happened!
Also, since I am a frugal momma, I promise to share my tips and tricks for having all the fun you can at Disney without breaking the bank. I want to help not only my family enjoy all that Disney World has to offer in it's fullness but your family too.
Let the Countdown Begin: 245 Days