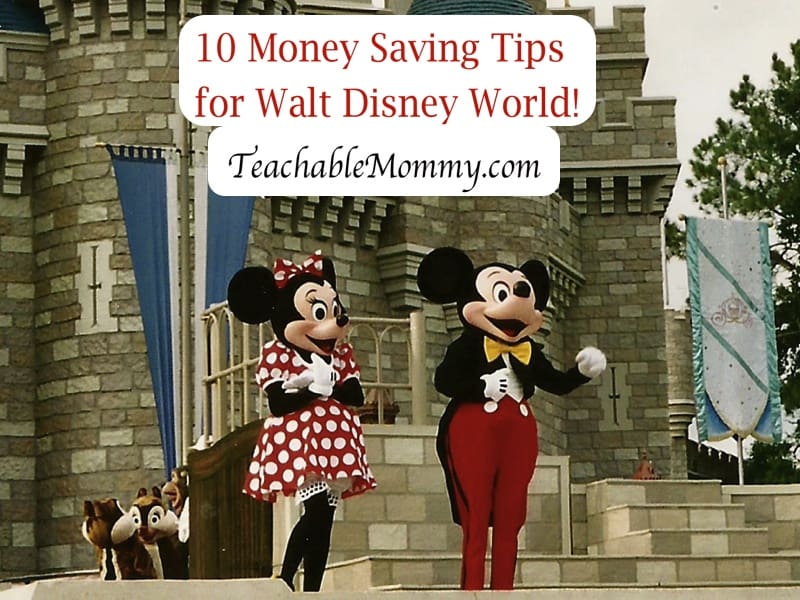 204 Days and Counting to our Walt Disney World Vacation!
The family and I are beyond excited as we continue to countdown to our Walt Disney World Vacation! In my first post: Disney World: Let the Countdown Begin, I promised that I would let you in on all my secrets to save money yet still be able to enjoy Disney to the fullest. I could think of no other person to brainstorm these ideas with than my best friend and fellow Disney fanatic, Megan. As a former Florida resident and Disney worker she has tips that I didn't even know about! So I asked her to help me write this post so we don't leave anything out.
Disney is and will always be the most magical and happiest place on earth. Unfortunately it comes with a big price tag, or does it? The answer is not necessarily! Disney can be affordable if you know a few simple tips and tricks.
Hotels, Airfare, and Park Tickets:
Tip #1: Wait for the off-season.
One of the things you learn about Disney, especially being a former Florida resident, is that there are blackout dates. Blackout dates are when tourism to the parks are at their peak, like Christmas time and the summer months. During their off season Disney is always offering specials and packages to get people into the park. You can save a huge amount of money just by waiting to visit Disney during their off-season.
Tip #2: Book it now, pay for it later.
You can book your Disney Vacation up to 11 months in advance. For $200 you can hold your reservation and pay for your package incrementally. Need more time to save? Call Disney directly and you can book a room up to 500 days in advance. That's almost 2 years to save up! Save on your airfare by booking it with your package. Booking my family's flight alone would have cost us $750, however adding it to my existing vacation package the price only increased by $300. That's a savings of over $400!
Tip #3: Use your perks!
Have a warehouse club membership? Do you work for a corporation? Are you a member of the military? Have a credit card with rewards? These are all ways you can save on your trip to Disney. Most warehouse club memberships get you more benefits than just lower prices on bulk items, including vacation packages to Disney. Don't have a club membership? Check with your human resource department, you might be surprised what your company offers. My husband used to work for a major defense contractor, they offered special prices on park tickets to Disney. It saved us about $200 for our family park hopper pass. Your credit card may not get you cheaper park tickets, but you might be able to redeem some of your rewards for airfare or even a hotel.
Tip #4: Look into the competition!
It is wonderful to stay at a Disney hotel, but sometimes they are really out of the budget. There are literally hundreds of hotels in the surrounding area that would love to have your business. Many of them offer shuttles to the different parks. Saving money on your stay means more money you have to play with elsewhere. All the same rules apply here, wait for the off-season, book it now, and use your perks! Also, did you know that Disney has timeshares? And did you know people will "rent" their timeshares to you for a fraction of the price? A quick search for "DVC rentals" will put you in the right direction.
Tip #5: How many days do you really need?
Not all vacation packages are week long. You can make your stay as long or as short as you need to accommodate your budget. The same applies to park tickets. For example: If your flight arrives in Orlando at 3 pm on Saturday and you leave at noon on the following Saturday. That would be 8 days and they would automatically sell you an 8 day pass for the park. Consider instead buying a pass with fewer days and you will have time to explore the free areas of Disney such as Disney's Boardwalk, Downtown Disney, or even enjoy the amenities of your hotel!
Dining, Entertainment, and other tips:
Tip #6: Buy a Dining Plan.
Disney offers a wide variety of dining plans that are accepted at pretty much every restaurant in the parks. Most of these plans are as little as $50 per person, per day. That may seem like a lot but consider that these plans include drinks, snacks and meals for each person. Plus, they include a souvenir mug that you can get refilled for free everywhere on Disney property!
Tip #7: Change it up.
There are grocery stores right outside of Disney plus a couple of small convenient stores on the property. You can buy food to keep in your hotel room and prepare meals for your family instead of eating out. We usually plan on one meal in our hotel everyday. This not only saves us money but it gives our son a chance to rest before tackling the parks. You can also visit the buffets or even eat a la carte at any of the restaurants.
Tip #8: If you are staying on property, let your concierge know what you are celebrating!
Disney is all about celebration, they even have a town with the namesake! Whether it is your first Disney trip, birthday, honeymoon, or you're just happy to be alive, let them know! Concierge will give you a special pin to wear in the parks. The cast members are trained to recognize these pins and I PROMISE you they will make it worth your while. My husband and I were celebrating our honeymoon and were given the 'Just Married' pins and hats. Wearing them in the park got us a lot of perks. They bumped us to the front of a long line, brought us free dessert, and gave us special seating at one of the shows. Cast members will go out of their way to make each trip more magical. Make sure you return the favor by telling them they've made your trip extra special!
Tip #9: Prioritize!
This may be a no-brainer but by sitting down and thinking about what is most important to you and your family, you will find ways to make adjustments to have the vacation your always wanted. There are so many things to do at Disney and I promise you, you won't feel like you are missing out on anything. Disney works hard to ensure everyone has a magical time. For example: if you don't have the extra cash for a character dining experience, you can find a schedule of meet and greets for you and your family's favorite characters.
Tip #10: Stay at a Disney World Resort!
One of the nice things about staying at a Disney resort is being able to get into the parks before the public and being able to stay after the public leaves. This is especially helpful if you are planning on going during a very busy time (like spring break or any holiday). Also, staying at a resort means you can take nap breaks or regroup at your room before heading back to watch the fireworks at night. Last time I was there we watched the Magic Kingdom Wishes Firework show from our resorts beach. It was amazing!
Megan and I are thrilled to not only be vacationing at our favorite place on Earth with our families but to also save as much money as possible doing it! We hope that these tips will help you plan the most magical vacation possible for your family. Next time I will be posting about fun crafts to make while waiting impatiently patiently for your trip to start!