"Help! Does anyone know a good AC man that won't drain my pockets?" That was me last summer, when on the hottest day of the year our AC broke. My first reaction was to curse the AC unit my second was to jump on Facebook to tell my friends and get advice.
A few weeks ago I was planning my daughter's birthday. I posted a status asking if anyone knew where to find fully grown wheat grass. A friend responded with a link to a fan page of a local business and I made a mental note. Fast forward to when I needed the information, I could not remember what was suggested. Ever forget? It happens to me. So I had to scroll back through my timeline, which of course was so much fun, to find the answer. I went to the fan page, found their number, made a phone call and too much time later ta-da I had my wheat grass.
If you are like me, when you need to find a hairstylist, daycare, plumber, etc you post about it on Facebook. But with all the changes made to the news feed on a constant (and aggravating) basis your friends might not see your post for help. Or as in the case of the wheat grass, you get an answer then life becomes so busy  you forget and then can't find the information! Wouldn't it be nice to have a site that with a few clicks you could find which businesses your friends use based on their Facebook likes? Vyne.me is that site.
With Vyne.me you can:
Ask your friends which services they would recommend.
Introduce your friends to new services that you love.
Review businesses in your area so others nearby can see real opinions and not just the good ones.
Vyne.me is an easy and effective way to find information in a small amount of time. Signing up takes no more than a few clicks of the mouse.  Instantly see your friends likes or ask your friends who they recommend. When they answer within Vyne, the information will be stored for quick retrieval when you need it. After I signed up with my Facebook login I searched for hairstylists in my area. I have one that I like but at the same time they are expensive. Now I want to find one that won't cost me a month's pay. A quick search on Vyne and I was able to see who my friends like. I could also send them a message to ask for details such as which stylist they use.
If you don't see any recommendations for what you are looking for ask your friends. Choose to have this message post to your Facebook wall and/or send a message to individual friends, it is up to you.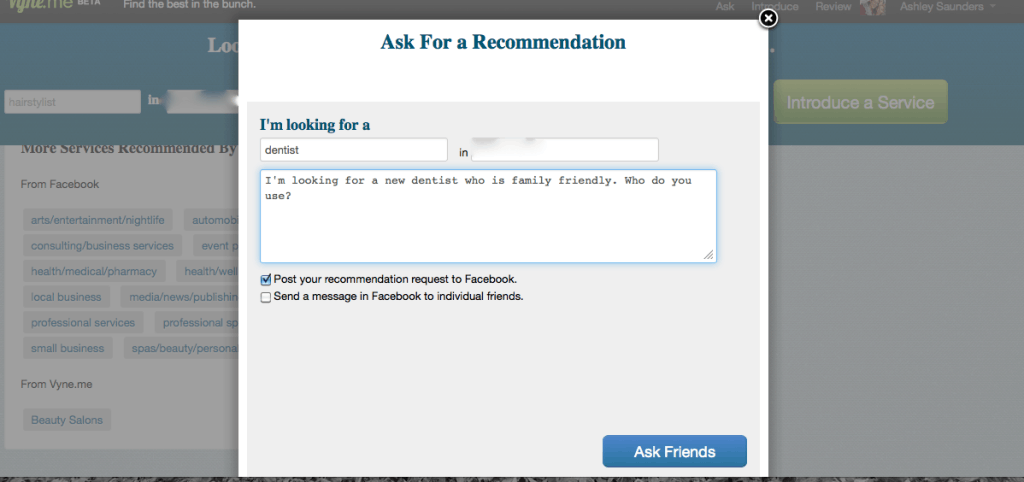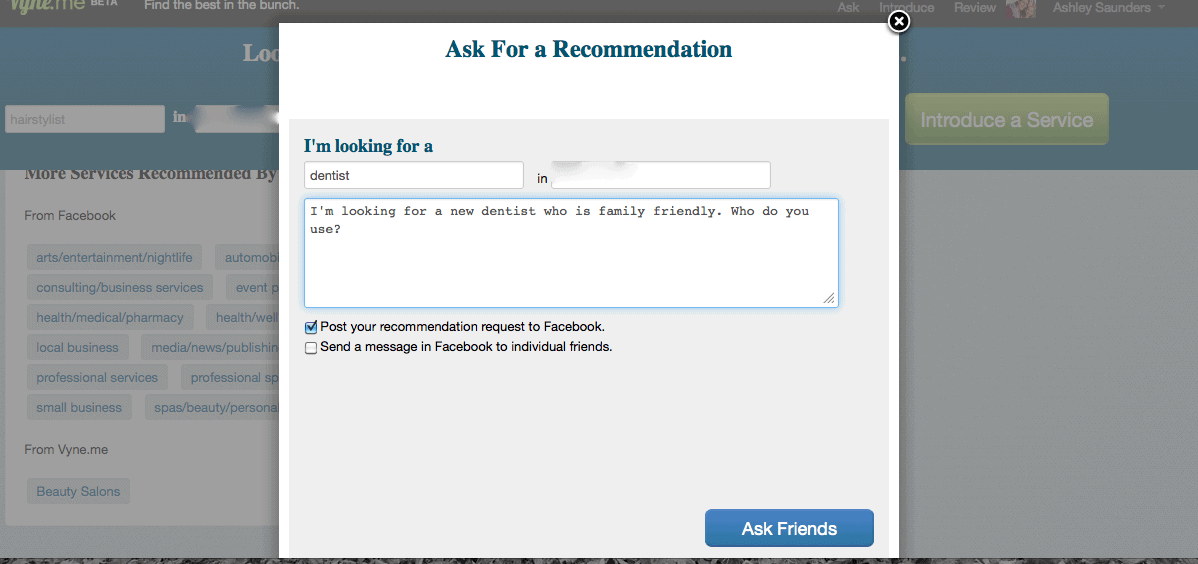 You see who your friends would recommend but you want to know more. Send them a message through Vyne.me and find out the answers to your questions.

The future is bright as your Vynes and mine continue to grow! Don't go at it alone, Vyne your way to better services.

Don't forget to connect with Vyne.me on
Facebook
  and
Twitter
for all the latest updates. And don't miss this chance to get started with them and earn a chance to win a gift certificate too!
---
***Vyne.me is offering you a chance to win $50 gift certificate to the restaurant of you choice! All you have to do is sign up for 
their social recommendation services with your Facebook login.***
Official Rules: You must sign up to Vyne.me with your Facebook login for a chance to be entered. All entries must be received by 11:59 pm by Friday, May 5th 2013. The winner will be notified by the email address (s)he has as his or her Facebook login on May 6th, 2013. if the winner does not reply with a physical address to mail the gift certifcate within 72 hours, a new winner will be chosen. No purchase or payment necessary to Enter or Win. This promotion is not sponsored, endorsed or administered by or associated with Facebook. You must be 18 years of age or older and be a resident of the continental United States to be eligible to win. One entry per person. Void where prohibited by law or regulation. All eligibility is subject to all federal, state, provincial and local laws and regulations.
---
* This post is sponsored bu Vyne.me. I received payment for writing this post. Opinions expressed are my own and the giveaway is handled strictly by Vyne.me*