Imagine with me a showdown between mother and son. Both want their way and both are unwilling to yield.What are they fighting over? Lunch. Mom wants to pack something healthy albeit boring. Rice cakes, melon, raw broccoli (no dip), and water. Oh and if you find yourself with free time, practice math problems. Son wants to load up his lunch with cotton candy, koolaid, popcorn (gotta have veggies), and an iPod to get taken away by the teacher.
Who should win? In my opinion: Neither.
Your daily lunch struggles may not be that bad but it can be a battle to find a balance between healthy and awesome. Packing a nutritional, fun, and yummy school lunch can be hard! Is there a solution to this age old struggle? Yes! Here is one way I make my daughter's lunch both mom and kid approved.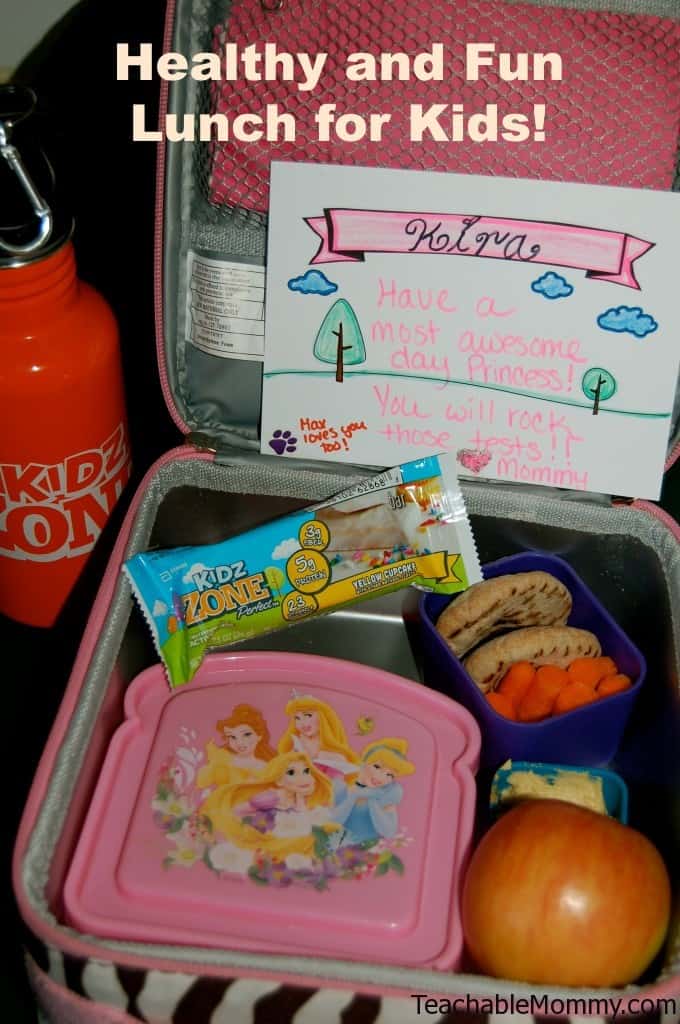 My daughter's school is Peanut Free which is great for kids who are highly allergic. However, it can make finding ideas for lunch a challenge.
Kidz ZonePerfect yellow cupcake bar for snack.

It is a great source of fiber, protein, and 23 vitamins & minerals for active kids . Also, who wouldn't want a cupcake for snack?
This also makes a great snack for moms on the go, not that I would steal from my children or anything… moving on

Sun-butter and Jelly on Whole Wheat Bread.

Sun-Butter is made from sunflower seeds and is a great source of vitamin E, essential fatty acids, magnesium, and protein.
Resuseable containers are not only more fun but they are great for the environment too!

Kid sized Apple.

Apples are a good source of vitamin C and soluble fiber to help keep the kids feeling full the rest of the day.

Carrot Sticks and Whole Wheat Pita Bites with Roasted Garlic Hummus.

Carrots are great for your eyes. No excuse for missing that test question!
Chickpeas are a good source of fiber, protein, folic acid, zinc, and iron.
Garlic contains immune boosting properties. Less sick days? Can I get a hallelujah?

Water.

Milk-okay. Juice- ehhh. Soda- bad. Go with water we all know it's better!

A Note of Encouragement.

Gives extra encouragement especially when their day isn't going quite right or they have a lot of tests.
Also gives you a chance to flex some creative muscle or at least the satisfaction of finishing a project without your preschooler coloring all over it. Or is that just me?
I believe in you Mom and Dad. You can come up with a lunch that is as fabulous as your kid and healthy too!
*This post is sponsored by ZonePerfect. I received free products in exchange and no other compensation was received. Opinions expressed are my own. Also, I have nothing against melons, broccoli (although I can only eat it raw with dip), or rice cakes. We eat them here, don't throw rotten veggies at me!*