Stop Eating Junk. Start Eating Food.
Lousie's Foods Chia Granola is a healthy and tasty way to start your day! Or if you are a gym rat like me you will love it as a filling and nutritious post workout snack.
Before trying out Chia Granola I would have said a no oats granola would not taste good. It was not until after I was happily munching away that I realized this granola is grain free and I didn't even mind! The flavors marry together so well you won't even miss the oats. Whether you are just looking for no junk granola or you are on a gluten free and/or paleo diet this granola is what you are looking for!
I love sprinkling it on top of my favorite organic Greek yogurt or mixing it into my raisin bran cereal for added crunch. No matter how you choose to indulge, you will love Louise's Chia Granola!
Healthy Facts:
Paleo granola
Gluten Free
Grain Free
Rich in Omega-3 Chia
Zero Added Sugar
Zero Preservatives
100% Natural
Louise's Foods was mentioned in Rich Food Poor Food as a steer here choice for granola and was featured on Fox and Friends!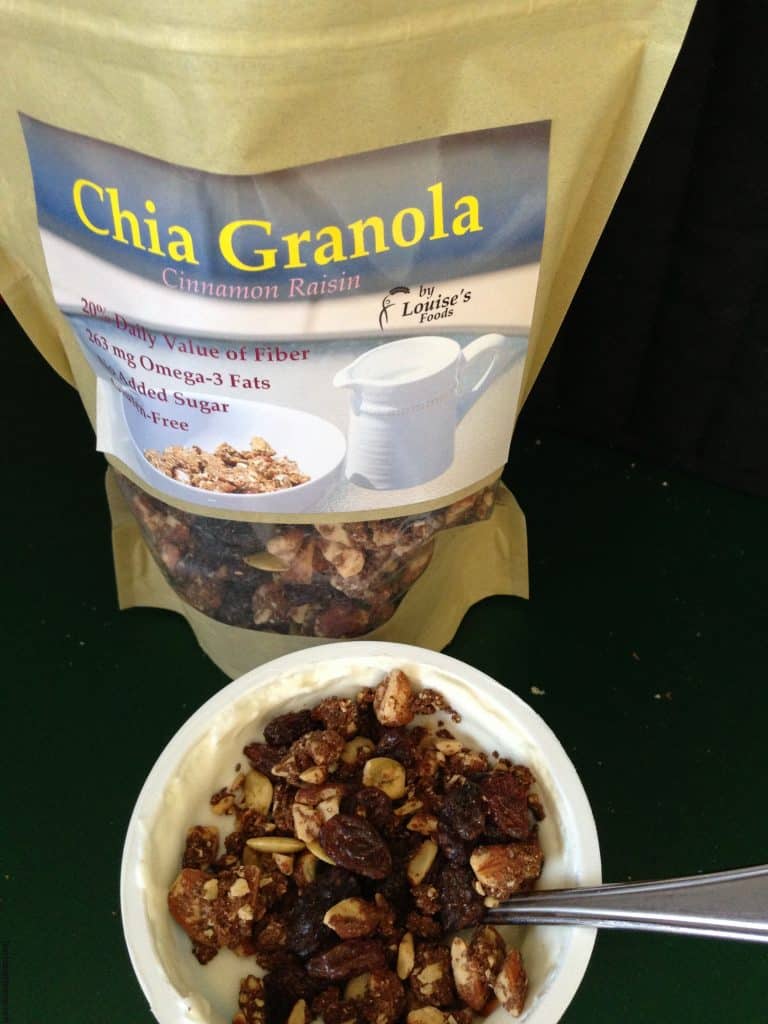 Tastes like an oatmeal raisin cookie and I am so okay with that!

A little bit about Louise's Foods:

Louise's Foods specializes in the creation and production of foods that are 100% All-Natural and Grain-Free. What that means is that every product we produce contains no refined sugars, no grains of any type (wheat, corn, or rice), and no artificial preservatives or flavors.

Like countless other people, we have found that eating whole foods instead of grains and other processed foods has changed our health and our lives. Unfortunately, one of the ways that it has changed our life is by limiting our choices in the supermarket. We want that to change.

Our products are as close as you can get to foods that you would find growing in nature – yet in a convenient, delicious, ready-to-eat form. Check our nutrition and ingredient info – we've got nothing to hide.
**Louise's Foods wants to give one Teachable Mommy reader a chance to try out their Chia Granola!**
Winner will receive a full sized bag of Chia Granola!

To enter leave a blog post comment for each action. Giveaway Ends May 17th 2013. One (1) winner will be chosen using Random.org and notified via email.
*This post is sponsored by Louise's Foods. I received free product in exchange for this post. No monetary compensation was received and the opinions expressed are my own