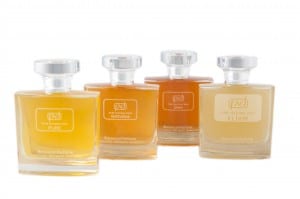 I am constantly looking for new, organic and natural products to replace anything that I still own with harsh chemicals. Although this passion started with food it has extended to beauty products. One of the last things on my list to find was a natural perfume. That does not mean I want a perfume that makes me smell like a flower child at Woodstock. So what is a girl to do? 
Introducing Pure Natural Diva Botanical Perfumes. It was developed by a fellow blogger, the Pure Natural Diva herself Tania, who also is very passionate about natural/organic living. She believes that eco savvy living can be fabulous. After years of sharing natural goodness with her readers and a lot of research, Pure Natural Diva perfumes was born. I read all about the company and even heard some testimonials from other bloggers who I love. But as with anything, seeing is believing, or in this case smelling is believing.
Picking a favorite scent was hard. I told my husband I needed to have several girls' nights to try each of the four scents out properly. All in the name of research I promise! In the end it was a tie between "Diva" and "Elixir." Maybe it is because I like to think of myself as a Diva and Elixir reminds me of lounging at the beach on vacation. Whatever the psychological reason, bottom line is they smell great! Added bonus, they smell great without all the garbage chemicals. Win-win!
With Mother's Day coming up you might be looking for a gift idea. We have you covered. Pure Natural Diva Botanical Perfumes wants to help make Mother's Day easy. Purchase the trio sample packet of Pure, Natural, and Diva. It comes gift wrapped and along with a gift certificate redeemable for a full size (50ml) bottle of either Pure, Natural, or Diva the week before Mother's Day!
The Pure Natural Diva line of organic perfume consists of 4 scents: Pure, Natural, Diva, and Elixir.
Conventional Perfume Risk Factors
Why the clamor for 100% natural? Consider these facts about conventional perfumes:
Clinical Studies have found that workers in the perfume industry are among the groups with the highest rates of occupational asthma.
Synthesized ingredients are a very real health concern.  They are only tested for their effects on skin without taking into account respiratory, neurological, or systemic effects.  This is the industry standard.
 Most conventional perfumes contain Diethyl phthalates, a known environmental toxin and suspected hormone disrupter.
The neurotoxic properties of synthetic musk found in most conventional perfumes  have earned their ban in Japan since the 1980′s.
America has the number one rate of cancer in the World; anything we can do to minimize our exposure to possible toxins is an important step towards health and wellness
The Pure Natural Diva Scents
Pure is sensually uplifting, like sunny day in a mixed field of lemongrass and Lavender. Notes include uplifting cassie, soothing chamomile, lemon, lime and an Egyptian neroli.
Natural is fresh and inviting: Imagine a picnic in a rose-bordered citrus grove.  Notes include a hint of clary sage, exalting pink grapefruit, Moroccan rose, and soothing ylang ylang.
Diva is full of soul—sultry and mysterious.  Notes include natural musk derived from Ambrette, sinfully smooth New Caledonian Sandalwood, blended together in a lusciously robust Vanilla.
Elixir wakens the senses, like a lingering morning with an ocean view.  Notes include aphrodisiacal vanilla, a hint of oakmoss, exquisite osmanthus, married with rejuvenating pink grapefruit and red mandarin.
Sign up to become a Diva VIP and be the first to know all the latest updates, try out new products, receive FREE shipping on orders over $50, and more! Get on the VIP list now!
*This post is sponsored by Pure Natural Diva Botanical Perfumes. I received free products in exchange for this post. No monetary compensation was received and the opinions expressed are my own. My affiliate link for Pure Natural Diva Botanicals is included*