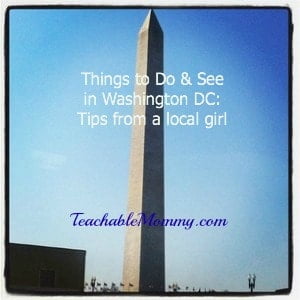 There are a lot of things to do and see in Washington DC. Any tour of DC or tourist guide will tell you the major things: monuments, Smithsonian Museum, White House, etc. But take it from a local the city has a lot more to offer.
One of my favorite places in Washington DC is Capitol Hill's Eastern Market. Saturdays the streets come alive with vendors from all over selling everything from food and flowers to handmade jewelry and furniture. I have gotten some of my favorite pieces from that market. The best part? Dirt cheap.
If you are in town during October, a must for the kids is Boo at the Zoo. From 5:30-8:30 explore the zoo, enjoying special animal encounters and of course candy at different stations around the zoo. In the Big Cat area, my personal favorite, they have a train setup. Although admission to the National Zoo during the day is free, Boo at the Zoo requires you to buy tickets.
The Butterfly Habitat is not only beautiful but educational as well. My daughter loves trying to get the butterflies to land on her Bambi. This is one place to definitely bring your camera to. I think it is really cool to be able to observe the complete life cycles of butterflies.
I know I mentioned museums earlier as something any tour guide would tell you but this is one museum I don't think you should skip over. The Spy Museum is a lot of fun for adults and kids alike. You learn the history of espionage from all over the world, from Biblical times to present day. Go on interactive Spy missions either inside the museum or around DC. The one hour Operation Spy mission is probably my favorite. Really allow yourself to get into character and you will have a blast! Perfect for the James Bond in all of us!
If you love sweets you have to check out Georgetown Cupcakes. Yes those Georgetown Cupcakes from TLC. Coming from someone who is not a huge fan of cupcakes, they made me a believer. All I can say about this one is yum. Oh, you will have to stand in line so be prepared.
Washington DC is full of great brick and mortar restaurants but don't miss out on the food trucks. They might seem a little shady or even nasty if you have never eaten from one, I know that is how I felt the first time a friend suggested we try one. Um seriously, food out of a truck barf. Trust me though, there is some amazing food to be had out of those babies. To name a few: Curbside Cupcakes (cupcakes on the go, yes please), DC Empanadas, Fojol Brothers (one of the originals and still going strong), Basil Thyme (I think is better then the traditional Italian places in DC), Philly Steak Bites, and even Chick Fil-a. And now I am hungry…
I could not possibly list all the great places of DC in this post. But I hope that these give you some ideas for fun activities for you and your family or friends to experience.
What is your favorite location or event in DC?