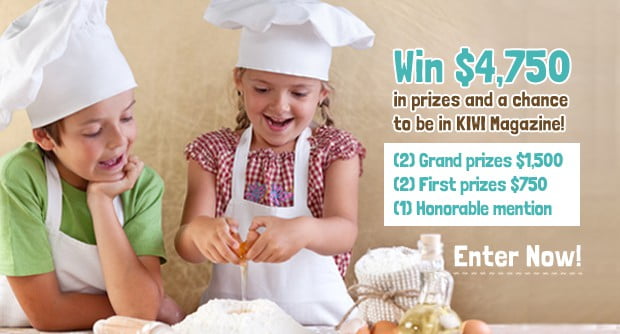 My daughter and son love to help me cook. From the recipe picking to shopping they want to be involved every step of the way! Does you child enjoy cooking? Have they come up with a delicious recipe you want to share? This is the contest for them!
Kiwi Magazine is looking for kids who love to cook!
This year, readers will help our panel of prestigious judges pick the next generation of culinary experts. You'll have a chance to vote online for your favorite kid chefs in two age categories; 4-8 and 9-14. Enter by July 31, 2013 and your child will have a chance to win thousands of dollars in prizes and be featured in KIWI magazine! Click here for Official Rules.
 How Does it Work?
Your child will create a recipe using one or more products from our official sponsors. The healthier the recipe, the better!
Take a video or snap a photo of your culinary expert in action.
Submit the video or photo online, through July 31, 2013, using the entry form below.
Be sure to share this contest with friends and family so they can enter, too.
Then, starting August 23, 2013, you can come back and help select the 2013 Next Great Young Chef!
Submit your entry here: 2013 Next Great Young Chef Contest
*I am sharing this contest with you as a Moms Meet Ambassador. No monetary compensation was received. Any opinions are my own*