A brand new, 60inch Flat panel TV with HD streaming, surround sound, and a blu-ray player. Now that sounds like what TV dreams are made of. Unfortunately, it can also be what nightmares are made of.
Not everyone realizes the safety risks that flat panel TVs pose for our children. We all love the new TVS because they are sleek, stylish, and easier to move than the old tubes! But if we do not take proper precautions, our flat panel TVs can easily tip-over when bumped or pulled by a rambunctious toddler, falling off traditional stands. These falling TVs can cause serious injury or even death. No ideal design or styling is worth sacrificing my kids' safety and I know all you parents agree too.
SANUS, the leading designer and manufacturer of flat panel TV wall mounts has partnered with Safe Kids Worldwide to educate consumers and parents alike about this safety hazard. They believe by offering safe solutions for families the number of TV tip-over related injuries and fatalities will be reduced. I fully agree that education is one of the most important steps in prevention. The more we know and are aware of possible threats, the less likely our children will be hurt by this common household item.
Take a Minute and watch the SANUS TV safety video
[youtube]http://www.youtube.com/watch?v=XyCHsr9NKqY[/youtube]
The Facts are sobering…

A 2011 US Consumer Product Safety Commission (CPSC) report on flat panel TV safety revealed:
·         A child is killed every three weeks from an unsecured TV
·         Every 45 minutes a child visits an emergency room due to a TV tip-over related injury
·         Between 2000 and 2011, 215 fatalities have resulted from TV tip-over
·         An estimated 17,000 people each year, the majority of which are children, are treated for injuries from TV tip-overs
·         Reported cases have increased almost 25% from 2006  to 2010, and over the last 10 years, injuries have increased by 31%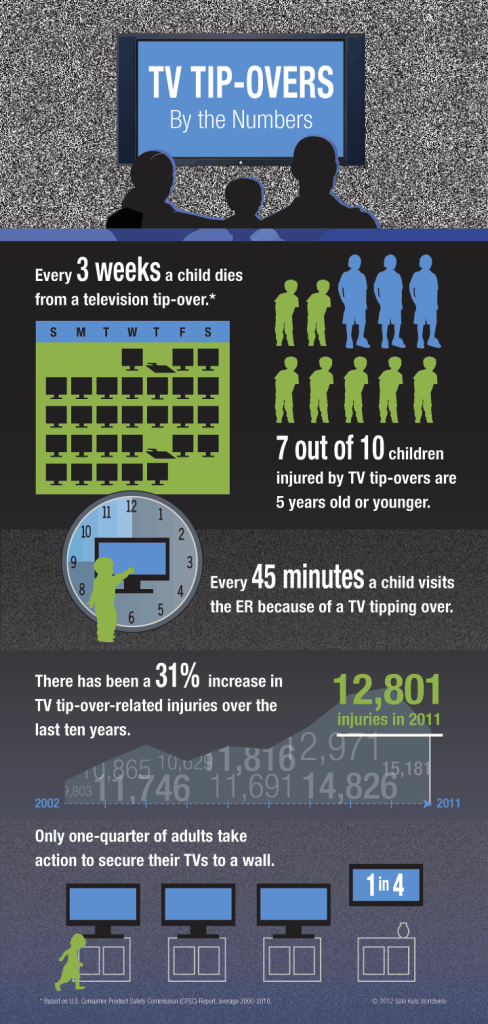 I am all for safety but would I like to have my cake and eat it too? Of course, who wouldn't? SANUS TV wall mounts allow me, and you, to do just that. They enable us to keep our children safe and still enjoy our stylish flat panel TV. Compare their low-profile, full motion, or tilting mounts to find the one that fits your home the best. SANUS TV mounts are available at Walmart, check them out today!
The safety of our children is of the utmost importance to me and every parent out there. That is why I wanted you to know about SANUS and Safe Kids Worldwide TV safety initiative. They and myself, want to encourage you to join the cause and mount your flat panel TVs. To help you get started, SANUS is sponsoring this amazing giveaway.
SANUS wants to give One (1) Teachable Mommy Reader a Flat Panel SANUS TV Vuepoint Mount F180!
Worried about installing the mount after you win? No worries, SANUS makes it simple with these TV Mounting Tips:
Easy 1, 2, 3 installation with a wall template to ensure even placement. I love easy don't you?

Online video walkthrough of simple installation available at any time

No additional tools necessary – all required installation hardware is included in package

Live customer support available 6 days a week
*This post is sponsored by SANUS. I received a gift similar to the prize for the writing of this post. No monetary compensation was received and the opinions expressed are my own. Winner will be given the Vuepoint Mount F180 to fit their TV. Prize does not include installation.