When I look for a case for my tech products I am very picky. They have to be durable, versatile, not outrageously priced, and most importantly they need to protect my toys! I mean devices… Added bonus for me is color choices. We all have our favorite color and yes I do shop my accessories based on it. What girl doesn't?! For those reasons, I am loving The Snugg iPad cases line!
I was sent their pink (no surprise there) leather iPad 2 case. It is very pretty (yes that matters to me), fits my iPad 2 securely while still allowing access to all ports and buttons. But could it handle me? You might say I can be rough on my electronics. They get thrown in my bag, on tables, and they occasionally get dropped. I'm sure somewhere out there an uber nerd is wincing at the thought! Sorry, but that is my life and if that wasn't bad enough I have 2 kids who play on my iPad. Baby girl is careful, baby boy not so much. I say all that to say that this case has been put through serious testing.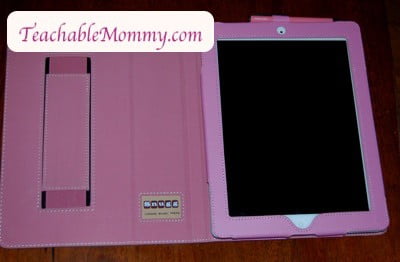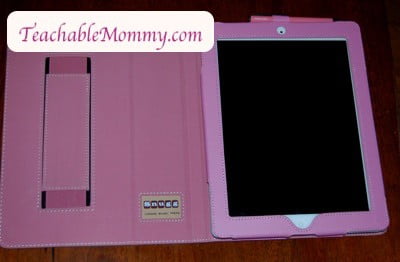 The Snugg case has passed my test of durability. After using it for several weeks, when a lot of cases give out, my Snugg still looks brand new. The stitching hasn't frayed and the leather makes it easy to wipe off any smudges. One of my favorite features is the stylus holder. I can't begin to count how many times I have lost that thing! It holds my stylus snug against the iPad so it does not get in my way when I'm not using it. It also has a built in stand, magnetic closing, and works well with the wake/sleep functions of the iPad.
Find my awesome case and other color options on Amazon: Snugg iPad 2 Pink Leather Case in Pink
Bottom Line: I would recommend this company for anyone looking for a great iPad case!
Not only does Snugg offer great iPad cases but they have a wide range of accessories too! And not just for iPads. They offer a variety of cases and accessories for other devices. Visit Snugg to see their entire line of products for your iPad, iPhone, Kindle, other Tablets, and more!

Here are a few of my favorite iPad accessories:

The Snugg Car Headrest Mount, cheaper alternative to actually purchasing in car video systems or adding them to older models! You know I am all about saving money and it's only $25.99!
For anyone who works on the go The Snugg Bluetooth Keyboard makes it easier to type on your iPad, helping you get your work done faster.
The Snugg Power Battery Charger will keep you from running out of power. It fully charges an iPad 1 time or an iPhone 5 times!
Having a hard time deciding what product is right for you? Snugg features live help via their website. It is available Mon-Fri 1am to 5pm (PST) and 4am to 8pm (EST).
And one more thing that makes Snugg cases great: The Snugg Guarantee. When you receive your Snugg case, register it to take advantage of this awesome perk:
Snugg Lifetime Guarantee!
We provide a lifetime guarantee on all of our products. Simply because we believe they are great in both function and quality. If you have a problem with your case in it's lifetime, through no fault of your own. We will replace your case with a brand new one. It's as simple as that!
Don't forget to like them on Facebook and follow them on Twitter for all the latest news!
*This post is sponsored by Snugg. I received a free iPad case for the purpose of this review. No monetary compensation was received and the opinions expressed are my own. Any facts or guarantees are from the manufacturer.