Thanksgiving is just around the corner. Thankfully, I have finished shopping so I do not need to fight anyone at the store over a turkey! In my house, I fix the turkey with stuffing, biscuits, gravy, sweet potatoes, and I really should stop before I start drooling all over my keyboard! Even though a HUGE meal is coming their way, everyone in the house seems very peckish. They are constantly wanting to "test" something out or get their hands on whatever I have sitting on the counter. I finally wised up and started to put out appetizers to keep fingers out of the food. One of my favorites is veggies with dip.
This year I decided to substitute the sour cream for organic Stonyfield Greek yogurt to make it healthier. Yogurt is great because it is packed with protein, calcium, vitamins D, B2, and B12, potassium, magnesium, and live active cultures. I didn't tell anyone in the house I was subbing out the sour cream in favor of the Greek yogurt. Noone even noticed! Yogurt is smooth and mild enough that using it in recipes does not alter the taste too much. My test batch has been devoured by my family so I would say it is a big hit!
Ingredients:
1 1/2 cup of Stonyfield Plain Greek Yogurt (I used the 0% nonfat but it is also available in whole milk and low fat)
1 Tbsp of Onion Powder
1 Tsp of Garlic Powder
1 Tbsp of Dry Dill
1 Tsp (roughly) of Sea Salt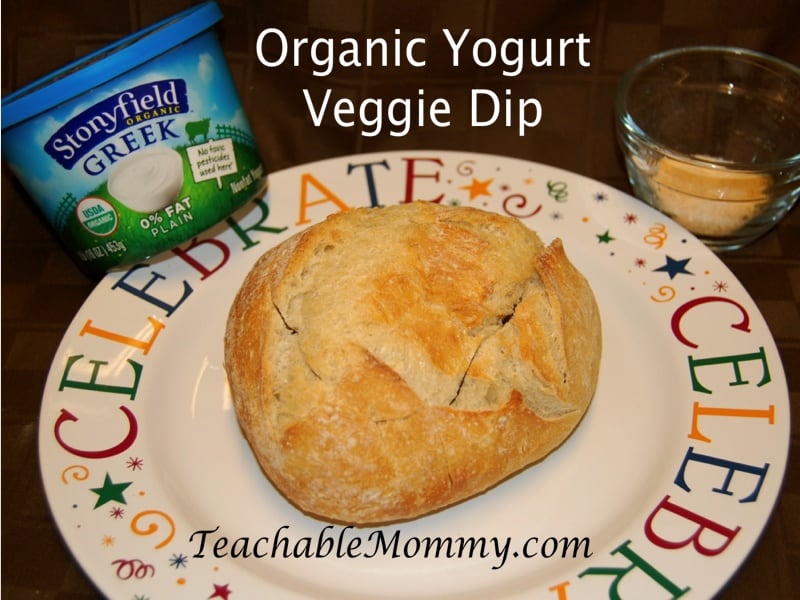 Combine all ingredients and let cool in the refrigerator for at least a hour or two before serving. Serve with raw veggies and enjoy!
Did you know? Yogurt can be substituted for a lot of ingredients to make your dish healthier. Here is a downloadable Stonyfield Yogurt Substitution Guide on how to use yogurt in your favorite recipes!
Happy Thanksgiving!