A few months ago I shared the struggle of going green in ALL aspects of life. Specifically in regards to cooking. Cooking is something I do almost everyday and cannot avoid. But as I learned, buying good for your foods is only part of the battle. If you are cooking with chemical laced pans you are infecting your foods with them. What can you do?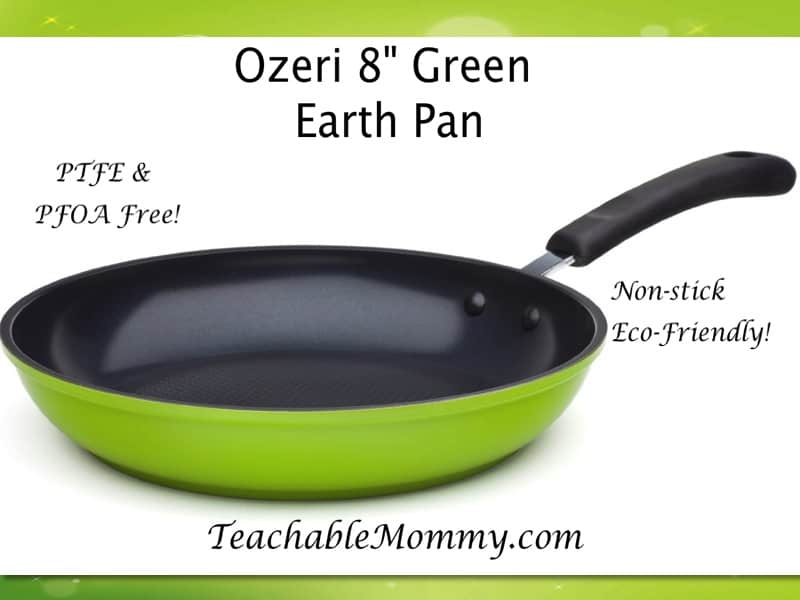 All my chefs need green pans to cook with. But the issue with most of those pans is they are a PAIN to work with. Hard to clean, scratch easy, or just do not last. Which is why most of the time, we tend to overlook the bad junk in our pans for the sake convenience. No judging I am just as guilty. Fortunately for us, there is a solution to our problems. With Ozeri's Earth pans you don't have to sacrifice convenience for safety.
The Ozeri 8″ Green Earth textured pan is one of the world's first frying pans to get non-stick perfection without PTFE, PFOA, and other nasty chemicals. The ceramic coating is easy to clean, scratch resistant, and environmentally friendly. Even under high heat, the Earth Pan will not release harmful toxic fumes into the environment. The handle is sturdy and heat resistant. Thank you! I don't know how many times I have burned myself on a pan. Ozeri's pan also comes with a magnetized induction stove safe base, which is fancy for it distributes heat evenly and quickly.
Why I love it: My food cooks evenly, quickly, and no nasty chemicals are finding their way into my organic goodies. The non-stick is really non-stick! The food seems to float in the pan and I barely need to to grease it. Less grease=healthier. This pan can keep up with being used everyday for a variety of foods. The limited lifetime warranty is nice too. If something happens to the materials or workmanship under normal use you are covered. For messier cooks like myself, the deeper sides help keep the food where it belongs. Finally, I love my Ozeri Green Earth pan because it is easy to clean! Overall I recommend it to anyone looking for a green frying pan, in fact I was just suggesting it to a friend!
A quick note: On Amazon, I read some reviews saying the non-stick goes away after a few uses. I have found that is definitely not the case. With the proper care (hand wash only), less grease, and lower heat settings your pan will stay perfect. I can say this because I have been using my 10″ Ozeri Pan for a few months now and it's still like brand new. And I use it EVERY day.
What makes the Ozeri pan different and safe to use?
The Earth Pan is made with Greblon – an ultra-safe ceramic coating from Germany which is 100% PTFE and PFOA free. What is PTFE and PFOA? Polytetrafluoroethylene (aka teflon) and PerFluoroOctanoic Acid are carcinogenic chemicals that emit toxic gases every time you cook with a nonstick pot or pan. Research has shown that they are associated with certain cancers, dangers to pregnant women, flu-like symptoms caused by inhaling the fumes, and environmental pollution. Long story short: you don't want to be cooking with those nasty things. Ozeri's Greblon nonstick coating is safe and environmentally friendly. It is also free of lead, cadmium, and other harmful chemicals.
 Buy it on Amazon
 today!
Or find it at these retailers:  Atgstores.com, Sears.com, or Homedepot.com
Connect with Ozeri on Facebook for the latest updates, savings, and more!
FTC Disclosure: I received this pan free for the purpose of this review. The Amazon link is an affiliate link. All opinions are my own!