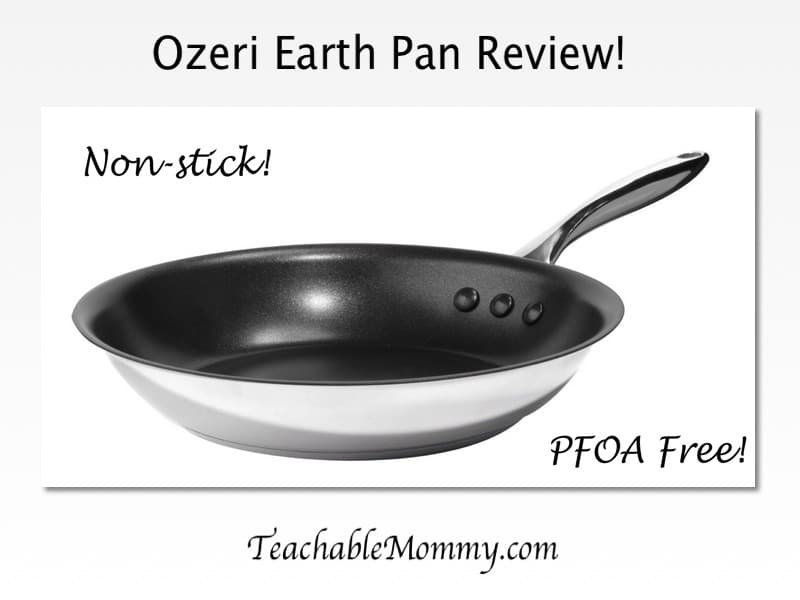 I gave up on nonstick pans awhile ago because of the chemicals they are made with. Those nasty things leech toxins into your food. Yummy. That doesn't mean I missed the connivence of them! Scrubbing pans like Cinderella is not my idea of a good time. As a mother though I need to protect my family from harm. So there I was scrubbing away. 
What is a eco-concious mom to do? Find a "green" pan that saves her family from toxins and her back from cleaning those dishes! Let me tell you about Ozeri, an awesome addition to my kitchen that does just that.
Ozeri Earth Pan has become my favorite everyday pan. It is large enough and deep enough to cook just about anything in it.  I use it for everything from scrambling eggs, to sautéing vegetables, browning meat, frying, and even stir fry. Thanks to it's effective nonstick coating, I use about 1/2 less of any type of grease than I would normally. It is nice to know I can cook delicious meals without worrying about harmful chemicals effecting my family.
I like my pans to be tough. You could say I am a little rough with them. My Ozeri pan can keep up with me, cooks great, and looks nice too! The overall look and feel of the pan is great. I feel like I'm talking about a car, but hey she does handle nicely on the stove. The Ozeri pan cooks evenly and without using excessive heat. Oh, and yes it cleans nicely too no matter what I have cooked on it. No more scrubbing until my arm is sore!
What makes the Ozeri pan different and safe to use?
The Earth Pan is made with ETERNA a safe and natural non-stick coating developed in the US. Ozeri is the world's only stainless steel frying pan to achieve non-stick greatness without using PFOA. What is PFOA? PerFluoroOctanoic Acid is a carcinogenic chemical that emits toxic gases every time you cook with a nonstick pot or pan. Research has shown that PFOA is associated with certain cancers, dangers to pregnant women, flu-like symptoms caused by inhaling the fumes, and environmental pollution. Long story short: you don't want to be cooking with it. Ozeri's ETERNA nonstick coating is safe and environmentally friendly. It is also free of lead, cadmium, and other harmful chemicals.
Buy it on Amazon today! You might want to hurry it's on sale now for an awesome low price!
I received one or more of the products mentioned above for free using Tomoson.com. Regardless, I only recommend products or services I use personally and believe will be good for my readers.