This post is sponsored by Global Influence. I was compensated for my time all opinions are my own.
To say we are a superhero loving family might be an understatement. We love superheroes, and no offense DC Comics but I have been a Marvel girl since forever. When I was younger I was obsessed with X-MEN, I loved how strong all the female characters were, and the fact there was more than just one girl. Jean Grey, the Phoenix, was my favorite! My husband has always been a Wolverine fan but with a soft spot for Magneto. Who wouldn't want to get through traffic with a flick of the wrist?

When the X-MEN franchise was revamped with First Class I fell in love all over again. I love a great back story. Since the X-MEN had always been grown up it was great to see them as awkward teenagers trying to figure out what was going on with themselves and the world. It also allows for the fan to become sensitive to the darker characters, realizing that sometimes they did not start out to be so evil. Now the most anticipated sequel is almost here. X-MEN Days of Future Past,in theaters May 23rd 2014, brings our favorite young mutants together with their future selves. I don't know about you but seeing Patrick Stewart, Ian McKellen, Hugh Jackman on the same screen as James McAvoy and Michael Fassbender… I have no words. Can't wait!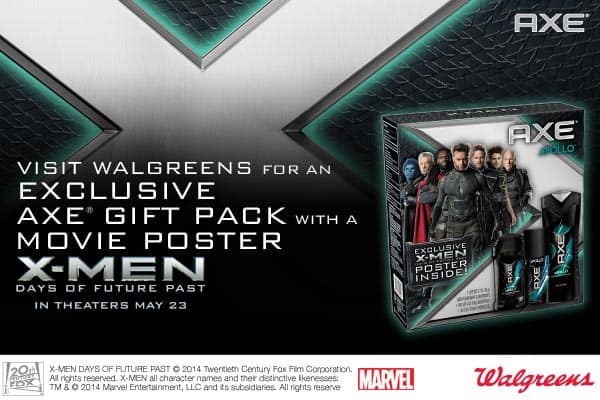 In the meantime, Axe has a special X-MEN Gift Pack available at participating Walgreens! Guys you know you want this, and girls I know you want the poster too so buy your guy two. I'm not good at sharing. Or if you don't have a significant male other, buy it for your brother, dad, grandpa, or the cute guy at work and bond over the awesome of X-MEN.
Visit a Walgreens near you for an exclusive X-Men: Days of Future Past Axe® gift pack with a FREE movie poster inside! Enter your zip code into the store locator below to find a Walgreens near you.
3 Lucky Teachable Mommy Fans will win a movie certificate good for 2 tickets to see the new X-MEN Days of Future Past Movie!