Being the health nut that I am you would think I would own a bathroom scale. You could think that and you would only be partially right. We did own one, it was my husbands and it didn't even work half the time. I'm not just saying that because all women hate scales. No, it was terrible. I resorted to using the Wii balance board as a scale but I know it wasn't very accurate either.
That has all changed. The Ozeri WeightMaster II
bathroom scale has come to my rescue. Since it is made by Ozeri I knew I would not be disappointed. They feature high quality products that exceed my expectations.
WeightMaster is the scale that kicks your old one's butt. Seriously, user profiles, BMI measurements, and that it keeps track of your weight…all make it an amazing product to have. Set up is easy, just follow the quick start guide. Then you are all set to keep an accurate eye on your healthy lifestyle results!
Why I love it:
Set up user profiles is simple (it allows up to 8 users)
Each user inserts height, then steps on the scale for it register initial weight
Each time you step on the scale it will tell you if you have gained or loss weight- lighting up red or green
How does it tell who you are? The scale knows which user is on based on the initial weigh in.
Sleek design, lightweight, no brainer display
Microban anti-microbial which is great since hubs and I share this scale and I am a bit of a germaphob
BMI guide- never knew my BMI before this
Lifetime guarantee
Basically: It is really really awesome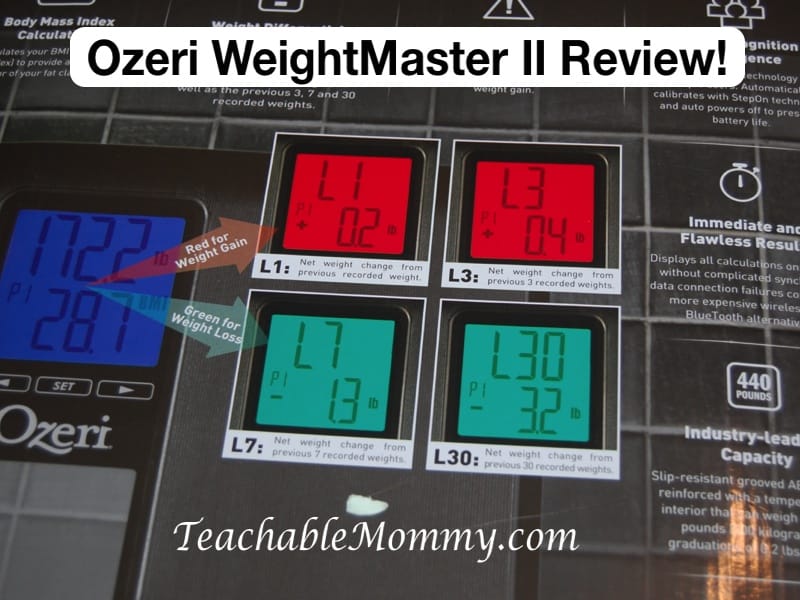 Ready to transform your bathroom? Buy the Ozeri WeightMaster II
on Amazon today!
*This post is sponsored by Ozeri. I received the scale for free for purpose of this review. All opinions are my own. Amazon affiliate link is used above.