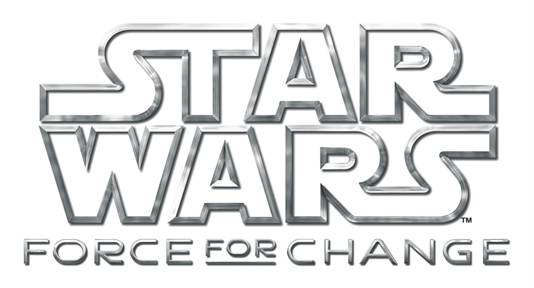 Tell the truth, who would LOVE to have a spot in the new Star Wars Episode VII Movie? Both hands raised here. Seriously, how AMAZING would that be?
Thanks to a new initiative from Disney and Lucasfilm in collaboration with Bad Robot, Star Wars: Force for Change, that dream could become a reality. Star Wars: Force for Change is dedicated to finding creative solutions to some of the world's biggest problems.
The first campaign will be the raise funds and awareness will raise funds and awareness for the United Nations Children's Fund's (UNICEF) Innovation Labs and its innovative programs that are benefitting the world's most vulnerable children.
Watch the announcement from Director J.J. Abrams:
Disney has committed US $1 million to support the launch of Star Wars: Force for Change. Fans can now contribute directly at Omaze.com/StarWars for a chance to appear in Star Wars: Episode VII. For each $10 contribution made through the Omaze fundraising platform, eligible participants will be automatically entered for a chance to win this once-in-a-lifetime experience. The campaign runs from NOW until July 18th 2014!
The Star Wars: Force for Change Grand Prize includes:
Airfare and accommodations to London for one winner and a guest
Behind-the-scenes access on the closed set of Star Wars: Episode VII as VIP guests of J.J. Abrams
Winner will have the opportunity to meet members of the cast
Winner and their guest will then be transformed by makeup and costume teams into a Star Wars character and filmed for a scene in Star Wars: Episode VII
Visit StarWars.com/ForceForChange to learn more about this new project and what your contribution will be going towards!
"The Star Wars fans are some of the most passionate and committed folks around the globe," says director J.J. Abrams. "We're thrilled to offer a chance to come behind the scenes as our VIP guests and be in Star Wars: Episode VII. We're even more excited that by participating in this campaign, Star Wars fans will be helping children around the world through our collaboration with UNICEF Innovation Labs and projects."

"The Star Wars films were made through George Lucas's adventurous combination of technology and creativity," says Kathleen Kennedy, president of Lucasfilm. "We wanted to honor and carry on that positive spirit as we start production on Episode VII and use Star Wars to make a difference in the world. Star Wars: Force for Change will help us do that, letting us give back to the fans who keep Star Wars alive, and raising much-needed funds for programs like UNICEF's Innovation Labs."
About UNICEF
UNICEF promotes the rights and wellbeing of every child, in everything we do. Together with our partners, we work in 190 countries and territories to translate that commitment into practical action, focusing special effort on reaching the most vulnerable and excluded children, to the benefit of all children, everywhere. For more information about UNICEF and its work visit: www.unicef.org. Follow us on Twitter: @unicef and Facebook: UNICEF.
This is just another reason for me to love Disney. I am excited to see the positive changes and impact that will happen from this joint venture. Star Wars: Force For Change is going to amazing things!
Good luck everyone and May the Force Be With You!
Oh, hey um if you happen to win and need a friend to travel, I'm totally available. Just putting it out there…