Ciao! Sono entusiasta di presentarvi Dino Lingo!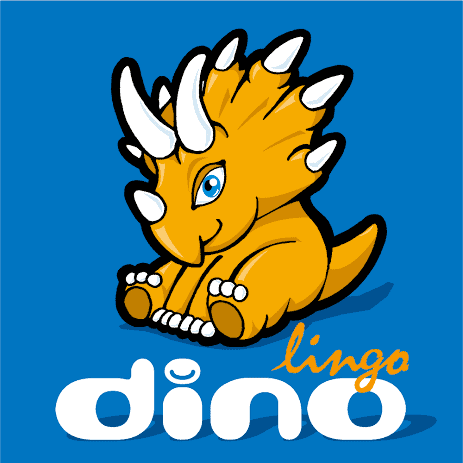 Ciao! I mean Hello, we have been practicing our Italian and I could not wait to share. Dino Lingo, Language Learning Sets for Kids, made learning Italian not only simple but fun too!
Dino Lingo offers over 40 language sets, designed to help teach your kids how to speak and understand the target language. Each full home learning set includes 5 DVDs, flashcards, posters, vocabulary book, coloring book, world map, country's flag, parents guide, a dinosaur plush toy, progress chart, and a songs CD. Or choose from a basic set and add on some of these great extras. All of these ship for free and within 24 hours in the US! No matter which way you choose to go, your family will have fun learning to speak in a new language.
I love that Dino Lingo incorporates playtime with storytelling, not just droning on with instruction. Their use of bright animation, both 3D and 2D, adorable dinosaurs, music and more makes learning a new language enjoyable. As anyone who has already gone through school can tell you, foreign language class was brutal. I took Spanish in middle/high school. It was a lot of textbooks and watching beloved Disney movies spoken in Spanish. Not very effective to say the least.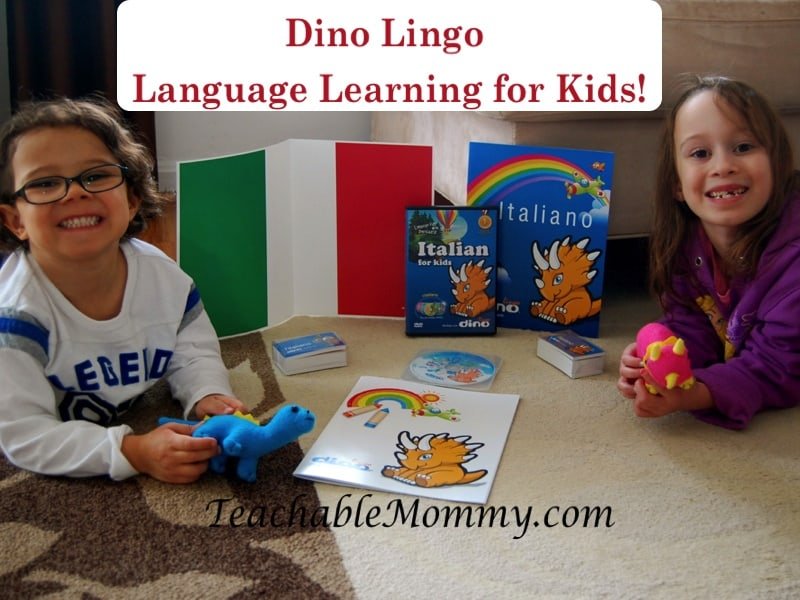 Bottom Line- my kids LOVED the Dino Lingo Italian set.
They were not only entertained but they learned something too! Plus Dino Lingo passed the ultimate test, "Can we watch it again?" Their new Dinosaur friends- Pinky and Bluey go with them everywhere too. My son is 4 and my daughter 8, both were able to grasp the concepts, words, and phrases easily. They began calling object out in Italian after just the first day.
Ms. Smarty Pants would see our cat, giggle and say Oh Orangy, you are a grande arancion gatto (a big orange cat) then turn to her daddy and say Did you understand me? No you didn't because you're not learning with the Dinos! The big boy, he was more about pointing out things and saying one word at a time. Like cane, gatto, and squalo (dog, cat, shark).
What really amazes me about Dino Lingo is the ease in which the kids not only picked up the language but spoke it too. We chose Italian, so the kids could learn the language of some of their close relatives. They now both confident and eager to talk to our family who speaks Italian fluently. As someone who use to teach, I have never seen a program work as quickly and effectively for teaching children another language.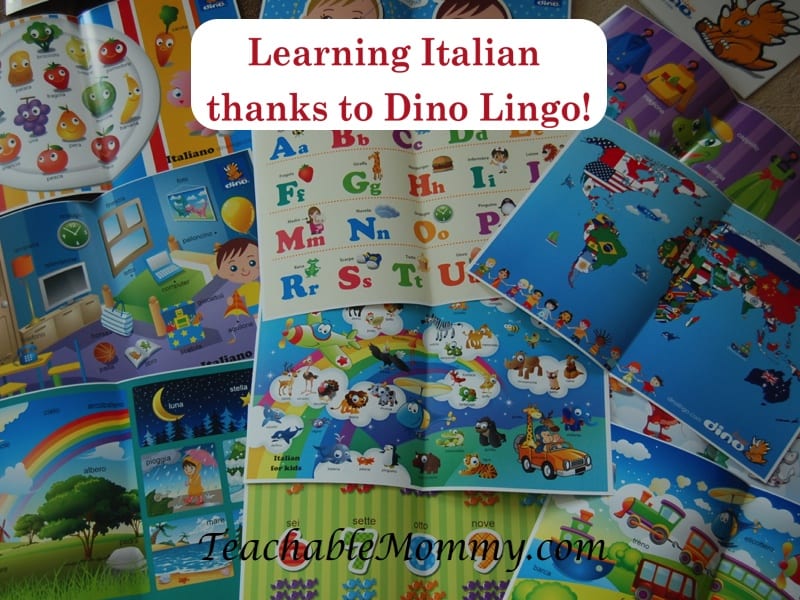 About Dino Lingo
Also available for schools (private and public), libraries, government (military families), and homeschooling
Award winning program: Mom's Best Award 2013, Dr. Toy's 2013 Winner
Free shipping in the US ($29.95 overseas) and orders are shipped within 24 hours
Supports WGCU Public Media (PBS NPR)
With each purchase, Dino Lingo donates educational materials to organizations designed to help children with education and literacy.
You can buy this awesome program at Dino Lingo and Amazon
today. Connect with Dino Lingo on Facebook and Twitter for all the latest, sales information, and more!
Visit Dino Lingo today for a free lesson in the language of your choice!
Now if only I could get the husband to book that trip to Italy. Then we could really test out our newly acquired skills. All in the name of education of course 😉
Addio!
Which language would your kids like to learn?
*This post is sponsored by Dino Lingo, I received free product for the purpose of this review. All opinions are my own. The Amazon link is an affiliate link.