Don't you wish there was an event you could attend that would help make being a new mom or dad easier? Well, let me tell you there is one and man do I wish this was around when my littles were itty bitties!
The Mother of All Baby Showers (MOABS) is returning to the DC Area on Friday, April 24th from 6-9:30pm!
This event brings together top notch pregnancy baby AND toddler brands, experts, services, products, and trends all so moms and dads can learn, try before they buy, and see everything that will help make your growing family rock!
MOABS is presented by Inova Health System. Bunmi Laditan aka Honest Toddler, award wining author, blogger, social media influencer, and mother of three will also be featured!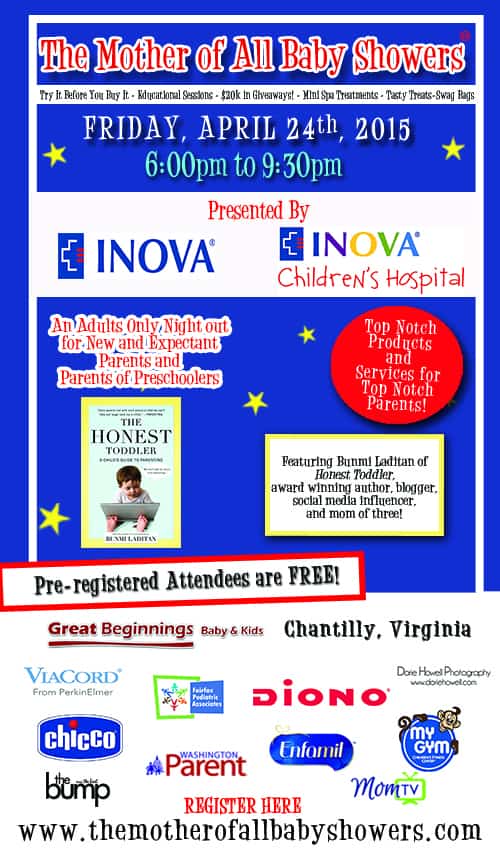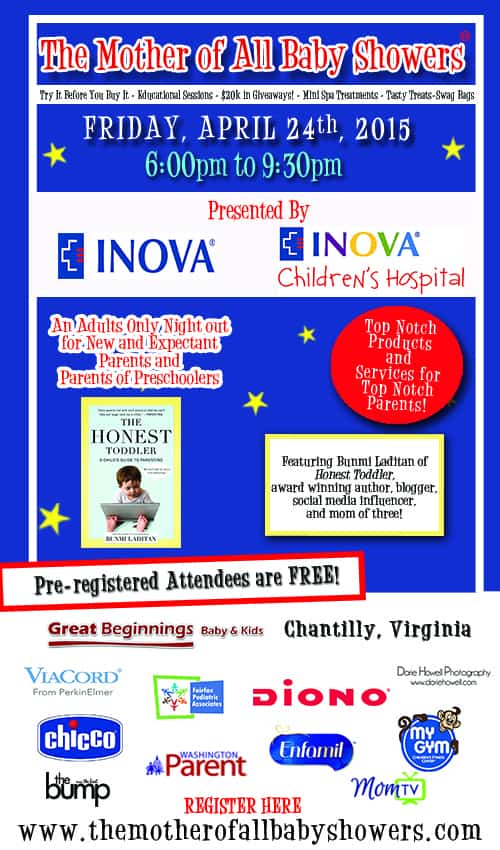 Educational Sessions will cover planning and preparing for baby and what to expect (and not to) from infancy though the toddler years.
Try it Before you Buy it area gives attendees the chance to interact with more than 50 maternity, juvenile, and family0focused national and local companies.
The evening also includes mini spa treatments, tasty treats from local businesses, giveaways and The Mother of All Swag Bags!
Tickets for the event are FREE for those who pre-register, and $25 for individuals OR $45 for couples for VIP admission. VIP admission is limited to 250 people and includes 1/2 hour earlier entry, 1 month membership to My Gym and a special swag bag (over $300 value). Register today here use code MOABS for $5 off your VIP admission!
One reader will win a Free VIP Couple Admission!
This post is sponsored by the Mother of All Baby Showers.