Back to School can mean back to sick for a lot of kids. Trust me, when I was a teacher those classroom germs were nothing to sneeze at- yes terrible pun, I couldn't help myself! So many parents would have to pick up the kids early or wait a few days for a doctor's visit if they symptoms weren't serious. But miserable is miserable and no parent likes to watch their kid suffer. In the world of instant digital access to practically everything, wouldn't it be nice to be able to instantly see a doctor whens something was wrong? Well now you can with Doctor On Demand.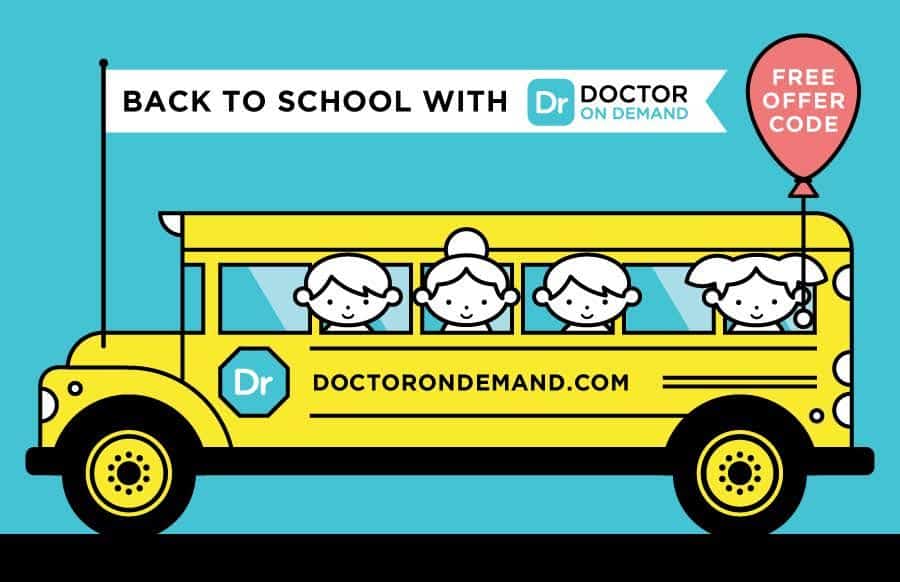 Doctor On Demand is a healthcare service that provides video visits with Board Certified Physicians, Psychologists, and Lactation Consultants. The service is accessible through your smartphone, tablet, and/or desktop computer. Doctor On Demand delivers services through employers, health systems, health plans, and directly to consumers. Patients simply download the free app or visit Doctor On Demand, provide a list of symptoms, and are instantly connected for a video visit. Rated as the best telemedicine provider by consumers and 87% of patients love the service so much they recommend it to others.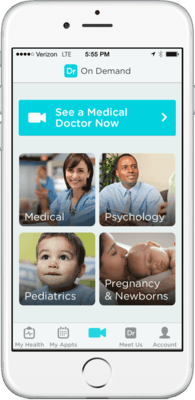 Common issues with students (and the grownups around them) are cold/cough, sore throat, flu, skin issues/rashes, pink eye, and vomiting/diarrhea. Not pleasant at all. With Doctor On Demand they can diagnosis and provide treatment options all from the comfort of your home. Your little angel does not even have to get out of their bed.
You can try this service for FREE today when you register and use code Teachable15! Registration took only a few minutes and now I am all set for when those inevitable school bugs attack!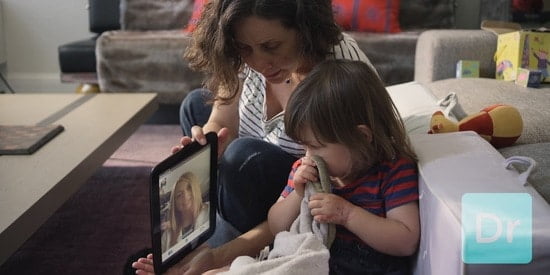 Register for free today and get your first visit on the house with code "TEACHABLE15"
4 ways Video Healthcare can make your life easier
When you're feeling ill, driving far and sitting in a crowded waiting room at the doctor's office or urgent care is the last thing you want to do. With the average wait time to see a doctor at nearly three weeks, it could be a while before you even step foot inside that waiting room. This fact has more and more people looking for new healthcare options that offer quality treatment that is both timely and cost efficient.
Whether you have kids, a bustling professional life or both, it can be difficult to find time to see your doctor. But what if you could get the medical treatment you need from the comfort of your own home? Here's where virtual healthcare steps in. With the advancement in technology and availability of free health care apps like Doctor On Demand, it's easy to stay healthy no matter how busy you are.
Here are some of the major benefits of virtual healthcare:
See a doctor without leaving your couch. Whether you live far away or right next door, getting in to see your doctor is bound to be a hassle. Video healthcare applications, such as Doctor On Demand, eliminate the inconveniences of driving, finding a parking spot, and spending time in the waiting room, so you can get well even faster. And if you're traveling or without transportation, you'll still have around the clock access to a medical professional via video from the comfort of home.
Track your health. With health apps and fitness trackers, people are able to track their health better than ever before. You can record anything from blood pressure to nutrition intake and sleep patterns. For those with specific conditions, specialized tracking tools are available to help each person manage their health. For example, mobile trackers for diabetes help keep track of food information, lifestyle data and blood glucose levels to keep patients up to speed on their health.
Receive regular reminders. There are several services and apps that remind you to take medications, send appointment reminders and alert you when your prescription is ready. Even if your appointment is online or over video, these reminders help keep you engaged when it comes to taking care of your health. When you're sick, there are even apps with virtual follow-up care to help you track how a treatment is working for you.
Get the help you need faster. There are some common conditions like pink eye, cold/flu, rashes, allergies, and UTIs where you already know what's wrong. You don't need an extensive doctor's visit in order to determine the help you need. In these types of cases, video medicine helps you quickly get the medicine you need so you can be on your way to a clean bill of health. With Doctor On Demand, patients are able to connect via video with a board certified physician in less than 90 seconds. After a video visit with a physician licensed in your state, he or she will be able to electronically send in your prescription to a pharmacy near you.
By 2018, an estimated 7 million people will be using telemedicine and virtual health care services, like Doctor On Demand. For more Doctor On Demand info visit DoctorOnDemand.com and connect with them on Facebook and Twitter.

*This post is sponsored by Doctor on Demand. All opinions are my own.