There was that time two of my favorite things combined and I was overjoyed. My love of Disney and gaming joined and became Disney Infinity. Eventually this game would evolve into include most of my beloved fandoms and characters. And when I thought it couldn't get better, the all new Disney Infinity 3.0 is here! Do you know a gamer? How about a Disney, Marvel, and/or Star Wars fan? Whether they love classic Disney characters, using The Force, or Assembling to fight the bad guys, Disney Infinity 3.0 is perfect for the gamer on your list.
I'm sharing all about the new Disney Infinity 3.0 Toy Box and giving an overview of what makes the latest Disney Infinity game a must have!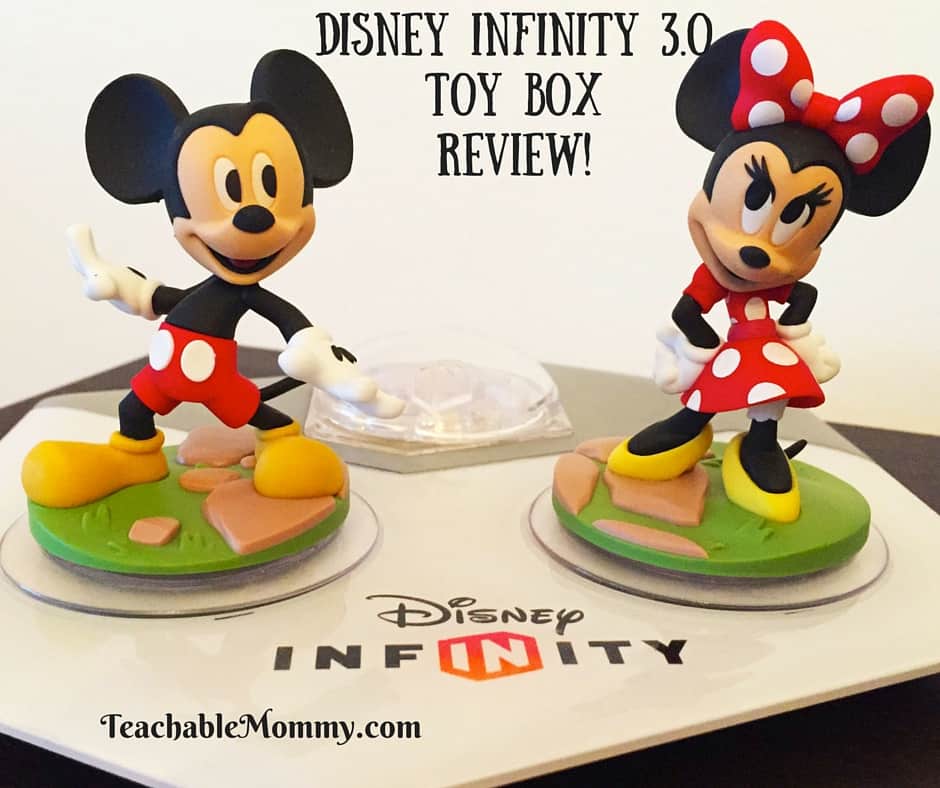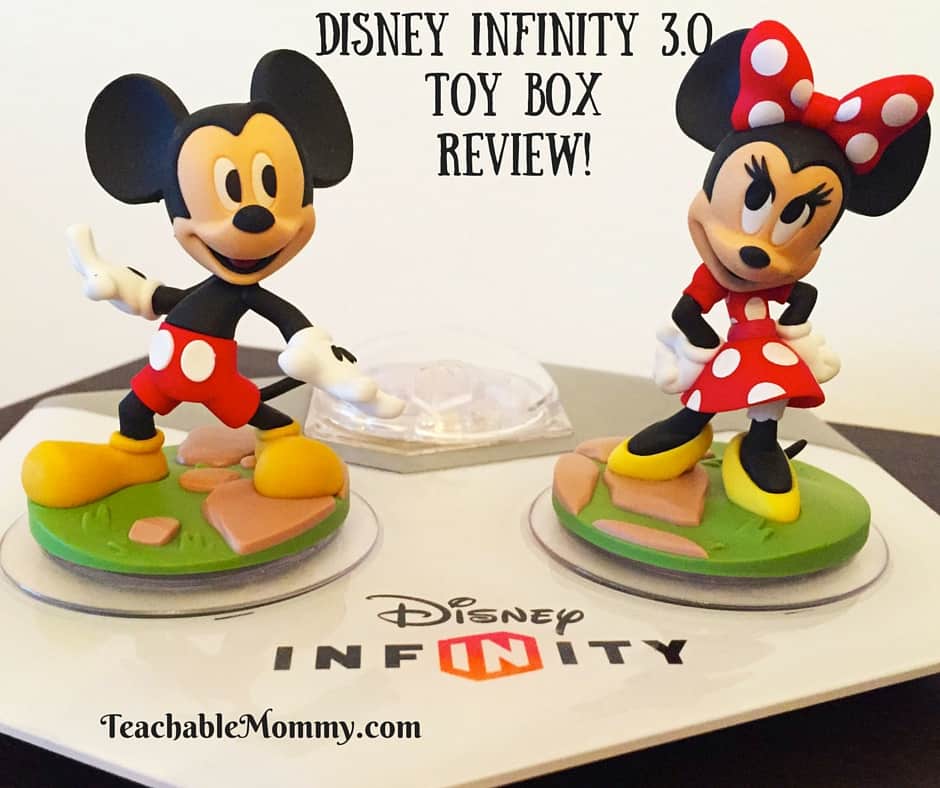 Being able to enter worlds or create ones of your own that reflect your favorite movies, rides, and characters is what has always made Disney Infinity unique.
The team at Disney Infinity was conscious of making sure this platform would give you a great value for the price. When you pick up your Disney Infinity Starter Pack for $64.99 it comes with 2 figurines, base, the game, and online codes. Most games retails for $60. Just. For. A. Game. I mean when I was in my young gaming days I know games didn't cost that much. I am also pretty sure my parents wouldn't have bought it if they did!
If you have been IN since 1.0 or you joined up with 2.0 the entire figure collection, yes even from the very beginning, is playable in the new Toy Box! Jack Skellington can be King of Halloween Town or Captain Jack Sparrow can grab a churro all in the new Toy Box Hub.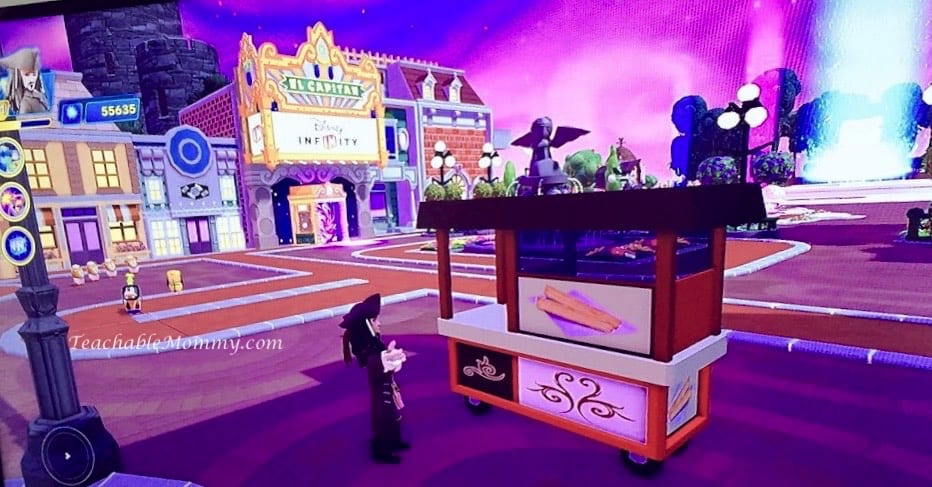 I'm hoping for a Dole Whip setup next!
The Toy Box has really evolved since the beginning. I will confess I didn't take too much time to build in the Toy Box in 1.0. Rather I spent all my time in the playsets, especially the Pirates of the Caribbean. Then 2.0 debuted with new capabilities for the characters, the Marvel superheroes, and easier to use controls for building and customizing the Toy Box. I made up for lost time and created an awesome if I do say so myself Toy Box!
Connect your Disney account and load your old Toy Box saves onto the new game. The Toy Box is not system based it is game based like the figurines. As long as your account is connected you can access previous Toy Box saves or start fresh, making something new and awesome.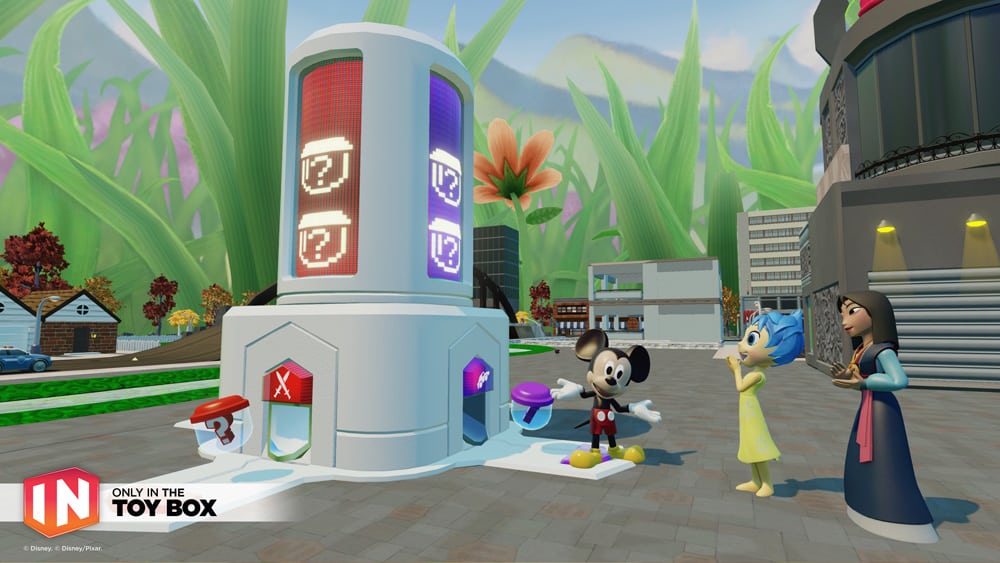 Pro Tip: Use your Magic Band to unlock something special in your Toy Box!
I love the new Toy box hub. It is a game within a game within a game, you get the idea. The Toy Box Hub is full of surprises. From training areas, stores to buy new toys, playing with others, and more you can find something new to do inside the Hub. You never know what will happen! I was playing the other day and all of a sudden the Empire showed up and I had to jump in my X-Wing to defeat them. How cool is it to battle the Dark Side above Cinderella's castle!?!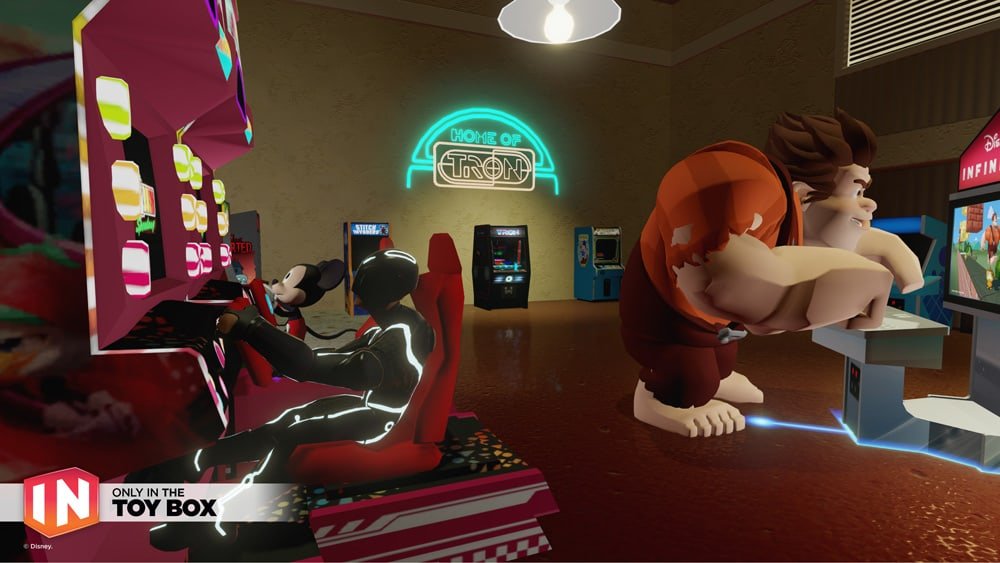 Play against others in Flynn's Arcade
Pro Tip: Avoid this swirly guy. I don't know his name or really what it is but you cannot defeat him. He only goes away after you are defeated by him. He also will destroy other bad guys in the area but he will chase you all over the hub. Oh and Swirly Guy always spawns in this area of Halloween Town.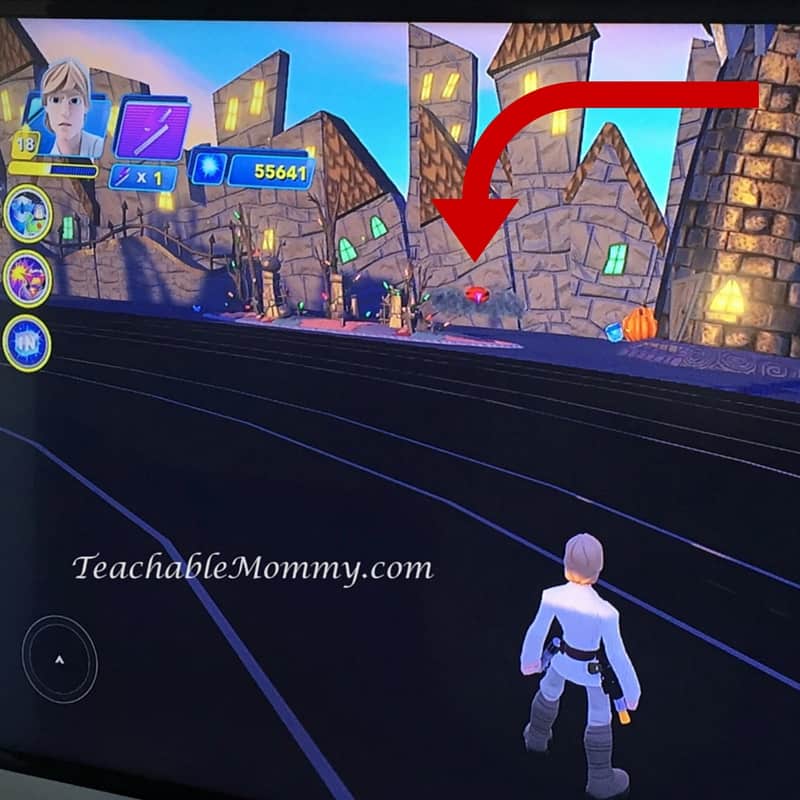 Phil, you remember him from Hercules, he is a great resource for combat. In fact I like to use his training areas to give me an edge up in the playsets. Visit the other Toy Box hosts like Phil to learn how to do all sorts of cool things with your characters and the Toy Box.
Pro Tip: Take your characters into the Urban Brawler Challenge. I went from level 0-6 just by completing the challenge. It is also a great place to practice your new skills before heading into the playsets with baddies like General Grievous!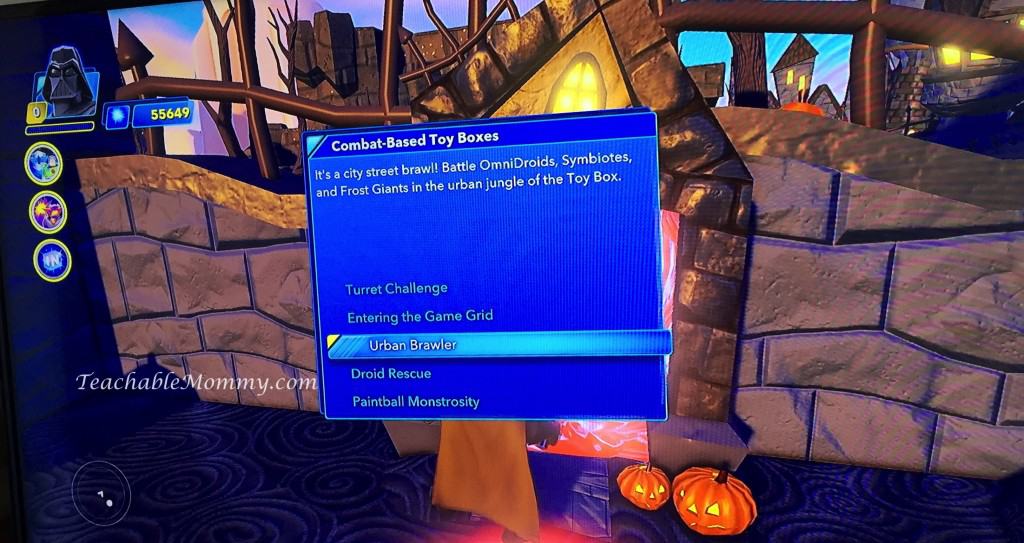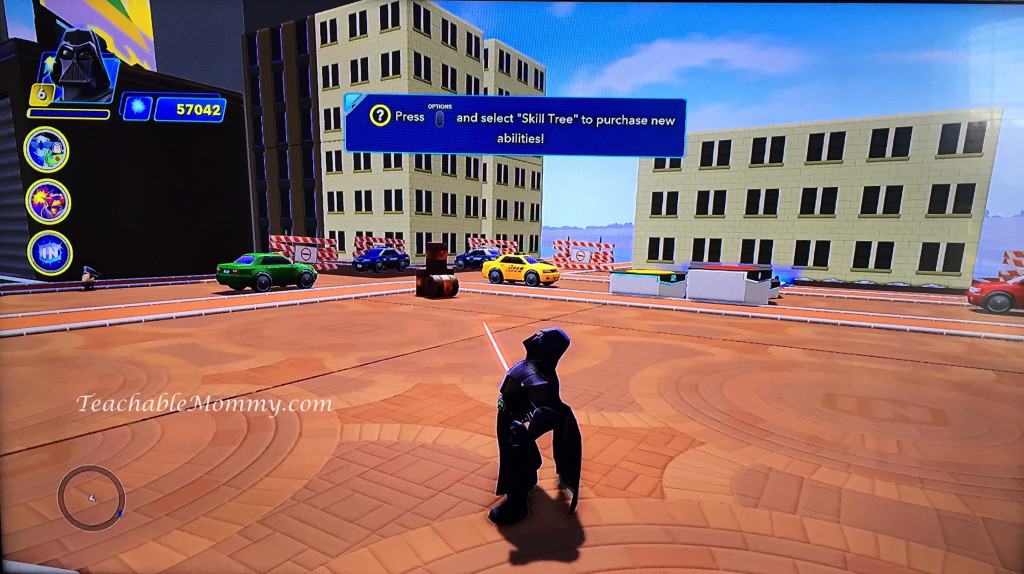 Possibilities are only limited to your imagination. With power discs, expansion packs, and a ton of characters to choose from you can truly transform the Disney Infinity Toy Box and make it your own!
Are you ready?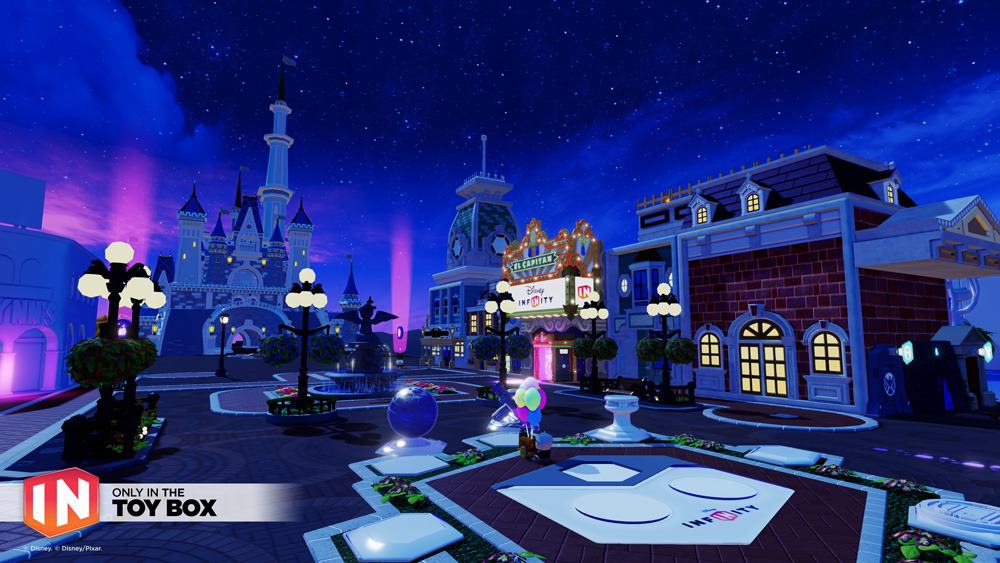 Thank you to Disney Infinity for sending over the game. All opinions are my own.