My pick for best new comedy of the season, hands down is ABC's Single Parents. Poppy is my girl and Miggy would definitely be my guy bff. Really, the entire cast I could totally see in my friend group, even cranky Douglas. So every Wednesday night, I have a date with my favorite singles.
When I found out we would be going on the set of Single Parents and meeting the adult cast members my mind was blown. Brad Garrett, Taran Killam, Jake Choi, Kimrie Lewis, and Leighton Meester? Shut all the things up.
Not only did we meet them, but Jake and executive producer Jason Winer, took us on our exclusive set tour. And now, I'm taking you. Lets go behind the scenes of Single Parents!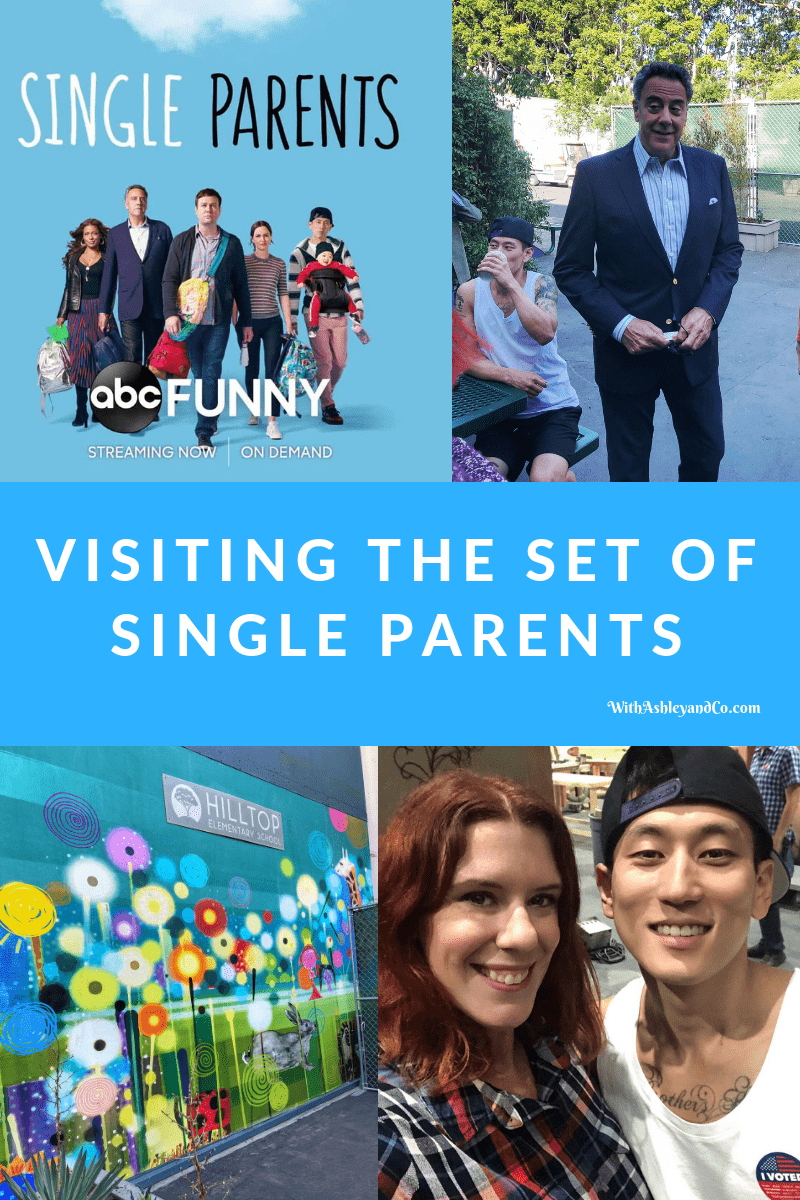 Thank you, Disney, for inviting me and providing travel and accommodations.
Behind the Scenes of Single Parents
Single Parents follows a group of friends as they lean on each other to help raise their 7-year-old kids and maintain some kind of personal lives outside of parenthood. The show is unique, not only in the concept but the set designs and filming style as well.
Executive Producer, Jason Winer took us on a tour of the sets along with Jake Choi, who plays Miggy Park. Jason shared a lot of fun facts about the sets and the show during the walkthrough.
"It's a lot of sets, more than normal for a comedy. And part of that is the concept. They're single parents, right? So, it's all the different houses. And that's really fun for the writers to be able to set things in these different environments and keep things fresh."
"But it's also important for us on the production side because the challenge of doing a show with five kid series regulars is that their hours are restricted. So, we had to build every environment in here so that we can do the whole show moving from environment to environment and somehow manage to shoot each episode in one week."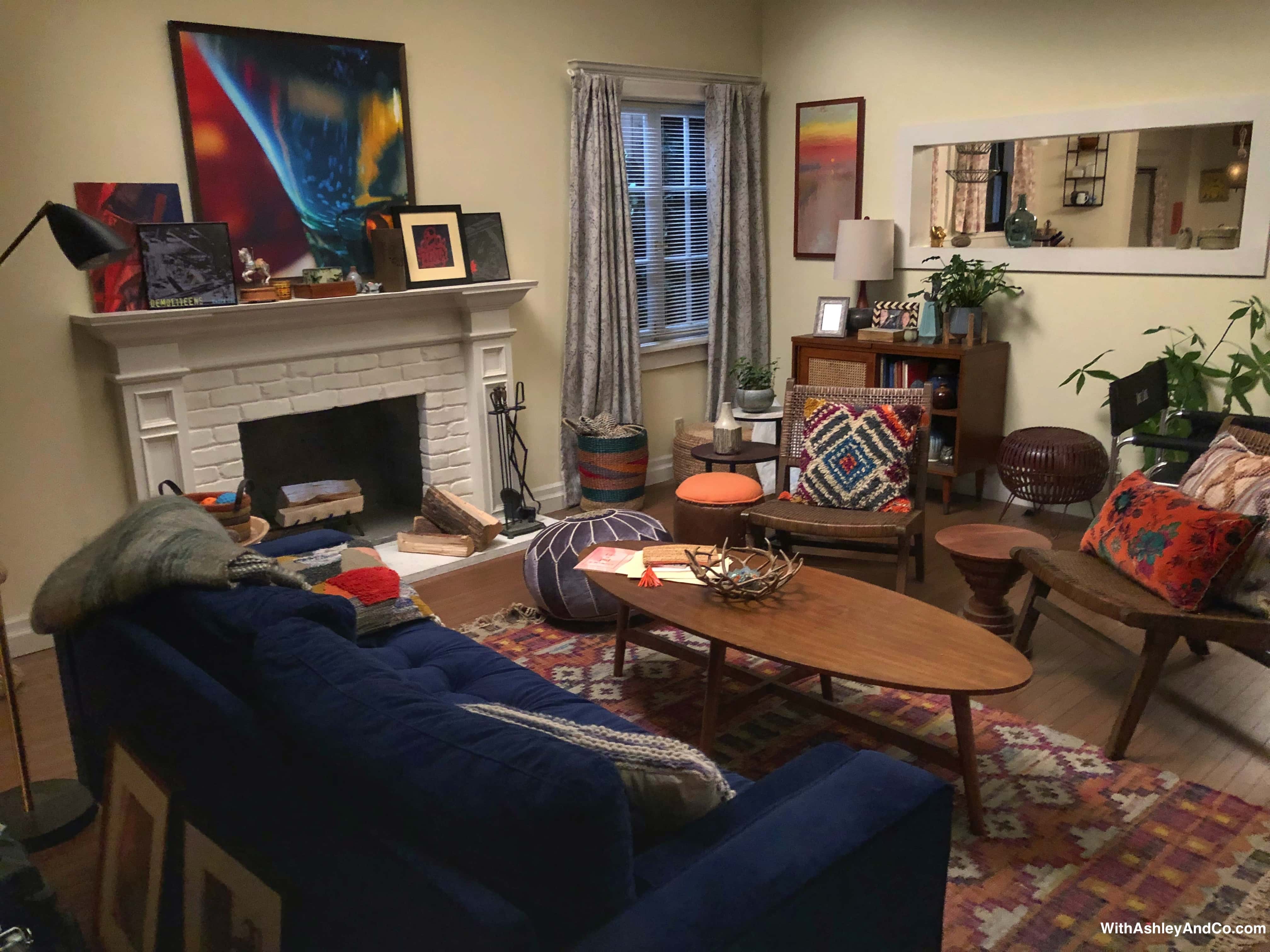 "The other thing that makes us able to accomplish the show in the hours that the kids have to shoot is this cross shooting style where we're always shooting everybody at once. It's not like most shows in which you shoot this direction, and we light it this way. And then we turn around and do this direction. We don't want to miss any of the spontaneous magic."
The set environments are interchangeable. In one episode we see Douglas' study, in another it's the twins bedroom. Jason shared that they redress the rooms and switch out things to make it easier to get what they need in the time the kids are allowed to be filming.
Single Parents Douglas' House
Jason shared what makes this set different from most.
"Brad Garrett is so tall that we had to design a set with ceilings, which isn't often the case on most sets. With the kids and Brad Garrett in a scene, we're gonna end up seeing the ceiling a lot."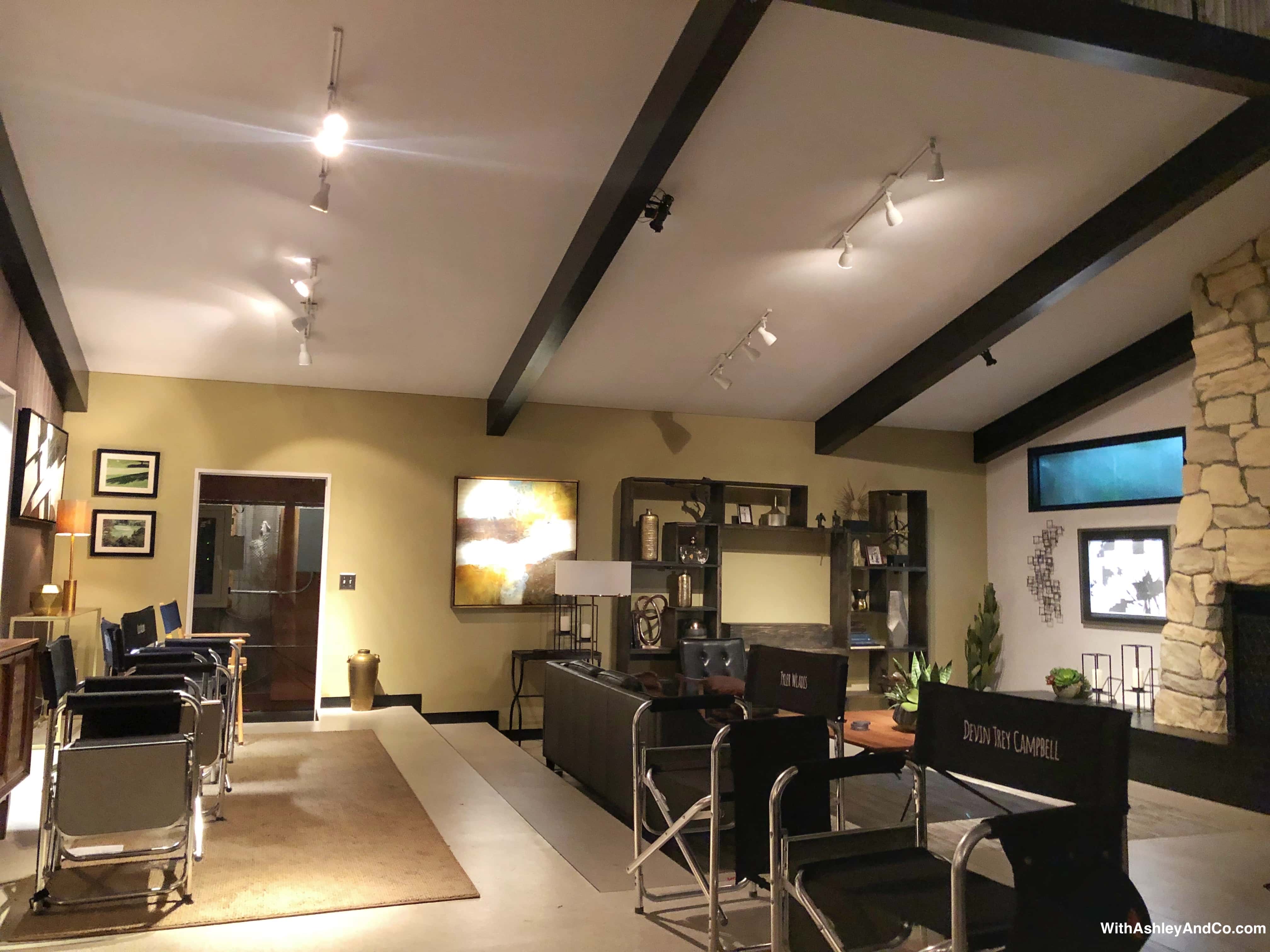 Douglas, being the rich dentist, also has the fanciest house out of the parents. His kitchen is way nicer than mine. I wonder if the set dressers would come to my house?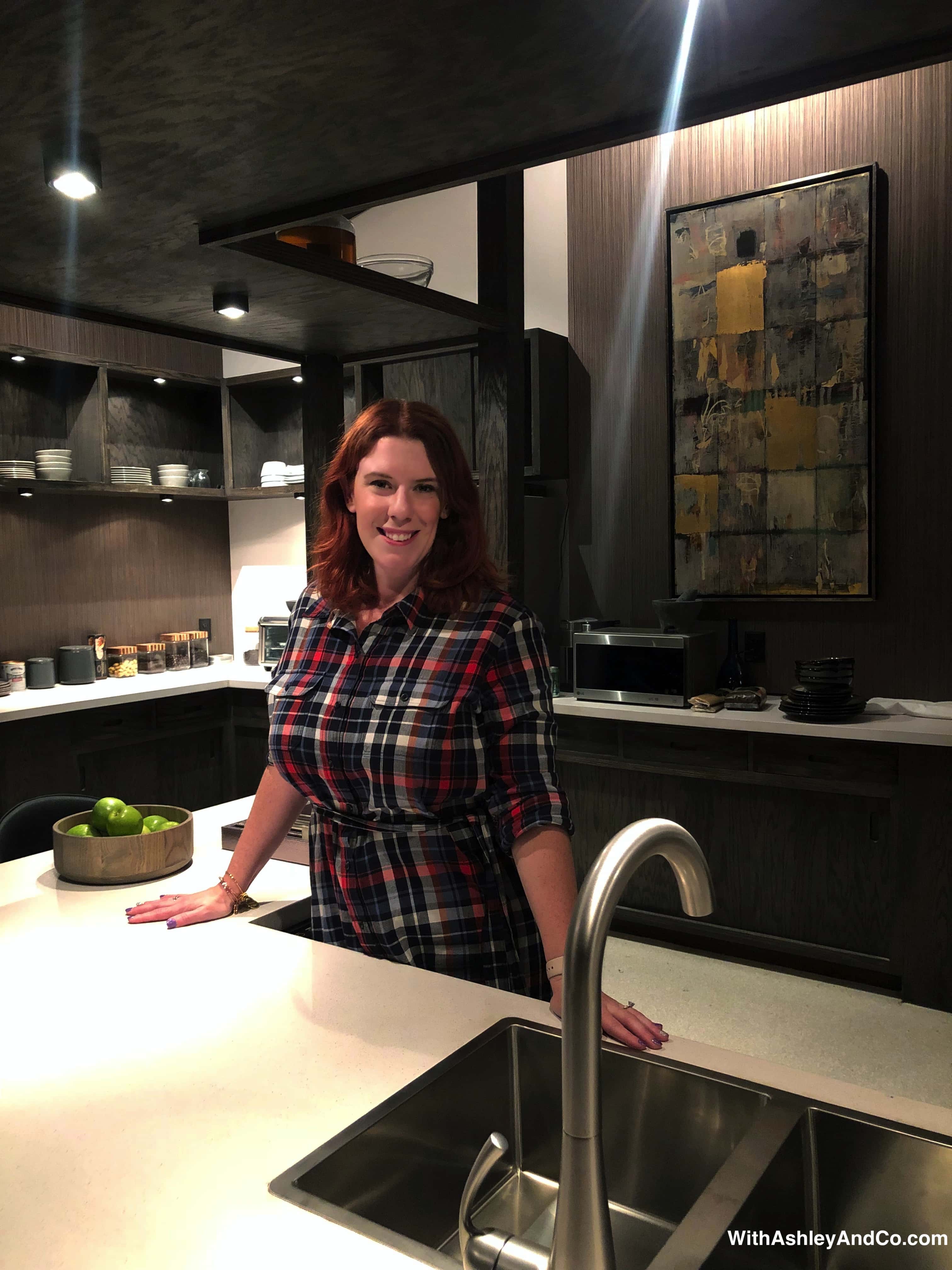 After standing next to Brad Garrett, I can confirm he is really tall. And also hilarious. Don't let the Eeyore voice fool you, he is definitely a jokester.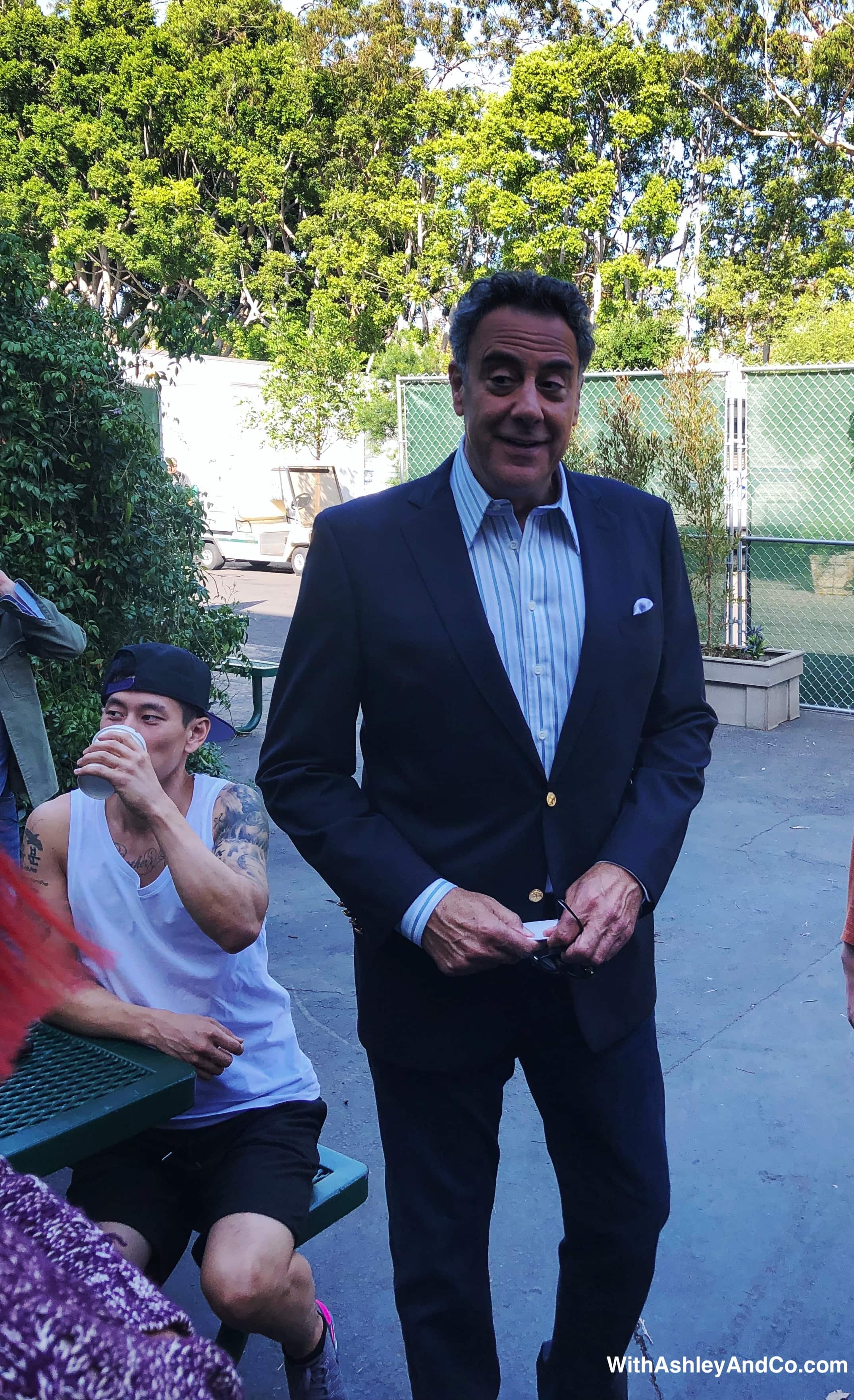 Single Parents Angie's House
Leighton Meester, who plays Angie D'Amato, greeted us and joked that this is her house both on the show and in real life.
The interesting thing about Angie's house is the way it is made to look. Elizabeth Meriwether, one of the creators, wanted it to feel like a single mom who is juggling a lot of things lives here.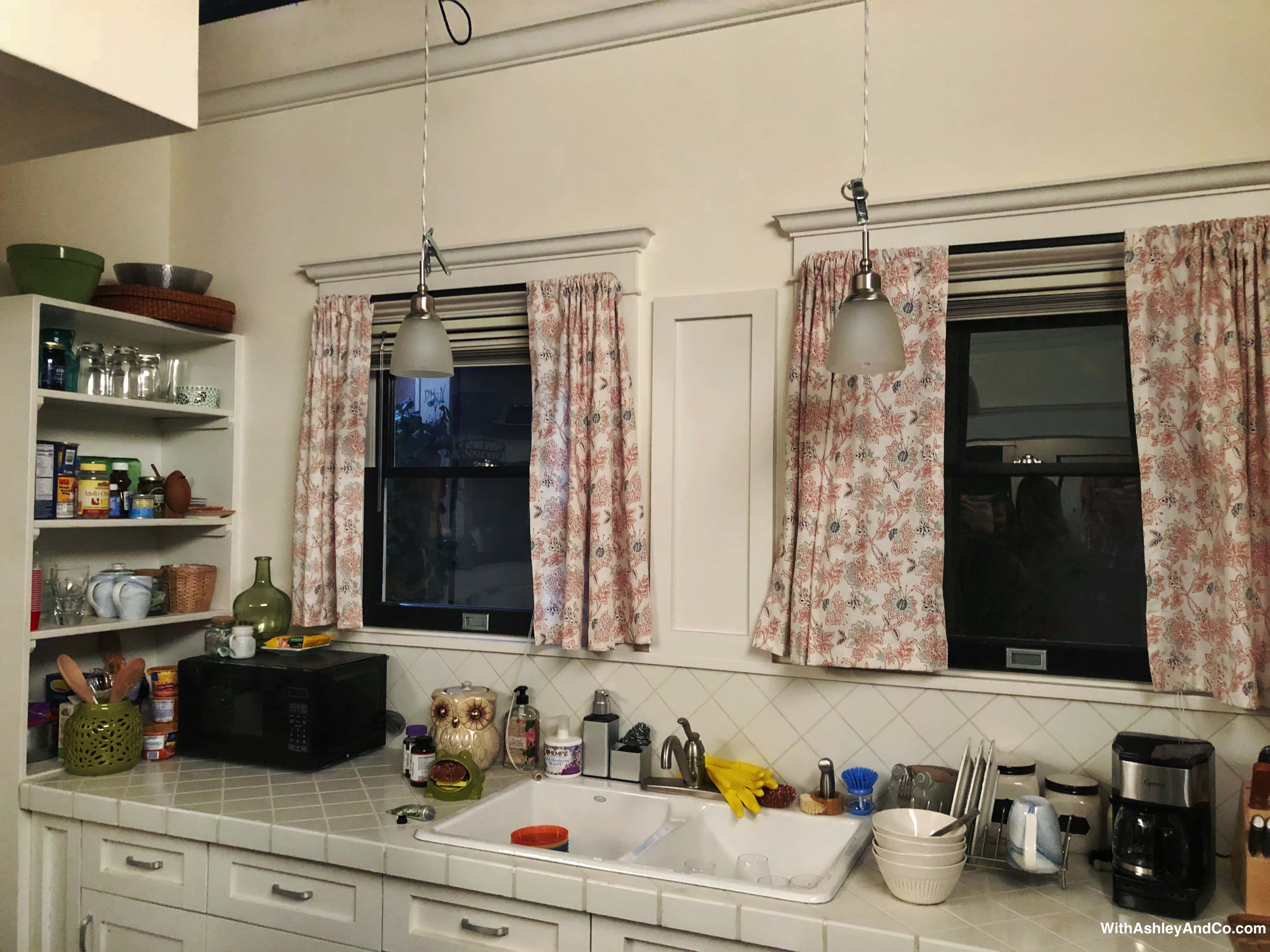 To make a set "messy" takes a conscious effort.
"Something we have to work very hard to make sure our dressers do is to make it messy. We're like more stuff, more stuff, more mess, stop cleaning it up. We're trying to make it feel real and lived in. And also if you notice like the walls are almost white. That's something I insisted on 'cause she rents this place. She doesn't own it. She doesn't get to paint it whatever color she wants." – Jason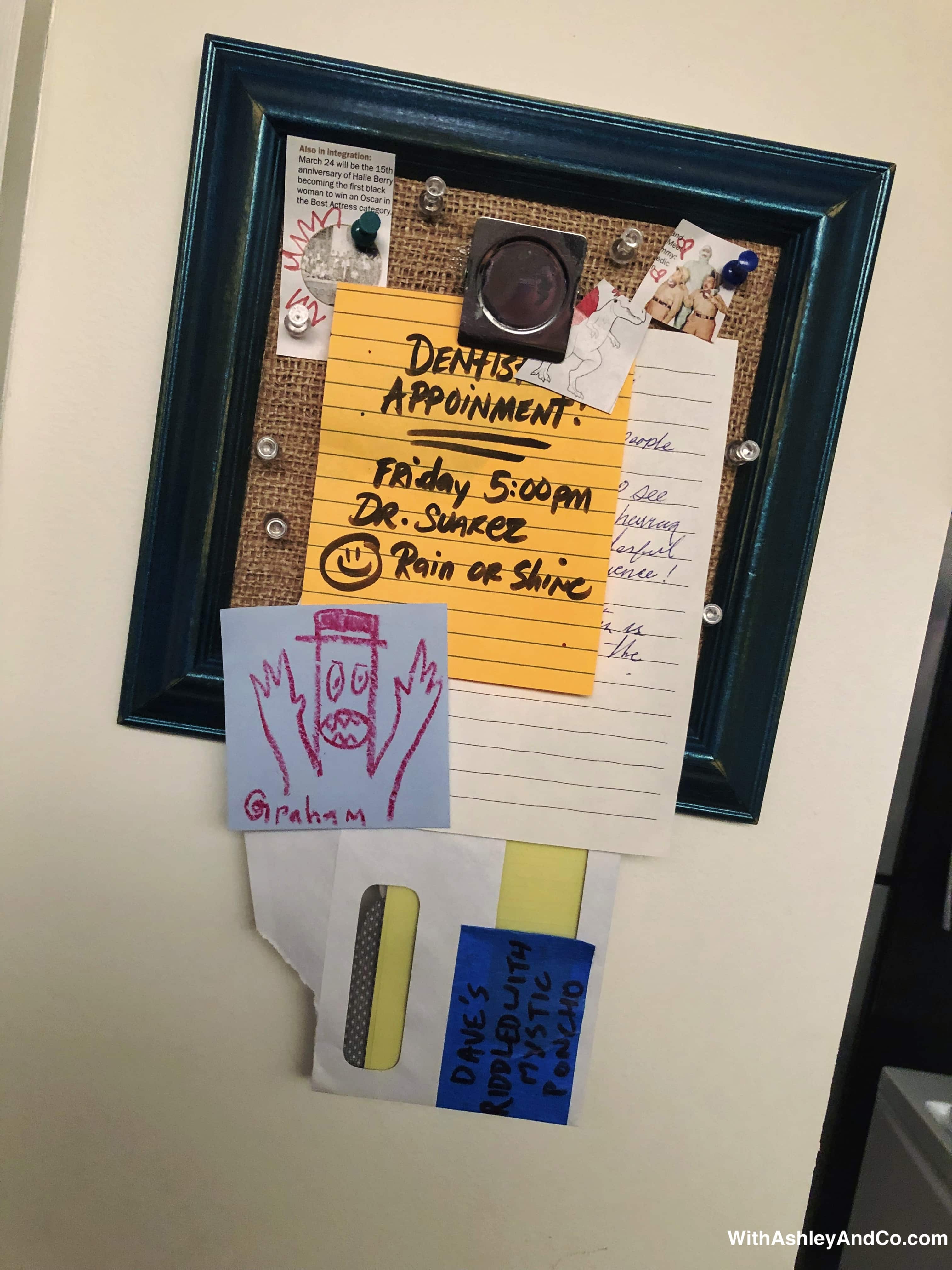 Single Parents Miggy aka Jake Choi
I have to say the highlight for me was hanging out with Jake Choi, who plays Miggy, one of my favorite characters on the show. Jake was an absolute blast to be around. My mom heart loves that he loves the twins who play Baby Jack. He confessed he has some serious baby fever, how could you not with those adorable babies!
Jake is not a newbie at this whole taking care of kids thing, he even has a babysitting war story to prove it.
"You know what, I used to take care of my mom's friend's babies as a kids. My mom's friends would just kinda come over and pop them down. And my mom would be like, hey, take care of them while we go out and party. (Laughter)
A funny story, actually, I was changing one of the baby's diapers when I was about seven. And the baby peed right in my mouth. And I was like, okay, you're a baby – I'll let that one slide." (Laughter)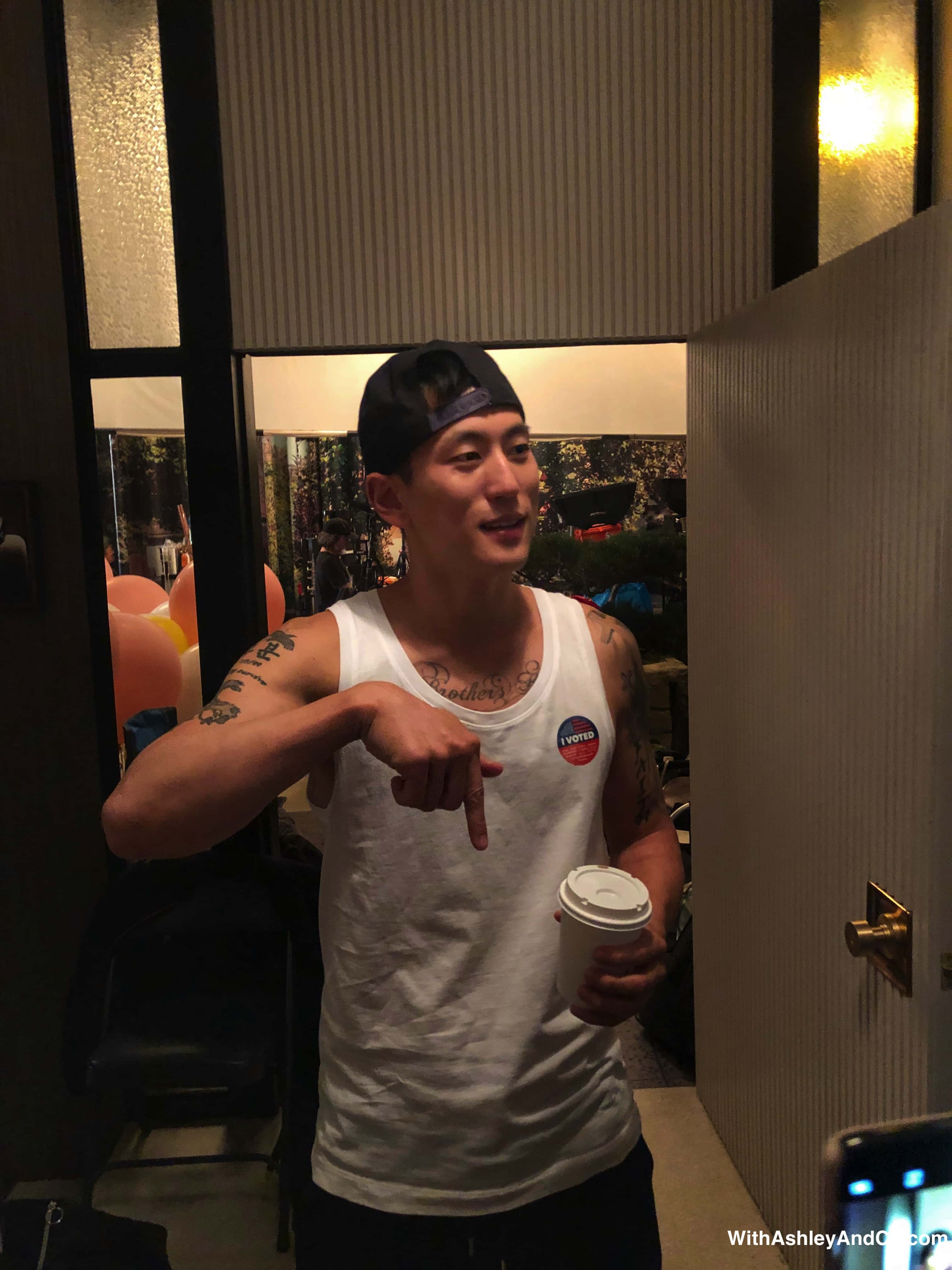 You got the diaper changing thing down but what about Miggy's struggle with corkscrew. Did you really have trouble it it?
"You know I used to bartend for five years. We never used the corkscrew that we use for the episode. The bartenders always use the single-handle ones. They're way easier."
Jake showed us part of Miggy's sneaker collection aka his other babies.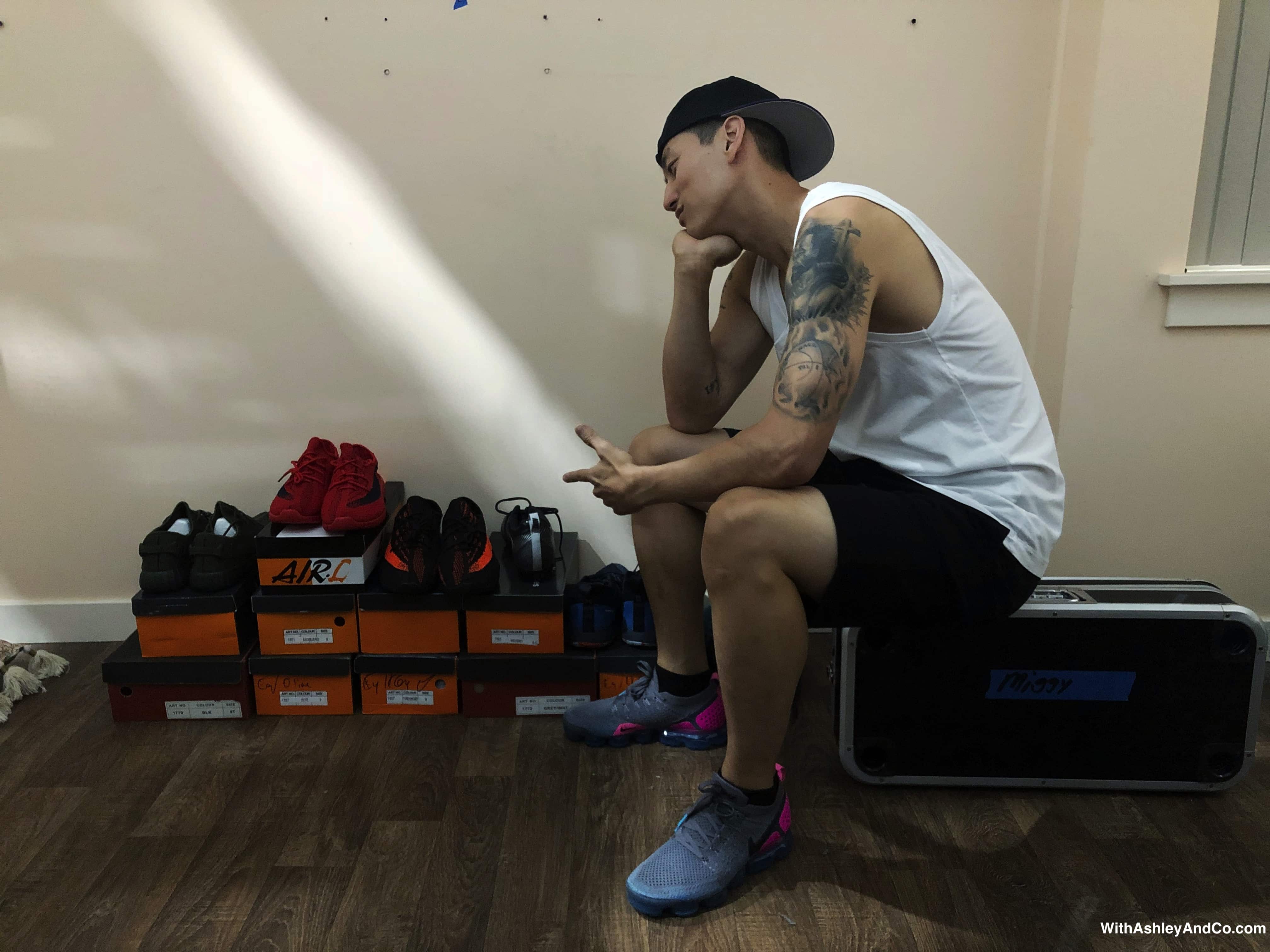 And like a true parent Baby Jack has way more shows than he does.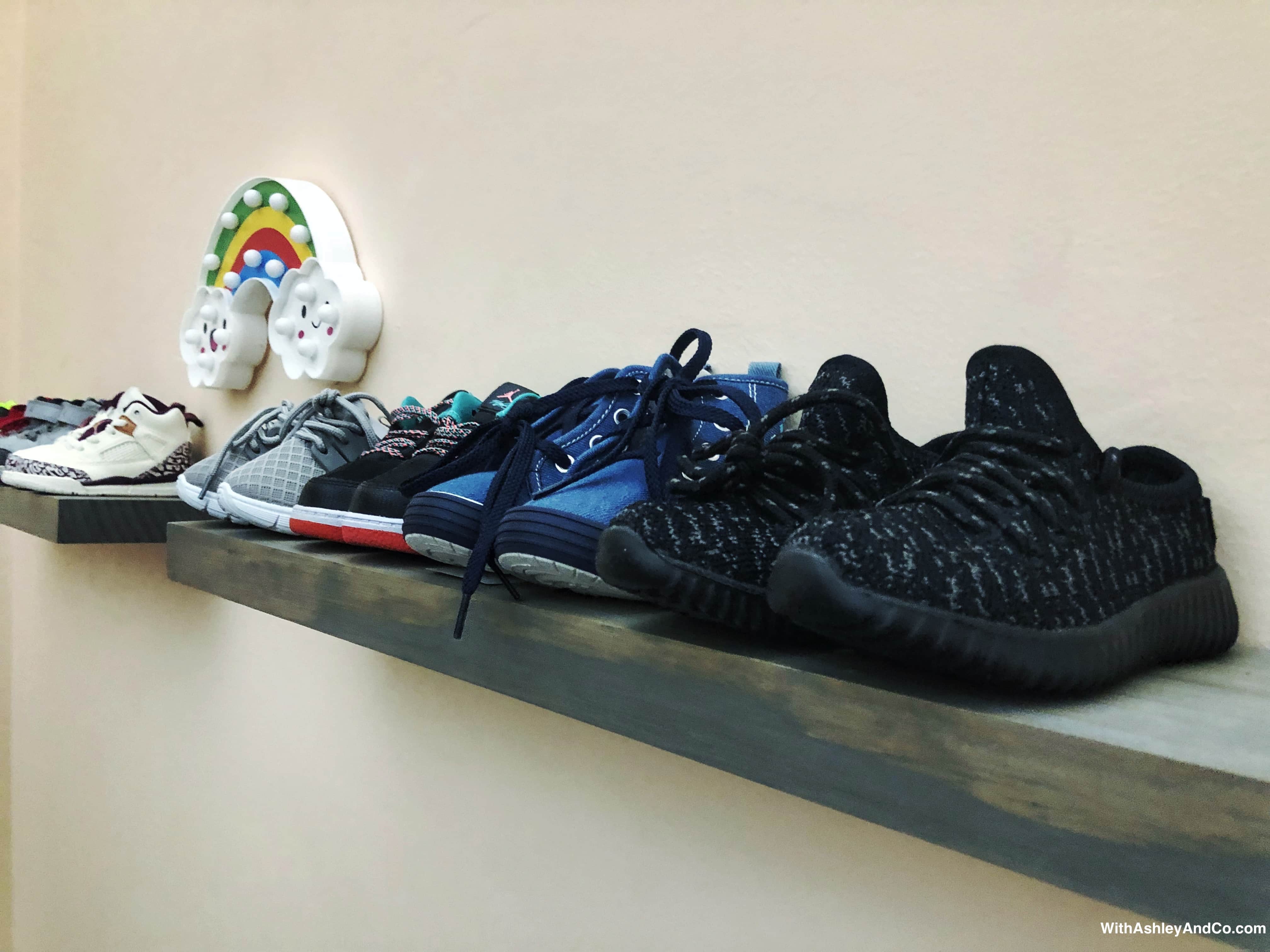 Single Parents Poppy Banks
As we headed out to Poppy's Winebrary, we passed through Rory's Room. Rory, played by Devin Trey Campbell, has craft and fashion ideas for days. I love the bright colors and eclectic style of his room.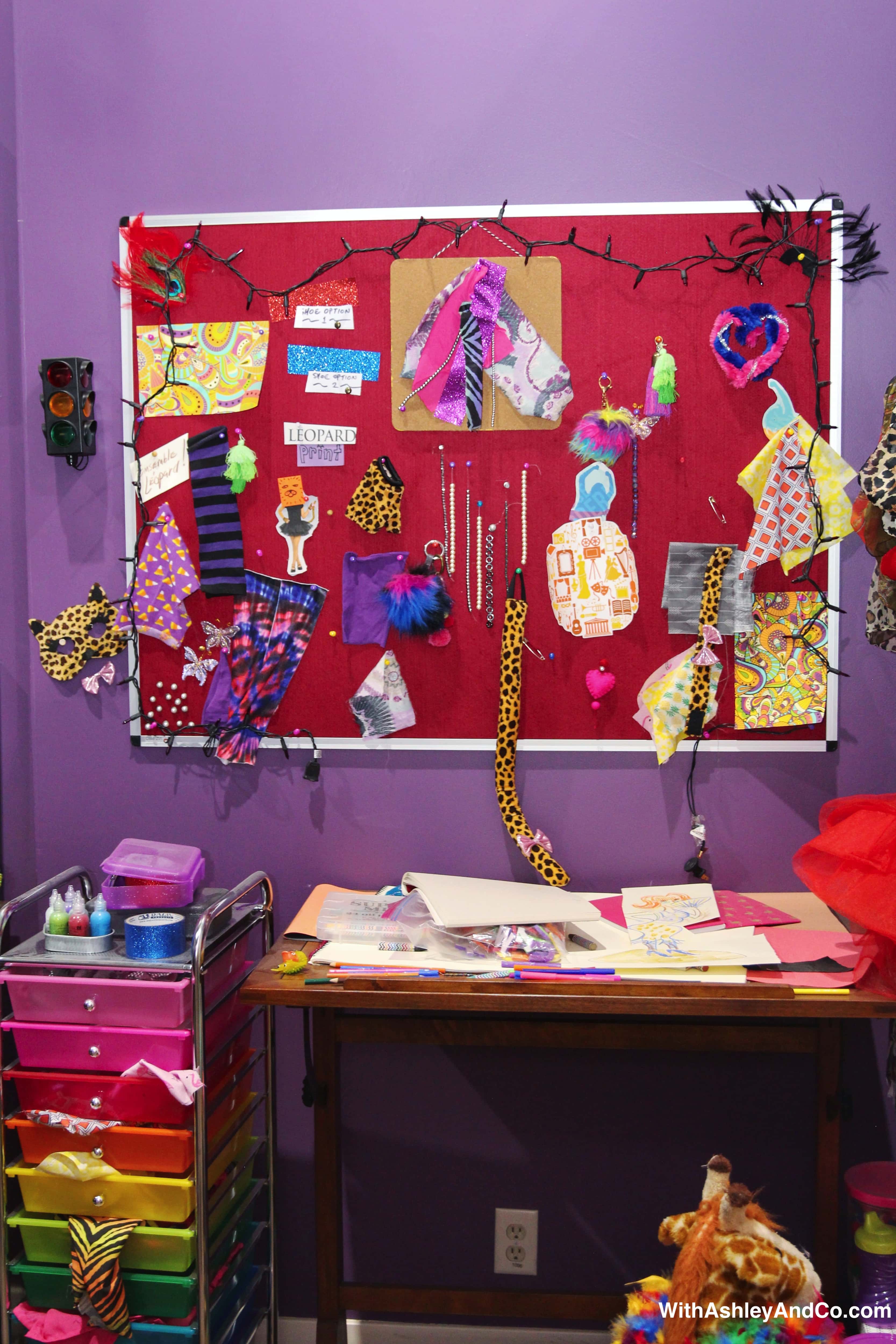 I know all my parent friends out there love Poppy's Winebrary. Anyone else wish they had one of these closer? Maybe Poppy can start doing some franchising. I knew I should've asked Kimrie Lewis, who plays Poppy, about that!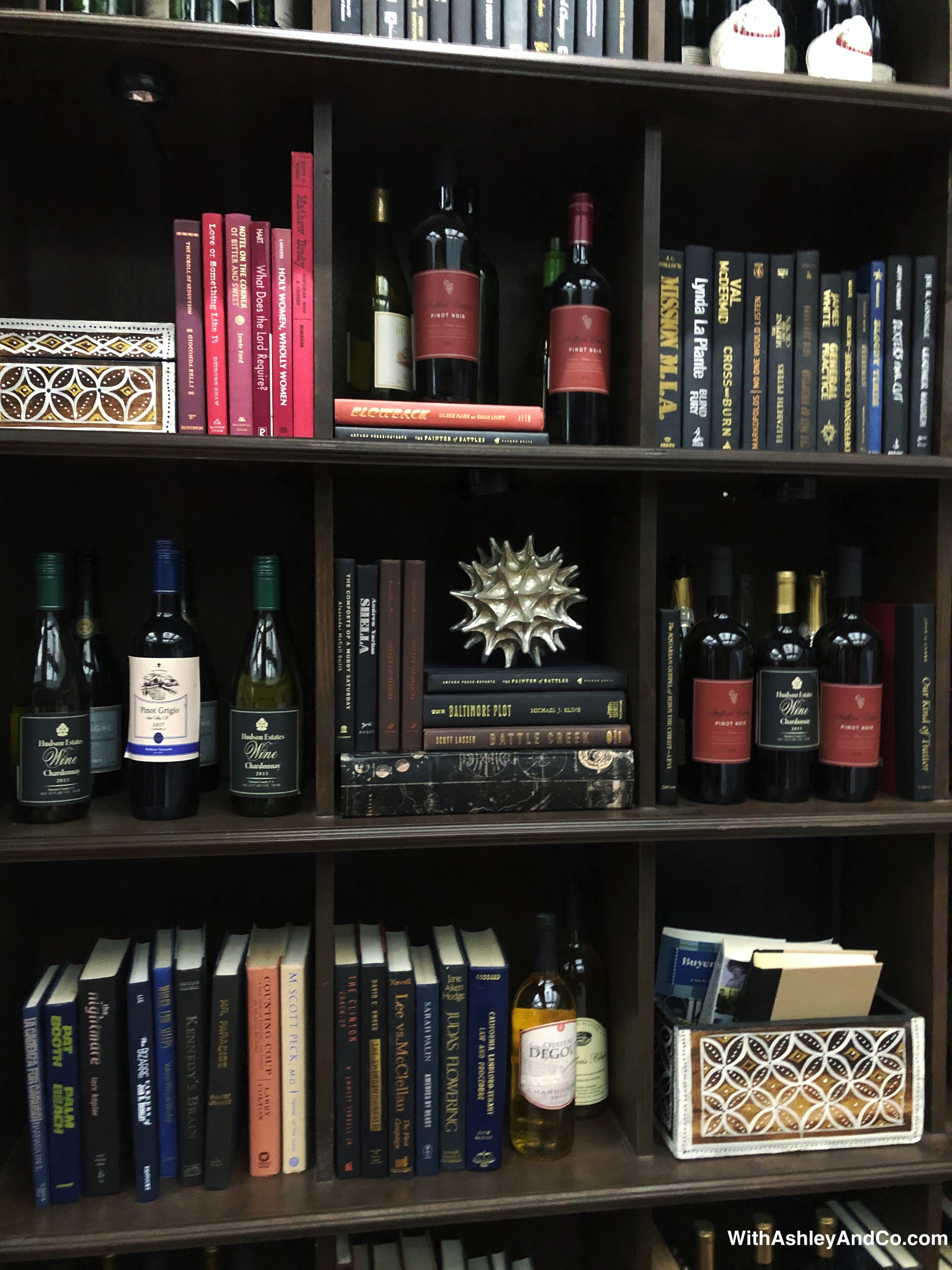 Wine and books? Yes please!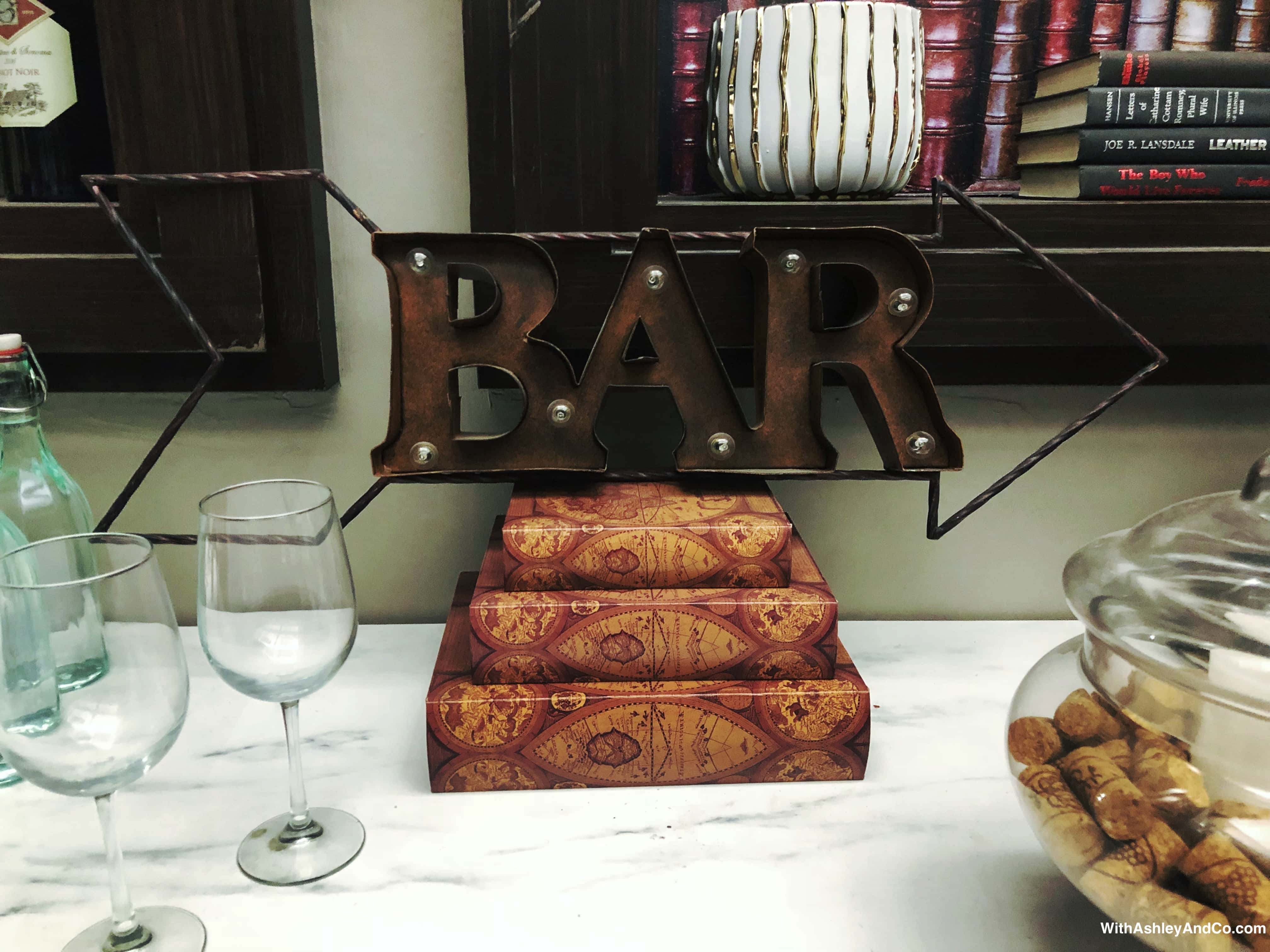 Time For School
I loved being outside on the playground and in the classroom. The details were spot on, from the chalk smudges to the teacher's desk and the paper crafts decorating the classroom.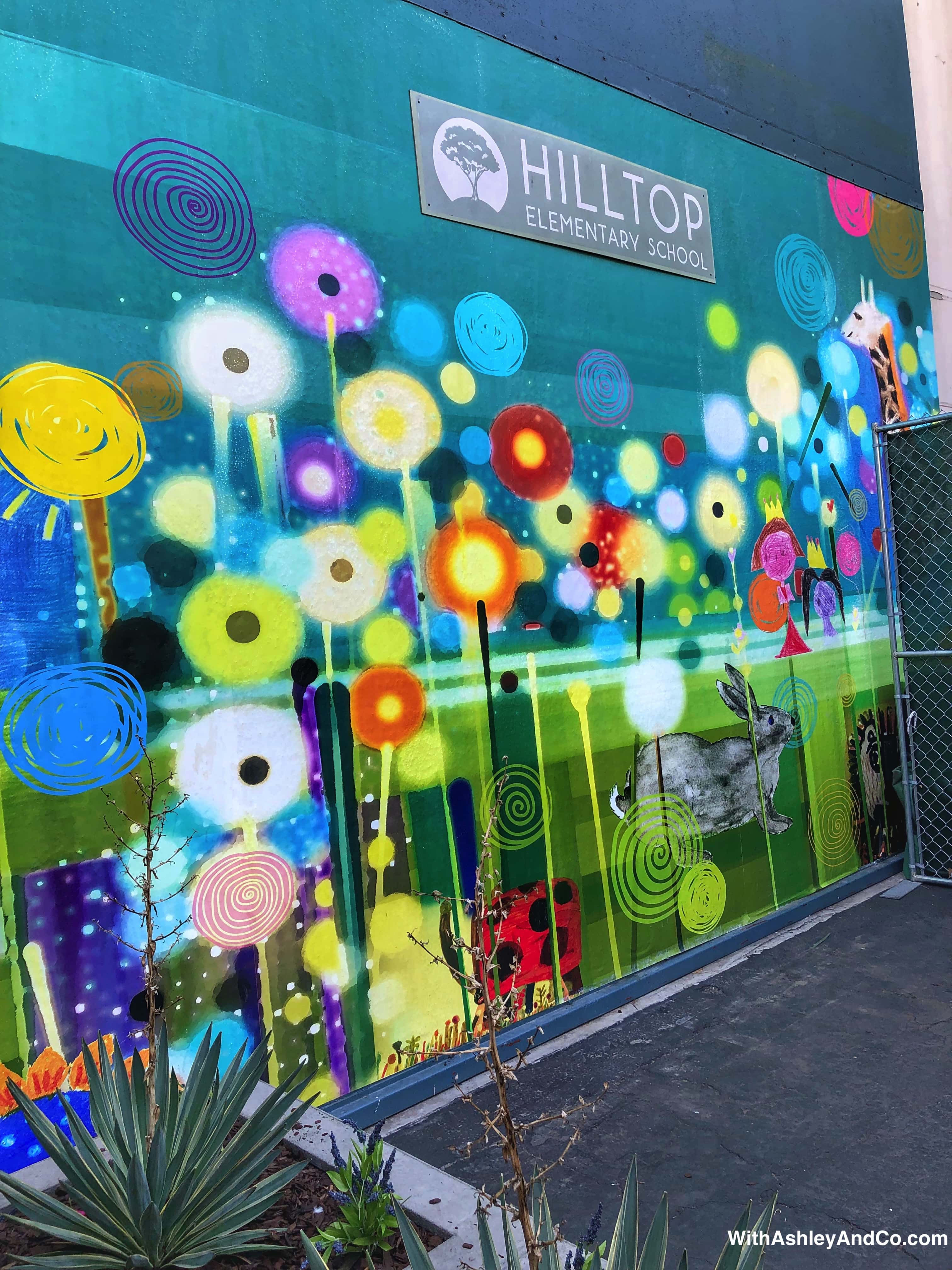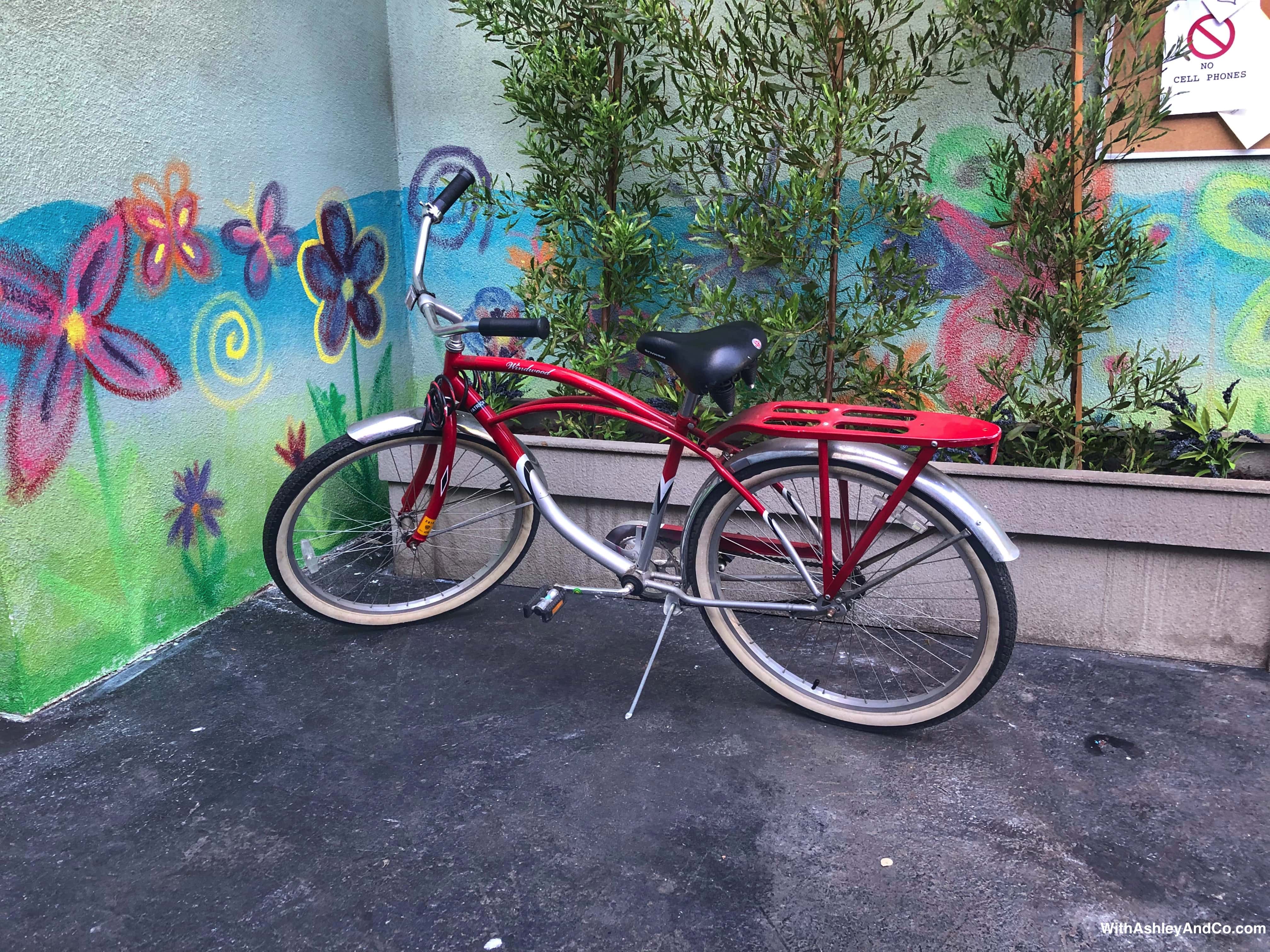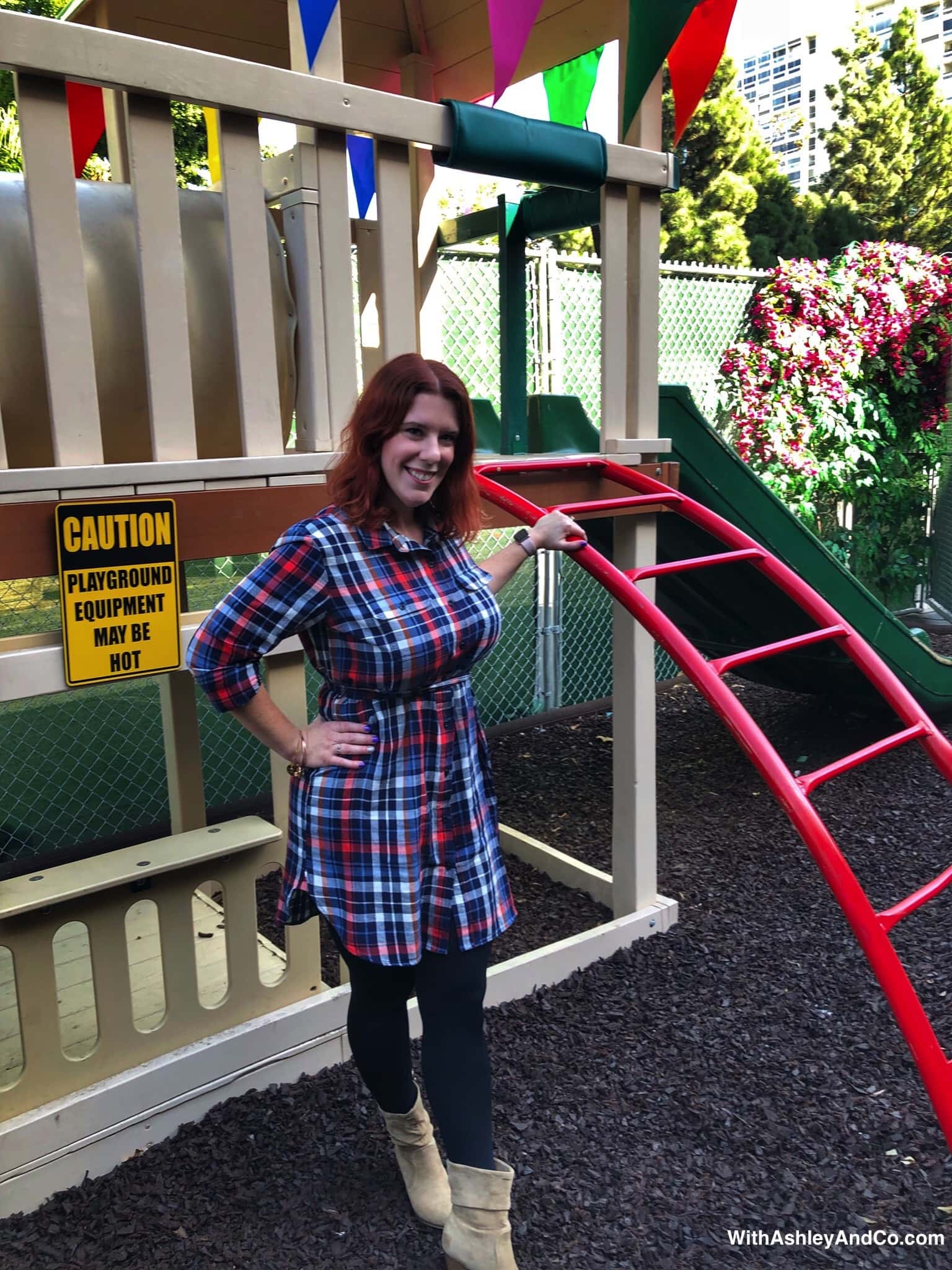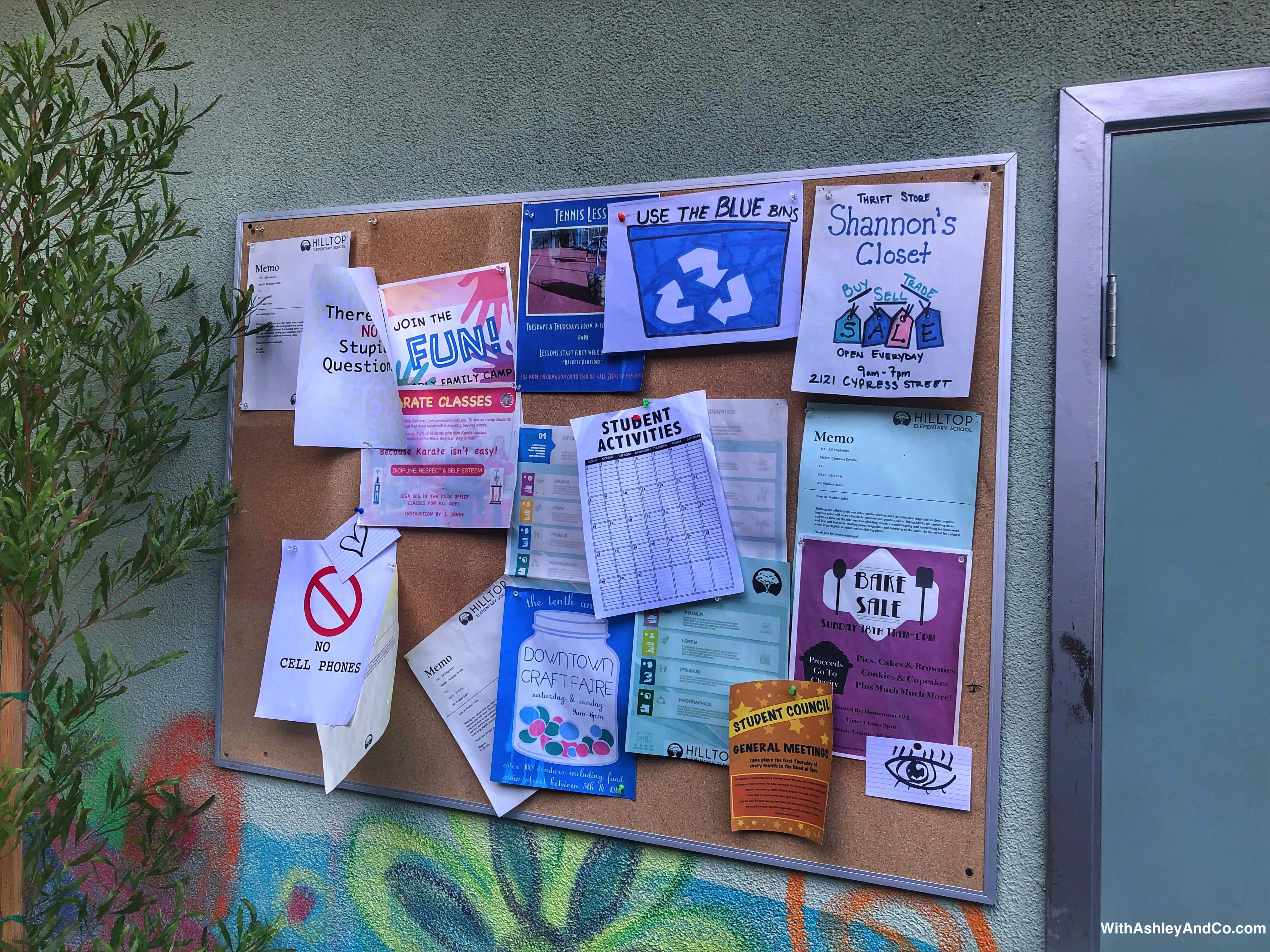 The no cell phone sign will come in handy in an upcoming episode where Will Cooper, played by Taran Killam, tries to get the school on board with "Wait Till Eight." I'm on team, wait till they can pay for the phone themselves. But anyways… recess is over time to go inside.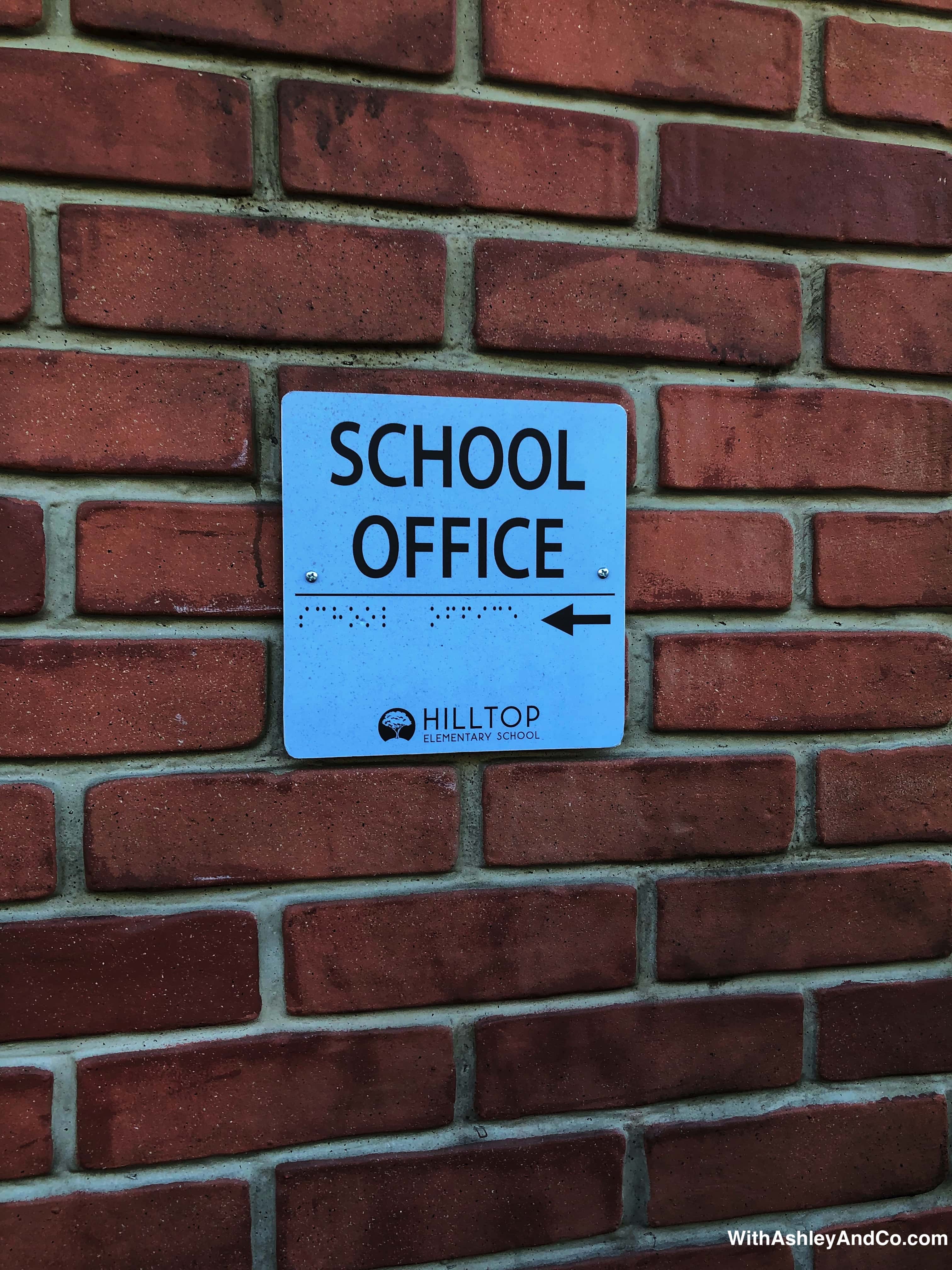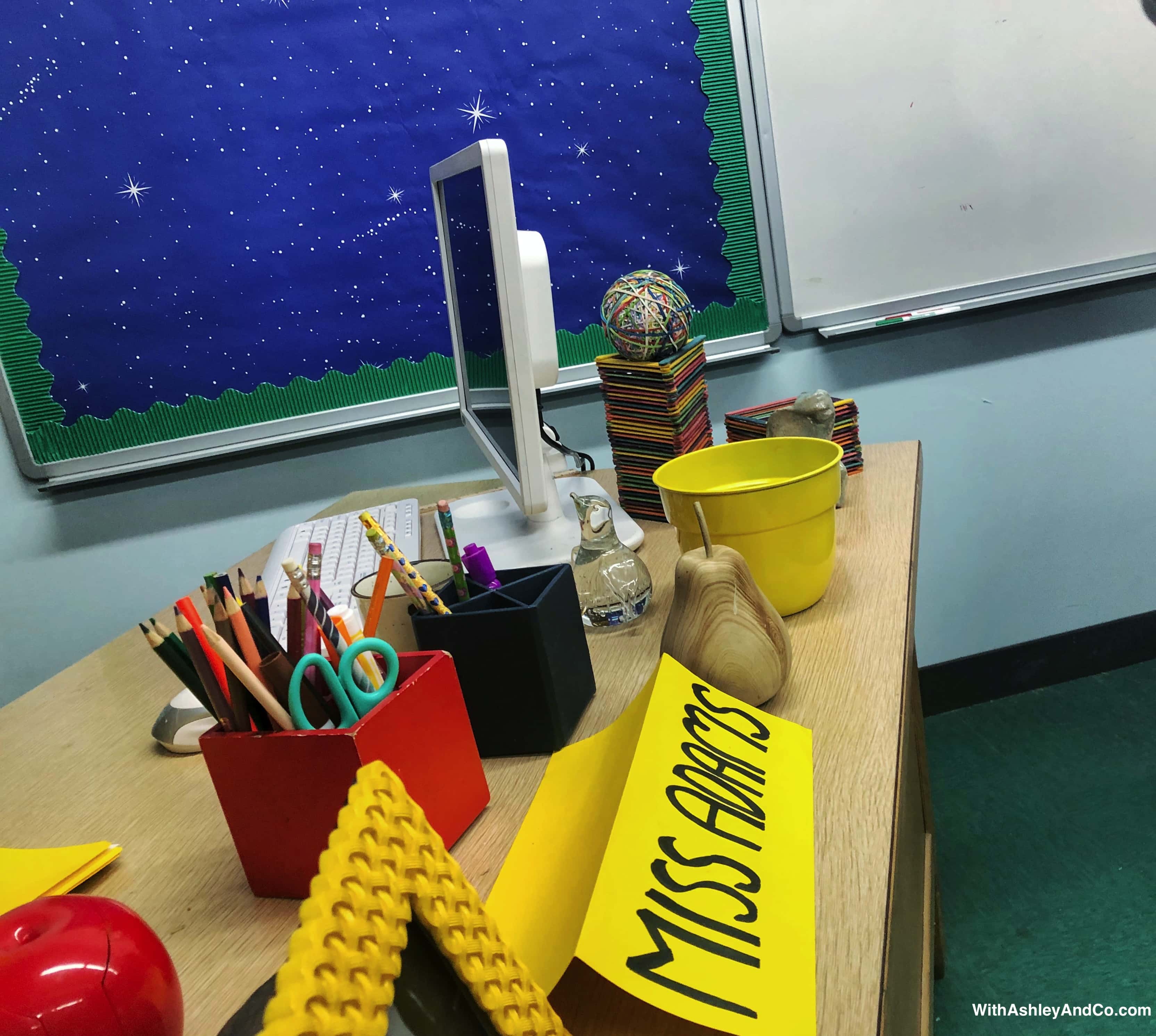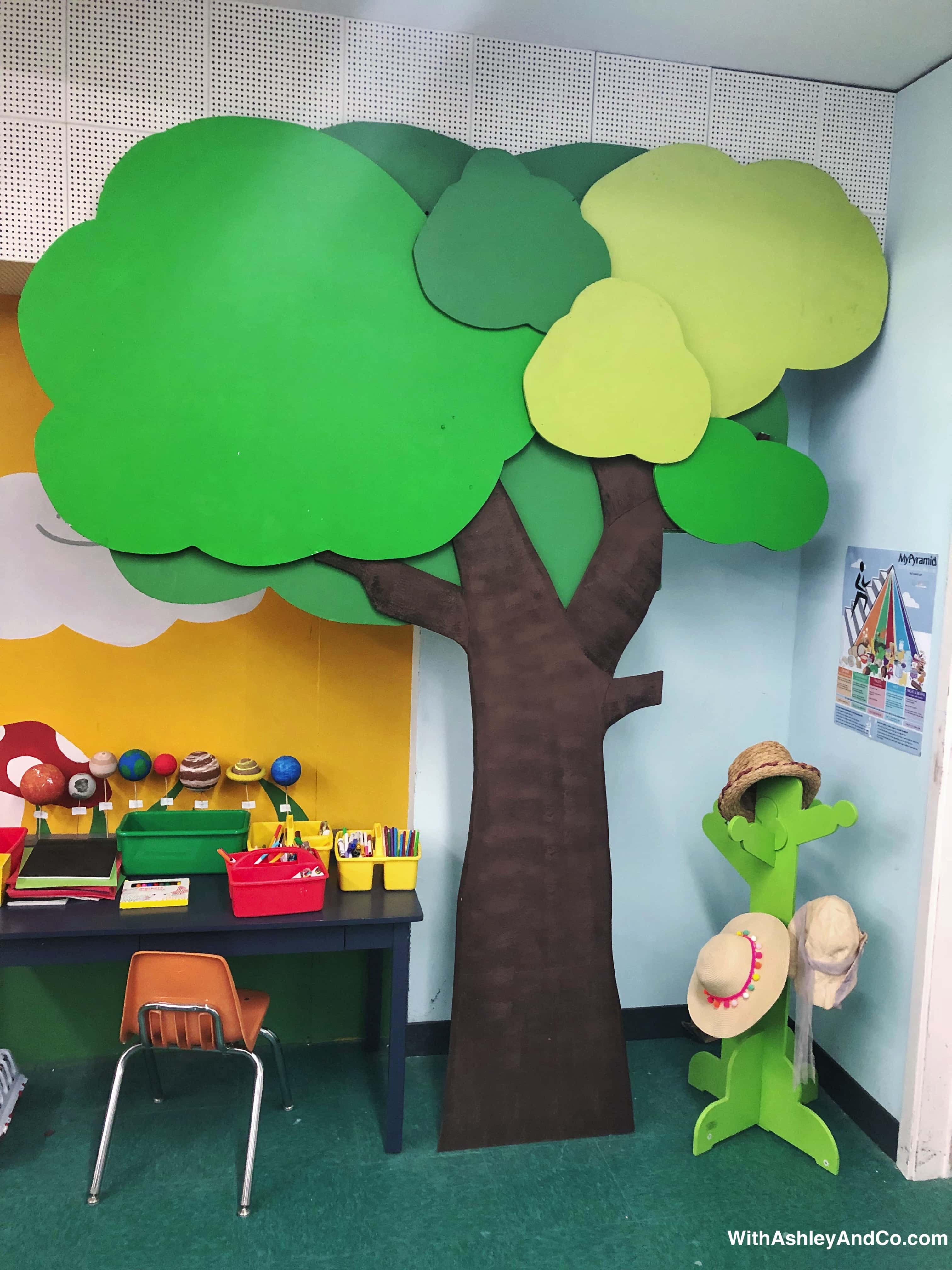 I think they are missing Pluto. Don't @ me, Pluto is still a planet to me.
What can we look forward to this season?
In an upcoming episode we will meet Mia's mom for the first time, when she shows up to Sophie's party unannounced.
"She's doing everything that Will doesn't want her to do. Everything. Basically, Sophie's mom is just being hella extra, and Will doesn't like that." – Jake
That sound like it's going to be funny for us, not so much for Will.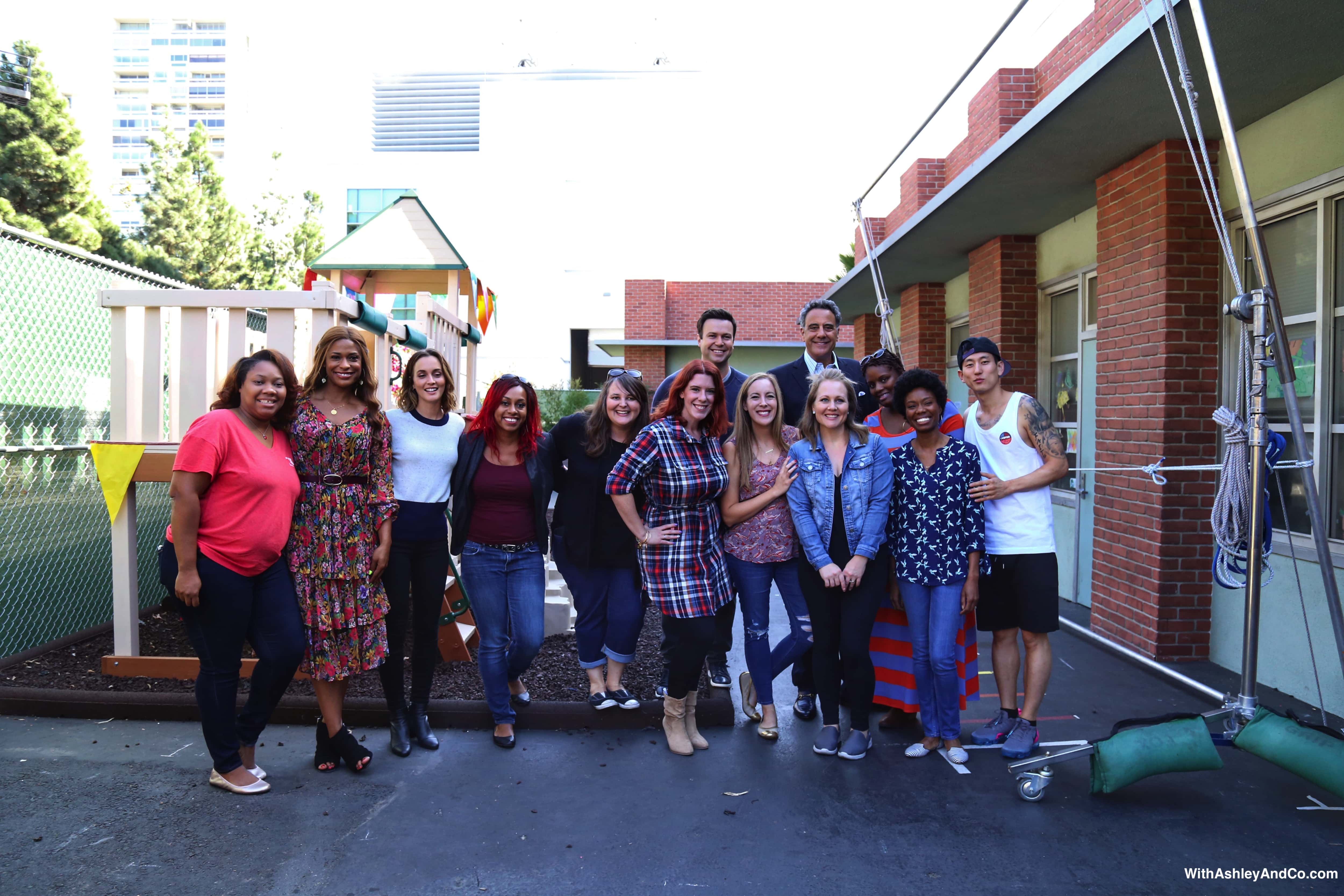 One last thing Jason, is Pickle okay?
"The guinea pig who played Pickle is just fine. The episode was inspired by JJ Philbin's (the creator of Single Parents) daughter. It was her guinea pig that was actually stepped on and died. It was really traumatic for JJ, and made an impression on her. The rest of us said, 'You have to do this as one of the moments. You have to. The way that parents talk to kids about grief is a real thing. So, let's have fun with it.'
Tune in tonight at 9:30|8:30c on ABC to watch Single Parents' latest episode "The Beast."
Will encourages Angie to rediscover her passion for heavy metal music by taking a guitar class, and in turn, Angie insists that Will get back in the field covering weather by driving both of them into a storm. Meanwhile, the rest of the gang explore their romantic passions as Douglas pursues his crush on Big Red with the help of Miggy, and Poppy feels an instant connection with a dreamy musician.
Watch Single Parents Wednesdays at 9:30|8:30c on ABC or via streaming on the ABC app, ABC.com/Hulu, and on demand.
Keep up with your favorite Single Parents on Facebook | Twitter | Instagram #SingleParents | Website