The new Toy Story 4 Trailer and poster are here! I'm loving seeing more of Forky and Bo Peep's new boss toy in charge attitude. Plus we are meeting some new toys. I thought Ducky and Bunny were the only ones, but surprise there are 4 introduced here.
Toy Story 4 Trailer
Toy Story 4 Meet The New Toys
The 1950s pull-string doll's name is Gabby Gabby. Although she looks adorable, a defect in her pull-spring voice box has her sounding creepy. She has spent more than 60 years forgotten in the depths of a jam-packed antique store. Which as I said in my reaction is my place of nightmares. Her only companions are a band of voiceless ventriloquist dummies. She knows someone will want her if only she can find a working voice box to repair hers. Gabby Gabby is voiced by Christina Hendricks.
I will admit I was creeped out by the ventriloquist dummy. Benson is their leader and Gabby Gabby's right hand man, er dummy. He leads the small group of ventriloquist dummies that serve as Gabby's henchmen. With no person to give them a voice, these silent toys patrol the antique store with a looming quietness that is inherently unsettling. Okay, that creeps me out more. *Shudders*
Duke Caboom is a 1970s toy based on Canada's greatest stuntman. Riding his powerful Caboom stunt-cycle, Duke is always prepared to show off his stunt poses with confidence and swagger. However, Woody learns quickly that Duke has an Achilles heel: He has never been able to do the awesome stunts advertised in his own toy commercial. For years, Duke has been sitting in an antique store, constantly reliving the failures of his tragic past. I kinda feel bad likening him to Ben Stiller in Dodgeball now! Duke Caboom is voiced by Keanu Reeves.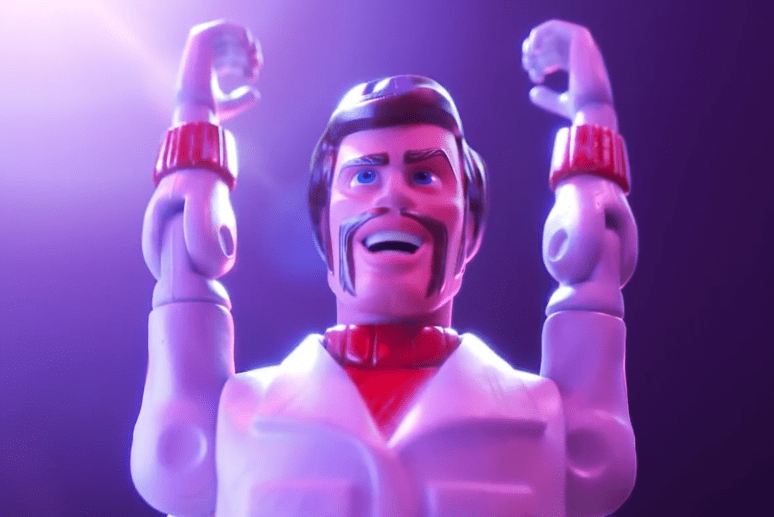 The little mini plastic doll that you see jump on Woody's shoulder is Giggle McDimples. This 1980s toy is Bo Peep's best friend. Giggle is Bo's confidant, supporter and advisor. Think Jiminy Cricket for Bo. Giggle is voiced by Ally Maki.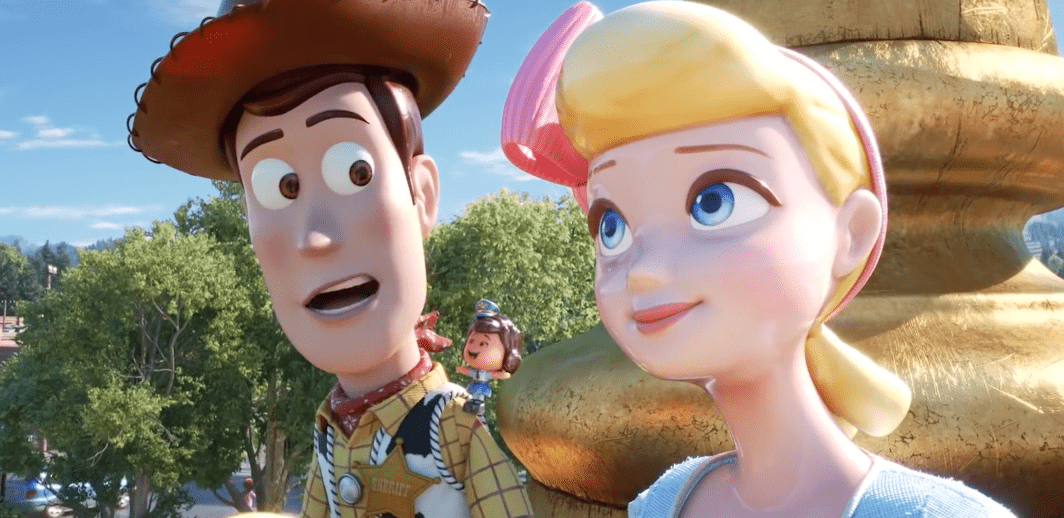 Toy Story 4 Trailer Reaction
About Toy Story 4:
Woody has always been confident about his place in the world and that his priority is taking care of his kid, whether that's Andy or Bonnie. But when Bonnie adds a reluctant new toy called "Forky" to her room, a road trip adventure alongside old and new friends will show Woody how big the world can be for a toy.
Keep up with your favorite toys on Facebook | Twitter #ToyStory4 | Instagram |YouTube
Toy Story 4 is in theaters June 21st, 2019!