New on Disney+ is The One and Only Ivan, based on the award-winning 2013 novel by K.A. Applegate. Based on a true story about a a real silverback gorilla named Ivan who lived most of his life in captivity, the film follows Ivan and his group of animal friends who live in a circus-style attraction located inside a mall. The One and Only Ivan is a beautiful family film that brings to life the book and Ivan's story in a way only Disney could.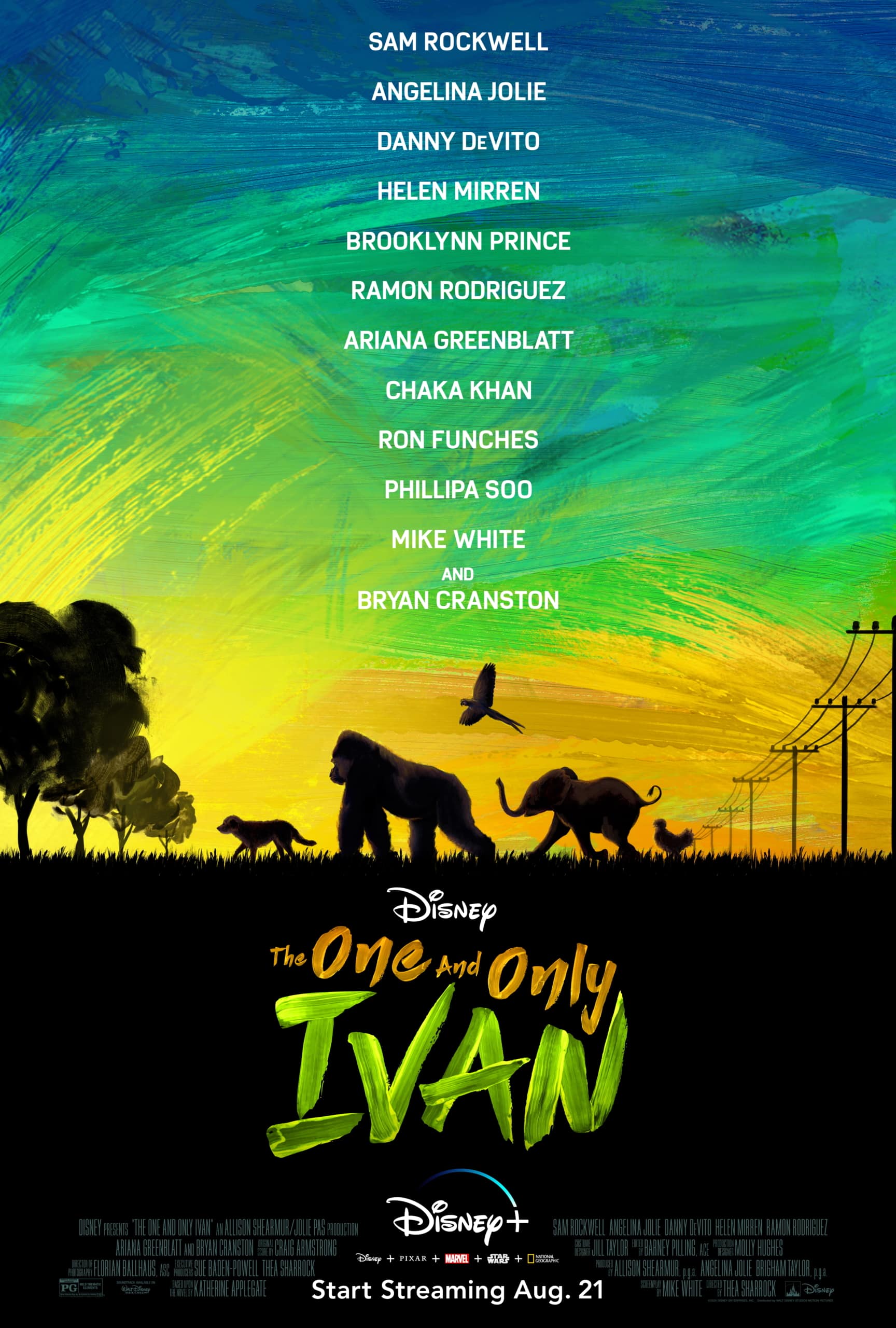 The One and Only Ivan Review
"Hi I'm Ivan." The film starts out with Ivan introducing himself and his home, a circus located at the Exit 8 Big Top Mall and Video Arcade. Ivan lives there along with the older elephant Stella, dog Snickers, chicken Henrietta, rabbit Murphy, seal Frankie, and parrot Thelma. He seems pretty content with his lot in life, he is the star of the show and doesn't dream about what his life was like before humans entered it.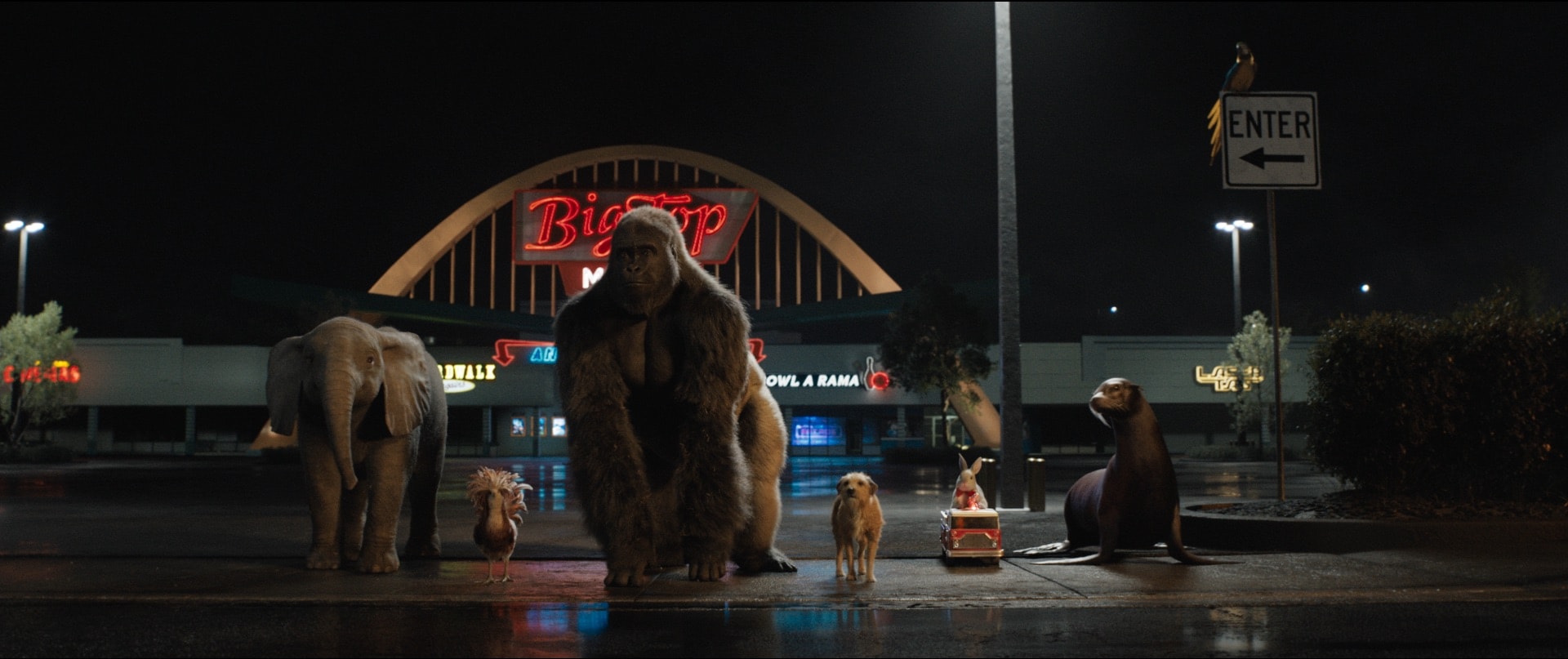 That all starts to change when along with his best friend, a stray dog named Bob, begins telling stories to the newest member of the Big Top family, a young elephant named Ruby. At first he doesn't remember much of his childhood but those memories come flooding back. When they do and as he watches Mack (his owner and the ringmaster) train Ruby for the ring, he begins to reevaluate what his life has become and what exactly he wants for himself and all of his animal friends.
read more: What to binge on Disney+ Right Now
At only 94 minutes. The One and Only Ivan is ideal for a family movie night, especially with children who cannot sit through longer films. With adorable animals on the screen, humor, and some action, it will easily grab and hold the attention of even the youngest viewers.
Visually, Ivan is grounded in a realistic landscape. A far cry from Tim Burton's Dumbo, the Big Top Mall gives off a lates 80s early 90s feel. Complete with an original gameboy and cameras with actual film in them. The realism of the setting aides in the audience's connection with the story. It looks like what we readers of the book have conjured up in our heads.
In Ivan, the animals talk in an expressive way that reminds me of Disney's most recent live-action animal movie, Lady and The Tramp. Those expressions help the audience get involved emotionally as the story unfolds. And get emotional you will. The One and Only Ivan brought tears to all of our eyes, no surprise there with me though. I'm an animal lover and any animal movie gets me right in heart.
I think a big part of the connectivity is owed to the stellar voice cast of Sam Rockwell, Angelina Jolie, Danny DeVito, Helen Mirren, Chaka Khan, Mike White, Ron Funches, and Phillipa Soo. They brought light, love, humor, and depth to their roles.
Unlike other circus/animal movies, the main human character isn't some evil brute that needs to learn his lesson by getting a swift kick in the rear. Bryan Cranston's character of Mack comes off mostly as a nice guy who genuinely cares for his animals. There is one scene, when Mack is training Ruby for the circus, where his frustrations come through however they do not show him being abusive or hurting her in any way. Cranston is able to switch effortlessly from over the top Ringmaster to business man to "parent" to all these animals.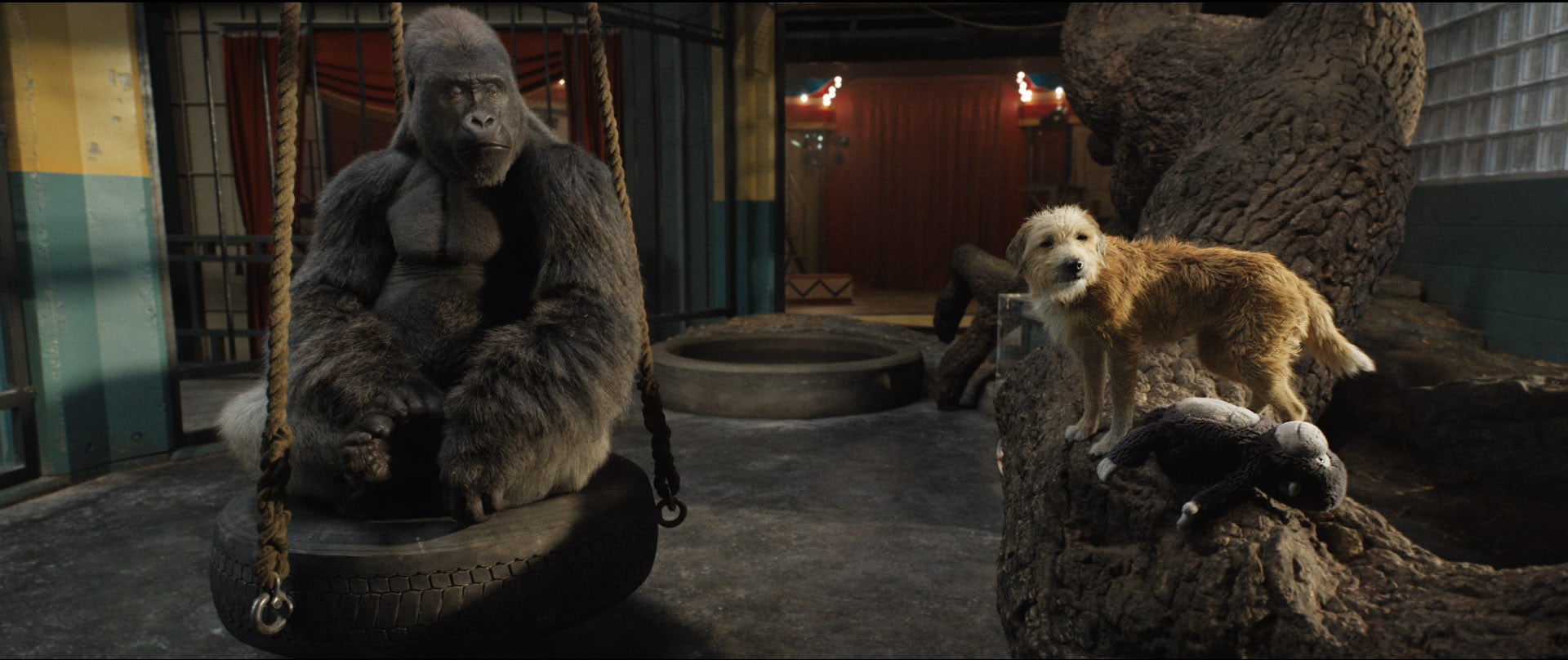 Ivan explores how animals should be treated, proving once again that creatures of all shapes and sizes deserve to be treated with respect all without being heavy handed.
The One and Only Ivan is an entertaining, heartfelt family movie. Fans of the book will love seeing one of their favorite stories come to life. Newcomers to Ivan's story will be enchanted by it and eager to learn more. You will walk away from this one remembering the importance of true friendship, especially in hard times and that kindness will be there when you need it most.
It might have you or your children looking for ways to free the animals on their next trip to a zoo. While I don't recommend you opening cages, if your children are interested in learning more about gorillas, download this free The One and Only Ivan Activity Packet.
The One and Only Ivan Post Credit Scene
Stay through the credits to see footage of the real Ivan, a mid-credit, and post credit scene that are too cute to miss.
The One and Only Ivan is now streaming on Disney+ and is rated PG for mild thematic elements.