Coming this Friday to Netflix is a film the whole family is going to love- The Sleepover. This movie is guaranteed to make you laugh out loud, for real not the normal half smile thing you do when you text LOL.
I had a chance to participate in a roundtable interview with the stars of The Sleepover: Malin Akerman, Sadie Stanley, and Cree Cicchino. These ladies play Margot (mom), Clancy (her daughter), and Mim (Clancy's best friend).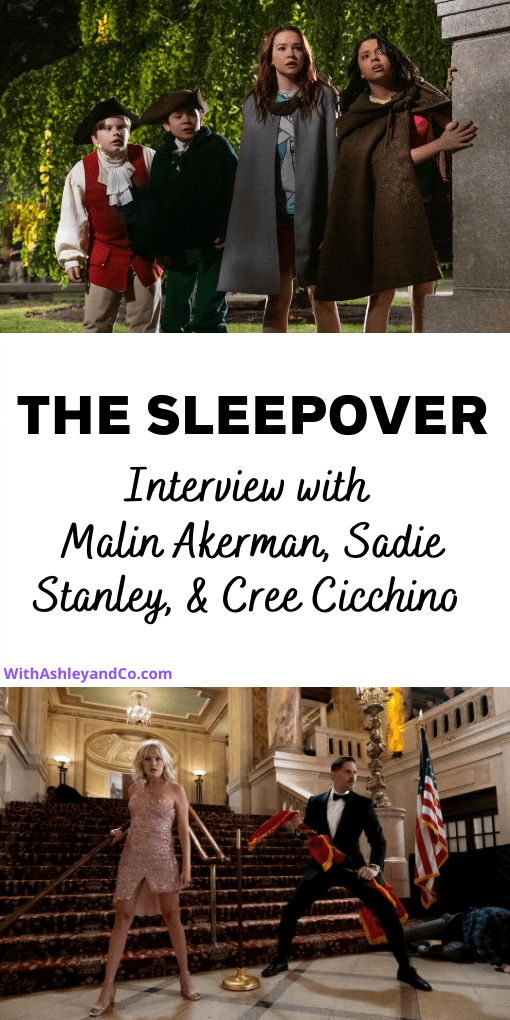 The Sleepover Interview with Malin Akerman, Sadie Stanley, and Cree Cicchino.
This film is full of epic stunt scenes. Did you do them yourselves and if so what was that like?
Malin: We did our own stunt work. We got to work with an incredible stunt team. It's a pretty cool feeling when you're on set and you're doing all your own stunts. Most of them. The really hard ones I had my stunt girl do. But it was empowering and funny when you watch playback. You see all the stunt people doing amazing jobs and you feel like you're part of it. And then you look at the playback and go wow I felt a lot cooler than I look! (laughter) You can definitely feel your age when you're doing stunts.
Sadie learned to play cello for this movie. Was it hard to pick up an instrument like that and are you still playing?
Sadie: Cello was very hard. It was a very scary instrument to try and get into. I didn't really know anything about it, I never picked it up before. Clancy (her character) had been playing it for years so I knew I had to at least look like I knew what I was doing. I took some lessons, they taught me the fundamentals and how to look professional. I learned how to play Twinkle, Twinkle, Little Star and that's about as advanced as I got. (Laughs). Right now, I think I've lost everything at this point! I don't think I could play Twinkle, Twinkle, Little Star and that's sad (laughs), but maybe one day I will pick it up again.
Cree brought a bit of herself and her culture into the role. Was that planned or something you wanted to do?
Cree: I don't think there was a plan to have Mim to be Latina, I don't think it was ever said in the script. Here and there I tried to throw in something so that maybe that would come across. Some of it got left in, so I'm really glad that it did.
Everyone seemed very in-tune with their characters. What aspects of your character can you relate to?
Cree: I think Mim spends a lot of time super stressed out in this movie. She is really loyal to Clancy so she is going to back her up no matter what. I think that all characters go on this journey of bravery. Mim doesn't. (Laughs). She kinda starts one way and stays there. I think it's nice to see that sometimes bravery looks like screaming the whole time but still doing the thing.
Sadie: I think I'm pretty similar to Clancy in a lot of ways. When I was in my early high school days I think I was a lot like Clancy. She's just a regular teenage girl, she has insecurities, there are mean girls, and she has a crush. She is dealing with all these things and trying to figure out how to be brave and how to put herself out there. I can definitely relate to her in that way a lot. She goes on this beautiful arc where she realizes that you know I am brave, I am courageous, and I am talented. I can believe in myself. I've kinda gone through the same thing growing up.
Malin: I think that I can relate to it in that I normally go out and fight bad guys and kick their *ss! (Laughter) No but I don't! (laughs) I wish I could be that tough! I relate to her (Margot) because she is a parent. I think that parent relationships are so interesting and complicated depending on the age of your child. Especially having to hold onto a secret that is this big, which I don't have that big of a secret but I've got little secrets that I know will come out eventually as my son becomes older. I think the most relatable aspect of this character was being a parent and the love you have for your kids. You would take a bullet for your kids, that's where it all came from.
This movie is full of hilarious moments! Do you have a favorite that happened on or off camera?
Malin: It's hard to say just one I think! I'll have to say we had a lot of laughs on set, some of them were laughing together, some of them were laughing at Ken Marino. (Laughter) When Ken had to do the vomiting scene, it was gross and funny all at once.
Cree: We had too many, like summer camp! My brain is going to the library set, it was an interesting night. It was a real, serious, practice library. We couldn't touch anything , it was late at night. I remember having the cape on and running up the stairs into this big beautiful library and having our Hogwarts moment together.
Sadie: That reminds me of the other section we did in the library. I was behind the camera dying laughing the entire time. Cree is the last one to go through the tunnel and she goes on this whole rant about how she doesn't want this adventure and this is the scary part in the movies where the four children go. And it was so self-aware, so witty, and quick that it made me laugh so hard.
read more: The Sleepover Interview with Ken Marino, Maxwell Simkins, and Lucas Jaye
Again, so many amazing moments in this film. When you read the script, was there any scene you couldn't wait to film?
Sadie: Any scene that the character Ron (Ken Marino) is in. Every scene that's written in the script I read and I thought it was funny. I laughed out loud while I was reading it. Then when we got to set and I met Ken and started seeing him work I knew that it was going to be 100x funnier on screen. Any scene that Ken is in. (Laughter). Ken and Joe together too are hilarious!
Malin: It's very true Sadie. It was a pleasure to work with Ken, he is such a funny guy. The action scenes, I was really excited to get into those when I read the script.
Super thief parents come with super thief gadgets. If you had to pick one from the film to keep what would it be?
Cree: That's a really good question.
Malin: I would have to say that really cool car.
Sadie: That's what I was going to say! That car is really cool! Or a laser pen. You never know when that's going to come in handy. It could be fun to have that in your back pocket.
Cree: I would say that Sadie and I were being bad on set in that scene, playing with the wigs. (laughter) And that's not a gadget it's just a good time!
After watching this one, my son looked at me and asked if I had a secret life I wasn't telling him about! Malin, did your son think about seeing his mom kick butt like that on screen?
Malin: They really wish that don't they! My son hasn't seen the film yet, but I have told him about it. When I told him the premise he contorted thievery into spies, because he loves the whole spy world. He got was quiet for awhile after I told him the premise of the movie. He said "Mom, you are really a spy though right?" I just went "What do you think?" He goes "Yeah, I think you are." I said "Well, you'll never know will you?" So I think he's going to be pretty impressed with the action scenes and he's really going to be convinced that that is my actual job. Which I don't mind!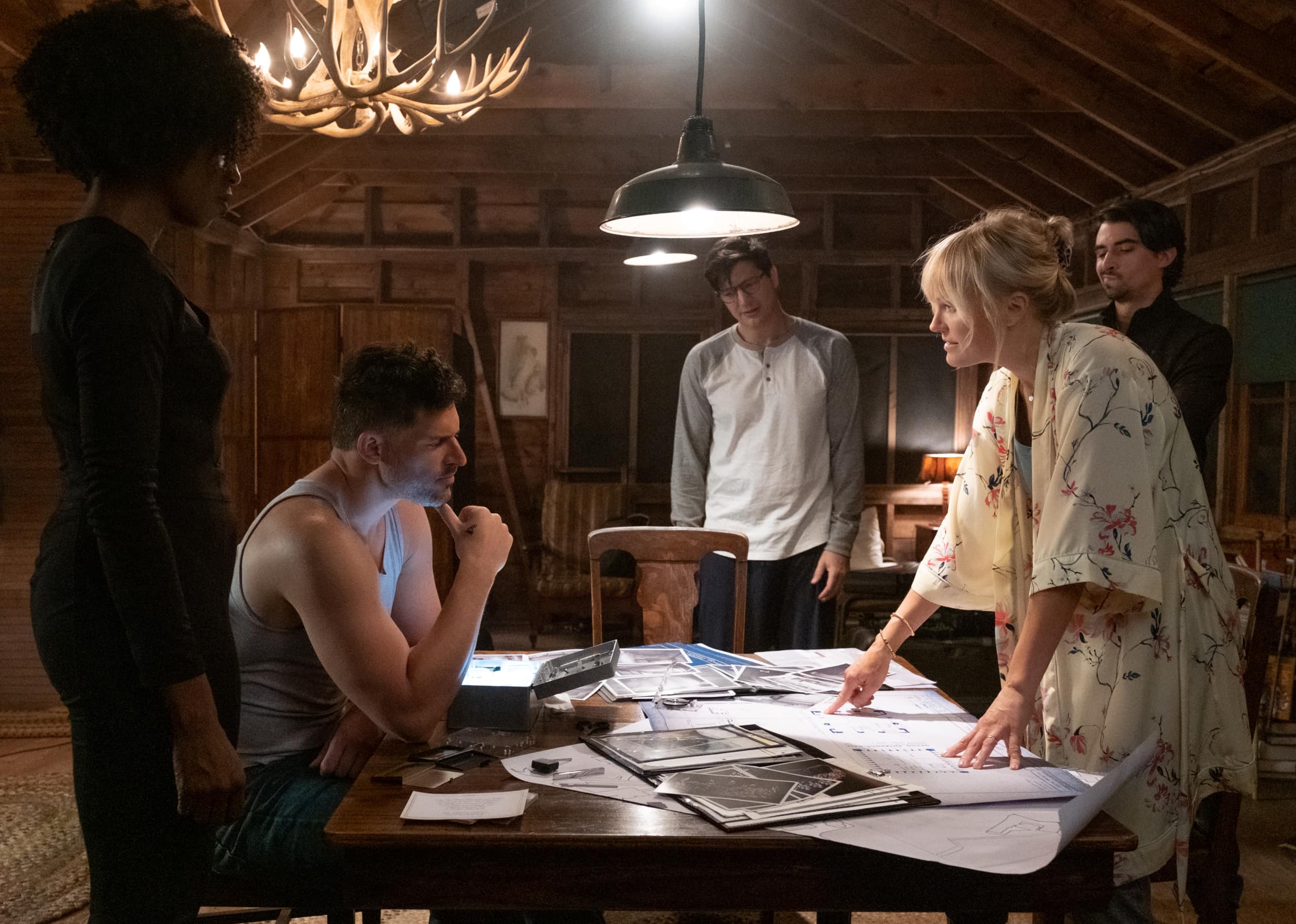 This movie takes place in Boston during one crazy night. How was it filming in Boston?
Cree: We were in Boston for the whole time. It was really cool and really cold, sometimes. All three of us actually spent a lot of time with our legs exposed in the cold Boston air. It was really fun, I had never been.
Malin: I love Boston. I loved eating my way through Boston. (Laughter) I found some great restaurants, I miss them dearly. I really truly have an affinity for Boston. I would go back anytime. I got my son and husband out to hang with me a few days and they loved it as much as I did. I see Boston in our future.
WHAT IS THE SLEEPOVER ABOUT?
In this family adventure-comedy, Clancy (Sadie Stanley) and her kid brother Kevin (Maxwell Simkins) discover that their seemingly normal stay-at-home mom Margot (Malin Åkerman) is actually a former high-end thief in the witness protection program. When both their mom and dad (Ken Marino) are kidnapped and forced to pull one last job with an ex-flame of Margot's (Joe Manganiello), they must team up to rescue their parents over the course of one action-packed night that they'll never forget. The Sleepover is directed by Trish Sie (Pitch Perfect 3).
The Sleepover debuts on Netflix Friday, August 21, 2020.